Belarusian authorities granted Kazulin, who is serving a 5 1/2-year sentence on charges of staging antigovernment rallies, a three-day release to allow him to attend the funeral of his wife, who died over the weekend after a long battle with cancer. After a
spate of recent releases
, Kazulin is now Belarus's last political prisoner.
Kazulin's departure from the prison was so discreet that not even a group of reporters gathered outside the facility were aware that he had left.
Back home in the family's flat in Minsk, Kazulin put aside any need for private grieving with his two daughters, Volha and Yulia. Instead, he was almost immediately on the phone, giving interviews and speaking to supporters, pacing up and down a corridor. In the living room stood numerous pictures, draped in black, of Kazulin's wife, Iryna, who died on February 23 of breast cancer at the age of 48.
"There were days when I received as many as 200 letters in jail," he told one caller as he paces back and forth. "The strange thing was that almost all of them were from foreign countries. Belarusians still need to wake up."
'The Illegally Convicted A. Kazulin'
Kazulin was driven surreptitiously from the Vitsebsk penal colony in an ordinary Zhiguli -- the car of the warden, Vital Ahnistsikau.
Just a day earlier, Ahnistsikau had refused to grant Kazulin the temporary bereavement leave permitted under Belarusian law, telling journalists Kazulin was guilty of "disciplinary violations."
"There were days when I received as many as 200 letters in jail. The strange thing was that almost all of them were from foreign countries. Belarusians still need to wake up."
Late on February 25, however, he was apparently given a form authorizing Kazulin's release.
"You can't imagine what it was like in the colony at that point. It was surrounded by riot police. Inside there were security guards everywhere. No one was allowed to move," Kazulin said, describing the preparations for his clandestine release.
Earlier in the day, Volha and Yulia Kazulina had appealed to authorities in Minsk to secure their father's release, and organized a public gathering of remembrance for their mother.
Nearly 1,000 people flowed onto Minsk's October Square, holding lit candles and appealing for Kazulin to be allowed to attend his wife's funeral.
Kazulin recalled how he first heard his wife had died.
On the morning of February 24, Ahnistsikau called him to his office and showed him a telegram bearing the news. A day earlier, Kazulin had asked for access to a telephone to call home and speak to his wife, whom he knew to be gravely ill. But a phone, he said, was "not found."
The news of his wife's death was a terrible blow. He said he was devastated that he had not been able to support his wife in her final hours.
"I said: 'That's it. Up until now, my wife's illness was holding me back. Now nothing is holding me back.' And I immediately went on a hunger strike. I ripped off all my prison tags and said I wasn't going to follow the colony rules anymore. Then I wrote a four-page letter declaring my hunger strike and explaining my illegal arrest, and the necessity of being at my wife's funeral."
He signed his letter "the way I sign everything -- 'the illegally convicted A. Kazulin.'"
"I said I was starting a dry hunger strike" -- refusing both food and water -- "and I said I was either going to bury my wife myself or be buried with her. I think [the authorities] already understood that I was resolute about my actions and of course I think the rally of solidarity that took place in Minsk and spread across the country also had a great impact on the regime."
'My Heart Is Breaking'
Kazulin believes his wife, who went public with her illness in an attempt to raise awareness about the disease, was "pushed to the final stage" of her cancer by the government -- starting with his arrest, shortly after the March 2006 presidential election, in which Kazulin was a candidate and an outspoken critic of the ruling regime.
"Alyaksandr Lukashenka knew well that she was already sick at that time," Kazulin said. Once he was sent to jail on charges related to the antigovernment rallies that followed the vote, Iryna "lost the strength she needed to fight her illness."
The last straw, Kazulin added, was an apparent deal offered last week by Lukashenka: Kazulin could receive an early release and help his wife seek treatment abroad -- but only, it was strongly implied, if the couple agreed to never come back to Belarus.
RFE/RL's Belarus Service speaks to Kazulin on his release (In Russian)
"If I had asked them to give me a million dollars, they would have, if it had meant getting me out of Belarus," Kazulin said.
But Alyaksandr and Iryna refused to agree to the conditions. The price they paid was never seeing each other again.
"My heart is breaking," Kazulin said. But he spoke calmly, certain that her death would not be in vain. In a video shot by RFE/RL, Kazulin says, "Her love, life, and death are saving the whole of society, making it cleaner and brighter, showing the people that one should fight unsparingly until the very end." He appears to take a certain satisfaction in the fact that the day of her death coincided with Fatherland Defender's Day in Belarus -- "she was the best defender," he says.
'I Feel More Free Than Those Outside'
Kazulin said today's Belarus is not unlike a penal colony. "Only this colony is contemporary and modernized, and the ones in charge are the ones who are themselves guilty of crimes," he says. One-third of the letters coming in and out of Vitsba-3, he said, never make it to their intended destination. The majority of complaints about illegal detentions are never heard. As a former presidential candidate, Kazulin says his time in prison has proved a valuable experience that has exposed him to many of the harsher realities of Belarus -- trumped-up charges, arrests made to fulfill police quotas, and planting drugs on innocent suspects.
"Tens of thousands of these kinds of falsified criminal matters need to be reviewed," Kazulin said, suggesting that Lukashenka's past career as a penal colony official has much to do with the current problems in Belarus's penal system.
Kazulin was asked whether he had gotten used to life in prison. In response, he said he felt he remained a free man despite his incarceration. He endured punishments, hunger strikes, and solitary confinement, but he said he would never submit to pressure to confess to the charges against him.
"I will never sign any request for clemency," he said, before going on the attack. "During these three days I am free, I will sue Lukashenka for the pain and suffering inflicted on my wife, Iryna."
Why was Kazulin released? He says he's sure the public gathering late on February 25 made an impression on authorities in Minsk.
"When they saw more than 1,000 people last night [gathered on October Square], gathered in spite of the threat of a crackdown to remember Iryna, the authorities became afraid that thousands more would converge as they did two years ago" during the protests that followed the Belarusian elections," he said. "I thank all those people. The light always prevails."
The EU had also called for Kazulin's release.
Belarusian Political Prisoners
Belarusian Political Prisoners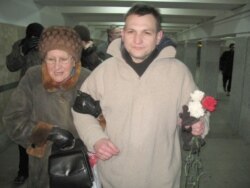 Andrey Klimau after his release on February 16

A number of Belarusian prisoners have been freed unexpectedly in recent weeks by court decisions or special presidential decrees. They include a journalist, a politician, and student activists, but they have one thing in common; all were considered by Western governments to be prisoners of conscience.

See slideshow of Belarusian political prisoners