According to the ballot, they have a choice between four candidates -- Gennady Zyuganov, the leader of the Communist Party; the flamboyant Liberal Democratic Party boss Vladimir Zhirinovsky; the relatively unknown Andrei Bogdanov; and Dmitry Medvedev, whom Vladimir Putin has groomed as his successor.
In reality, the victory of Medvedev, who is also the chairman of Gazprom and a close friend of Putin, is virtually assured. He is widely expected to pick up at least 60 percent of the vote.
Russian election officials say turnout stood at 60 percent nationwide by early evening Moscow time. Officials said this was slightly higher than during parliamentary elections in December. In the Far Eastern electorates, where voting has now ended, high overall turnouts were given, including over 80 percent in Chukotka and more than 70 percent in Khabarovsk.
Tight Security
At polling station No. 159 in central Moscow, voting was brisk, though most people who turned up at what is ordinarily a school appeared to be over the age of 50. The number of young voters seemed to be slim. Security was high. There were two police officers outside the polling station and another three inside, checking voters' bags and asking them to step through a metal detector.
The chairwoman of the local election commission refused to speak to RFE/RL, saying she was too busy, and would not comment on how many people had voted by midday. A long line of voters that spilled out into the corridor stamped their wet feet and waited to collect their ballot papers.
Most of those who spoke to RFE/RL afterward said they had voted for Medvedev, some more grudgingly than others.
"I voted for Medvedev because of all the candidates on offer, I think he has the most chance of winning," one woman said.
"It's a secret [whom I voted for]. A big secret," one man said. "Because if you don't like the man you voted for, what's the point of saying?"
"We voted for Medvedev. For Medvedev. Who else was there to vote for? There wasn't anyone else!" a man and woman said.
"I voted for the only candidate, as I see it!" said one man. "I think it was relatively fair, because there were four candidates to choose from. But sadly there wasn't anyone better to vote for than Medvedev. Sorry, but how many times can you vote for Zyuganov? If they'd put forward another candidate, maybe I might have considered voting for them. As for Bogdanov, he's a nobody. And as for that pea-brain [Zhirinovsky], excuse me, but everyone is sick and tired of him."
Medvedev himself voted at a Moscow polling station. "Spring is here," he told reporters, "even though it's raining. But it's already a new season, which is nice."
Protest Votes
A relatively small number of voters told RFE/RL they hadn't voted for Medvedev. One woman said she had voted -- as she always has -- for the Communists.
"I don't know why. I think they're decent people," she said. "Although it's a difficult time [politically], they haven't tuned their backs on their ideology. [As for Medvedev] I really don't know about him, and what sort of a personality he has. It seems to me he's just a lot of hot air, that he's simply been installed in this position by someone else. There was a choice in these elections, but a lot of people doubt that they will be fair."
Another woman said she had deliberately spoiled her ballot in protest at what she saw as an undemocratic vote. "I didn't vote for anyone – no, no. Why would I have done?" she said. "I crossed all the names out [on my ballot paper]. That's all. Because not one of them is worthy."
Handful Of Observers
The Kremlin's opponents say voters have been denied a real choice because the biggest television stations slanted their coverage in Medvedev's favor and independent anti-Kremlin candidates were barred by authorities from running.
Election monitors say they are being hindered at some polling stations. Earlier today, Liliya Shibanova, director of Golos, an independent Russian monitoring body, said "violations have started already." She said monitors were refused access to polling stations "en masse" in the southern region of Astrakhan and to a lesser extent elsewhere, while authorities have relaxed some regulations to open the way for repeat voting. The poll observers also reported cases of workers being forced to vote.
"There was a choice in these elections, but a lot of people doubt that they will be fair." -- Russian voter in Moscow
Only a handful of short-term observers from the Council of Europe are expected to monitor today's voting, and they have already said the election is absent of any real choice. The Organization for Security and Cooperation in Europe, which normally sends hundreds of short- and long-term observers to elections in the region, refused to send monitors, citing irrevocable differences with Russia's Central Election Commission.
Russians are voting across 11 time zones. Polls opened at 8 a.m. local time today in the eastern-most regions of Russia, including Vladivostok, where polling stations tempted first-time voters with teddy bears and baseball caps bearing Russian flags. Polls will close at 8 p.m. in the exclave of Kaliningrad.
Preliminary results are expected this evening. A final result is expected later in the week. In the unlikely event that none of the candidates wins more than 50 percent of the vote, the elections would go forward to a second-round run-off between the two candidates with the most votes.
(With material from wire-service reports)
Cracks In The Facade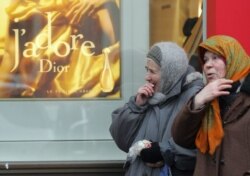 High energy prices have filled Russia's coffers with $150 billion in oil and gas profits. But this vast wealth has yet to trickle down to many aspects of the lives of ordinary citizens. As Russia's presidential election looms, the thoughts occupying many voters are not about politics, but safety, dignity, and long-term stability. In a special series, RFE/RL looks at Russia's deep social problems, which could prove to be a political liability for the Kremlin.
Crumbling Military Puts Kremlin On The Defensive
For Voters, Basic Comforts Of Home Still An Illusion
Oil Wealth Trickling Down -- But Not Far Enough