Russia: Documentary Alleges West Sought Chechen Secession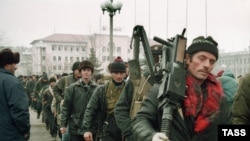 The film claims the West incited Chechens to take up arms (file photo) (ITAR-TASS) A new Russian television movie has given viewers one more reason to believe Russia is under siege by foreign enemies with intricate conspiracies aimed at destroying their country.
"The Caucasus Plan," aired by Russia's Channel One on April 22, is labeled a "documentary," but borders at times on Soviet-style agitprop. It claims that Chechnya's battle for independence from Russia in the 1990s was orchestrated by the West.
France, the filmmakers allege, produced new passports for the fledgling republic; Germany helped out by printing the new currency; and behind the scenes, of course, the Americans were directing the whole show.
Sayd-Khasan Abumuslimov, a Germany-based historian who served as Chechnya's vice president in the 1990s, told RFE/RL's North Caucasus Service that Moscow has always tried to claim that foreign meddling was at the root of Russia's problems in the Caucasus.
"The Russians have always claimed that the Chechen struggle was instigated by outside forces," Abumuslimov said. "They say we always wanted to live in peace with the Russians, but first Turkey, then England, and now America is sowing seeds of discord in the Caucasus. I don't even want to comment on these silly allegations. This is not serious."
Propaganda And Smuggling
At the center of the hour-long documentary is a shadowy figure called Berkan Yashar, a Turkish-born Chechen whose true name is allegedly Abubakar.
According to the film, Yashar in the 1960s "signed a contract with the U.S. State Department" and briefly worked as an announcer at Radio Free Europe's Munich headquarters, broadcasting so-called "propaganda in the Chechen language." Neither of those claims could be independently confirmed.
The documentary also alleges that in the 1990s, Yashar used his connections with the Turkish authorities to carry out a long-standing Western plot to foment separatism in the Caucasus -- starting with Chechnya. To this end, he allegedly helped organize a diamond-smuggling ring through Grozny's airport, assisted in weapons-smuggling operations, and -- with the help of Americans -- flooded the market with counterfeit dollars.
Medet Onlu, who represents the Chechen separatists in Turkey, told RFE/RL's North Caucasus Service that Yashar was an active supporter of the republic's independence struggle in its early period. "At the time when Dzhokhar Dudayev declared independence [in 1991], Berkan Yashar was among those in Turkey who supported this," Onlu said. "He also made sure that everyone saw that he supported those Chechens who came to Turkey and that he was a supporter of the Chechen leadership."
Medet added, however, that since that time, Yashar has "established close, friendly ties with the Russians" -- as would appear to be confirmed by the "Caucasus Plan" video.
Conspiracy Theories
Andrei Babitsky, a correspondent with RFE/RL's Russian Service who has covered events in Chechnya extensively, dismissed the film's conclusions out of hand. "As far as how close this is to reality, of course some details of the film are true," Babitsky said. "But they are used as a whole to try to prove a myth that some intelligence services from various countries are working to dismember Russia. Such conspiracy theories are typical of the Putin epoch."
The documentary closes with a foreboding warning that despite the Kremlin's success in quelling the Chechen rebellion, the Western plot to take the North Caucasus from Russia is still active.
"The Caucasus Plan," produced by Channel One correspondent Anton Vernitsky, is just the latest in a series of such programs aired on Russian television in recent years.
A prime-time documentary aired on state-controlled Rossia television on September 30, titled "Barkhat.ru" (Velvet.ru), alleged that the CIA was planning to overthrow the Kremlin elite with an Orange Revolution-style uprising in Russia.
The slickly produced report places the CIA at the epicenter of a massive conspiracy to overthrow the Kremlin leadership. The producers claimed participants in the plot included opposition groups such as Other Russia, of which Garry Kasparov is a prominent leader; pro-democracy youth organizations, such as Smena; foreign NGOs, like Freedom House; and the Western mass media.
RFE/RL's North Caucasus and Russian services contributed to this report


SUBSCRIBE For news and analysis on Russia by e-mail,
subscribe to "RFE/RL Russia Report."