Activist, In Ill Health, Detained In Turkmenistan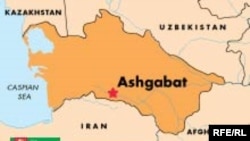 Amnesty International says social activist Valeri Pal has been detained in Turkmenistan.

Amnesty says Pal, 59, is in ill health and is being denied access to urgent medical treatment. He suffered a stroke in 2004 and is partially paralyzed.

Pal''s wife, in a petition to Turkmen President Gurbanguly Berdymukhammedov, wrote that every day Pal "spends [in detention in those conditions] poses a serious risk to his life."

Pal worked at an oil refinery in the Caspian port city of Turkmenbashi. He was detained by police on February 21, reportedly on suspicion of theft in connection with an incident that happened at his workplace in 2004.

According to Vyacheslav Mamedov, the director in exile of the nongovernmental Democratic Civil Union of Turkmenistan, no charges have yet been brought against Pal.

Mamedov says Pal's activities as a social activist may be one of the reasons why he was targeted. Pal has been an activist since 1993 and has taken part in protests against the renaming of his town, helped Turkmen citizens with various social problems, and supported other activists and human-rights defenders through his knowledge of information technology.
About This Blog
"Watchdog" is a blog with a singular mission -- to monitor the latest developments concerning human rights, civil society, and press freedom. We'll pay particular attention to reports concerning countries in RFE/RL's broadcast region.
Journalists In Trouble
RFE/RL journalists take risks, face threats, and make sacrifices every day in an effort to gather the news. Our "Journalists In Trouble" page recognizes their courage and conviction, and documents the high price that many have paid simply for doing their jobs. More