OSCE To Kazakhstan: Restore RFE/RL Website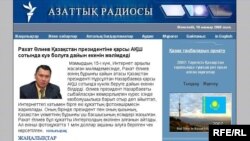 The Organization for Security and Cooperation in Europe (OSCE) is urging Kazakhstan to restore access to RFE/RL's Kazakh-language website.

The call came in a letter to the Kazakh foreign minister from Miklos Haraszti, the OSCE's representative on media freedom.

Access to the site and RFE/RL's other Central Asian web pages has been blocked for more than five weeks despite requests by RFE/RL to restore the service, provided by state-run KazTelecom.

Haraszti said he was "hopeful" that the problem was merely technical. But he noted that Astana, due to chair the OSCE in 2010, pledged to provide uncensored Internet access as a member of the rights and security organization.

Kazakh officials so far have not publicly commented on the letter.
About This Blog
"Watchdog" is a blog with a singular mission -- to monitor the latest developments concerning human rights, civil society, and press freedom. We'll pay particular attention to reports concerning countries in RFE/RL's broadcast region.
Journalists In Trouble
RFE/RL journalists take risks, face threats, and make sacrifices every day in an effort to gather the news. Our "Journalists In Trouble" page recognizes their courage and conviction, and documents the high price that many have paid simply for doing their jobs. More