Iran's Intelligence Ministry has issued a list of 60 U.S. and international organizations that it accuses of inciting this summer's postelection unrest and being involved in a "soft war" against the Islamic Republic.
The Intelligence Ministry named some 60 U.S. and international organizations, including the
Open Society Institute
of U.S. philanthropist George Soros,
Human Rights Watch
,
Freedom House
, and Yale University.
A number of Farsi-language media, including RFE/RL's Radio Farda, the BBC, VOA, and Radio Zamaneh, which is based in the Netherlands, were also singled out by the Intelligence Ministry.
A deputy intelligence minister for international affairs, whose name was not given, accused the groups of working against the Iranian regime and said that contacts and cooperation with them were banned.
The unprecedented move appears to be part of the Iranian authorities' efforts to isolate critics and activists inside Iran and prevent them from having any contact with the outside world.
Activists and opposition supporters say Iranian authorities have been intensifying efforts to limit the free flow of information in and out of Iran in the wake of mass protests against June's disputed presidential election.
"Iran's Intelligence Ministry has always been trying to prevent contacts between Iranians inside the country and international organizations," says Faraj Sarkuhi, a prominent Iranian exiled writer and journalist. "In the past they accused the publication 'Adineh,' of which I was the chief editor, of espionage over contacts with International PEN [writers' organization] and said it is illegal."
An
extended list
of the banned groups on the "gooya" news site includes: National Endowment for Democracy, National Republican Institute, Stanford University's Hoover Institution, Search For Common Ground Organization, New American Foundation, British Center for Democratic Studies, East European Democratic Center, MEMRI, U.S. National Defense University, The Smith Richardson Foundation, and Brookings Institute.
The intelligence official said that contacts and cooperation with these organizations are banned.
Tini van Goor, director of the human rights department at Hivos, a Dutch NGO among those named, rejected the Iranian authorities' charges.
But he also said the move came as no surprise, since Hivos -- which has worked on women's rights and HIV/AIDS issues with local civil society groups in Iran -- had faced similar accusations in state media in recent years.
"It is simply nonsense what they say that we have an agenda of regime change or whatever," he told RFE/RL. "No - what we did was being in contact with civil society activists. And those activists, some of them are also activists in the time of the post-election discussions in Tehran. But it is their choice."
A prominent Tehran-based professor of law, Mahmud Akhundi, told Radio Farda that the Intelligence Ministry's list and warning have no legal basis.
"It is in clear contradiction with human rights principles and with international principles of law. It doesn't even have any Sharia-based justification," Akhundi said. Nobody has the right "to define an action that has not been defined previously as a crime, as being criminal," he added.
Writer Sarkuhi said he thinks the list could be used against those arrested in the postelection crackdown, which intensified after violence broke out during the Shi'ite commemoration of Ashura on December 27, leaving at least eight people dead.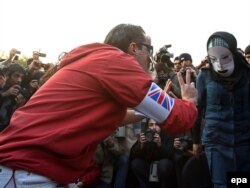 Iranian conservatives staged street theater at a protest in front of the British Embassy in Tehran on December.
The Intelligence Ministry "is making such a big claim at a time when Iranian authorities are getting ready to issue heavy sentences against arrested protesters; they want to use it to justify the heavy sentences that are likely to be issued," Sarkuhi said.
In late November, Supreme Leader Ayatollah Ali Khamenei said Iran was facing a "soft war" with its enemies abroad, who were fomenting the street protests that hit the country following the disputed June 12 vote.
Many of those arrested in the postelection crackdown have been accused of being involved in a "soft coup" against the Iranian clerical establishment.
Among those arrested and sentenced to jail is a well-known Iranian-American scholar, Kian Tajbakhsh, who used to work as a consultant with Soros' Open Society Institute. His family and colleagues have rejected all the charges against him as baseless.
Tajbakhsh also spent several months in jail in Iran in 2007.