Imagine relatives of yours were killed by angry mobs. Your house set alight. Your livelihood wrecked overnight. Knowing that such atrocities took place in the city you called home, and possibly even committed by your neighbors, how could you ever expect to return to life as normal?
It's a question that is surely being asked by thousands of displaced persons as they return home following the outbreak of bloody interethnic violence in southern Kyrgyzstan in June. As the government vows to rebuild the homes and communities of ethnic Uzbeks and ethnic Kyrgyz caught up in violence that left at least 275 dead and some 400,000 displaced, it must also find ways to reduce tensions and ensure they don't erupt again in the future.
Millions Displaced

If the Kyrgyz interim government is looking for an immediate example of how to get the mending process going, it need not look any farther than its southern neighbor, Tajikistan. In 1997, following the end of a five-year civil war, Tajikistan faced a similar test. And while there have been many setbacks, 13 years later Tajikistan's peace process has been widely hailed as a success.
It's not a perfect comparison. The Tajik war did not rise from ethnic divisions such as those seen recently in Kyrgyzstan, for example -- it was more a battle for political control fought between supporters of the Moscow-backed government in Dushanbe and its opposition led by the Islamic Revival Party (IRP). But the Tajik war did pit fellow civilians against each other -- residents of the southern Kulob region, "Kulobis," against those from the eastern Rasht Valley known as "Rashtis."
I've seen many bodies being brought for burial. When you see them first-hand, you can't help hating those who have done it.
In a conflict in which Kulobis were widely assumed to be government supporters, and Rashtis supporters of the opposition, at least 50,000 people were killed. Most of the victims were civilians, and 1.2 million -- some 20 percent of the country's population at the time -- were forced to leave their homes during the 1992-97 armed conflict.
For Suliko Salimova, a 50-year-old from a small village in southern Tajikistan near the Kulob region, the civil war conjures up painful memories.
"I left my house with only the clothes I was wearing. When I came back, I learned that my husband had killed and my house was burned down. I was left with absolutely nothing," Salimova says.
"When everybody else fled, my husband stayed behind. He said, 'I don't belong to any side of the conflict, why would they bother me?' But he was the first one to be killed. We found his body in a nearby brook."
Salimova lost four other relatives in addition to her husband, all targeted for being Rashtis. "My life will never be the same again after what I witnessed during civil war," she laments.
Gulrukhsor Safarova, a native of the Kulob region, has similarly painful memories.
"I saw many bodies [of Kulobis] being brought for burial. When you see them first-hand, you can't help hating those who did it. I didn't know who had done it, all I knew was that somebody was killing Kulobis. I remember having some strange feelings inside me," Safarova says.
Today the two women have each managed to achieve forgiveness, and even reside in the same district of Kumsangir, in the southern Khatlon Province.
Salimova says people need to reconcile, "no matter how painful it is," in order to move on. Safarova, recalling that she was eyed with suspicion when she first moved to the area at the height of the civil war, is happy to see Rashtis and Kulobis socializing together once again.
Money And Time
Such results were not easy to achieve, and they did not come about by accident. It required cooperation between the Tajik government, the opposition, and international organizations. It took money. And it took time.
The process began with the signing of an internationally mediated peace accord between the government and the United Tajik Opposition in June 1997.
But "signing a peace accord by itself does not mean people immediately start trusting each other," as Ibrohim Usmonov notes. "And you cannot give people an instruction to do so."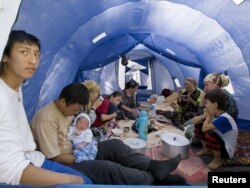 An ethnic Uzbek family in a refugee camp in the village of Kara-Su near the Kyrgyz-Uzbek border
Usmonov knows this first-hand. He was a prominent member of the key body established by the government and opposition to facilitate the road to peace and harmony -- the National Reconciliation Commission.
Recalling the many obstacles faced, Usmonov says "the biggest challenge was rebuilding trust between the two sides." And this, he says, "required concrete measures by government, political leaders, and international donors."
Measures included aiding the return of refugees and the displaced, rebuilding their homes, restoring their businesses, and reinstating returnees to their previous jobs.
"There was a rehabilitation program for victims of the conflict, which included psychological and financial support for those who had lost their relatives and properties," Usmonov says, noting that funding from international donors enabled Tajikistan to implement its peace program.
Usmonov points out that the government's role is crucial for building trust among people. "People need to see for themselves that the peace process is working and the government's promises are being carried out," he says.
Kumsangir district provides proof that today enough trust has been established for people to resume their normal lives.
Suliko Salimova, whose husband was killed for being a Rashti, has moved to Kumsangir, remarried, and become a merchant.
Safarova, who moved to Kumsangir from Kulob, who has since got a job with the local government dealing with women and family issues. "A few marriages between Kulobis and Rashtis have taken place in our district in recent years," Safarova says.
The two women admit there are times people snap at neighbors, blaming them for what has happened during the war. But as Salimova notes, "no one wants another war or conflict to grip our lives once again."
Ultimately, the success in restoring peace and unity in Tajikistan derives from "ordinary people's willpower and ability to forgive," according to Hikmatulloh Saifullozoda, head of the Dushanbe-based think tank Dialog and member of the Islamic Renaissance Party who was active in the National Reconciliation Commission.
"People knew that revenge wasn't a solution," Saifullozoda says. "People knew revenge would bring more violence, more bloodshed, so they made the only right choice, and that choice was peace."
RFE/RL's Tajik Service correspondent in Khatlon Nosirjon Mamurzoda contributed to this report