Uzbekistan Sending Wounded Refugees Back To Kyrgyzstan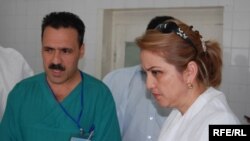 OSH, Kyrgyzstan -- Kyrgyzstan's Health Ministry has said it's begun transporting wounded refugees from Uzbekistan to hospitals in the southern Kyrgyz regions of Osh and Jalal-Abad, RFE/RL's Kyrgyz Service reports.

A ministry press release said that 17 ambulances went to the Kyrgyz-Uzbek border to take wounded ethnic Uzbek citizens of Kyrgyzstan to hospitals in the Osh region.

On June 30, eight more ambulances are expected to deliver wounded refugees from Uzbekistan to hospitals in the Jalal-Abad region.

The press release said officials plan to transport a total of some 180 injured refugees back to Kyrgyzstan.

It noted that some 2,240 people have asked for medical assistance and an additional 1,050 have been hospitalized since violence broke out between ethnic Uzbeks and Kyrgyz in the southern cities of Osh and Jalal-Abad on June 10.

At least 275 people were killed and hundreds of thousands of people, mainly ethnic Uzbeks, fled their homes during the days after the fighting started.