Investigators in southern Kyrgyzstan have begun exhuming the bodies of victims of the recent ethnic violence in the south of the country.
Acting deputy Interior Minster Bakyt Alynbaev says that digging up the corpses was essential for full investigations and compensation claims. A large number of victims have not been officially identified because many were buried quickly in keeping with Muslim tradition.
The United States
says it hopes
Kyrgyzstan will carry out "a fair and transparent" referendum on a constitution when voters go the polls on June 27.
The international rights group Human Rights Watch has warned that the government's decision to proceed with the referendum risks sparking a resurgence of violence between majority Kyrgyz and minority Uzbeks.
This month's unrest in the south of the country left more than 250 dead and caused tens of thousands of ethnic Uzbeks to flee briefly to neighboring Uzbekistan. Many of those refugees are reportedly returning to their homes despite lingering fears of instability.
compiled from agency reports
Kyrgyz Crisis Coverage
Clashes In Kyrgyzstan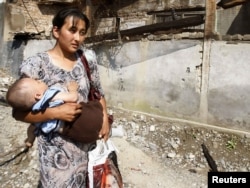 Full RFE/RL coverage of the ethnically charged violence that has shaken southern Kyrgyzstan since June 10. More