Reports of the death of the Orange Revolution have been greatly exaggerated.
At first glance, the all-but-final victory of pro-Moscow opposition leader Viktor Yanukovych over Prime Minister Yulia Tymoshenko in Ukraine's presidential election appears to signal a reversal of the democratic pro-Western "colored revolutions" that swept the former Soviet space over the past decade.
Yanukovych, after all, was the arch villain of the Orange Revolution narrative: the Kremlin-backed candidate who was exposed falsifying the 2004 election, sparking massive street protests, and then losing a court-ordered re-vote to pro-Western challenger Viktor Yushchenko.
Not so fast, say politicians, observers, and analysts across the region. What matters much more than the result is the fact that Ukraine has pulled off what is widely seen as the cleanest election the post-Soviet space has ever seen, one in which the sitting president and prime minister went down in defeat.
"We can only envy how the electoral system works in Ukraine. We envy their freedom of speech," says Russian opposition leader Boris Nemtsov. "We envy their competitive elections without massive Putin-style falsification.
"This is a grandiose success story for Ukraine. It is the result of the Orange Revolution that nobody will be able to change."
Joao Soares, president of the OSCE Parliamentary Assembly, called Ukraine's election "an impressive display" and "a victory" for democracy.
Matyas Eorsi, head of the Council of Europe's Parliamentary Assembly electoral observer delegation, said "democratic elections in Ukraine are now a reality."
And despite the air of triumphalism in official Moscow -- the daily "Izvestiya" on February 8 featured a headline reading "Orange Sunset" -- this is a precedent that may not be welcome among the Kremlin elite, which treats elections as heavily choreographed and tightly stage-managed affairs in which pre-selected candidates are essentially coronated.
A Most Positive Legacy
Russia, analysts say, may have won a tactical victory with Yanukovych's victory over the Western-leaning Tymoshenko, who is widely seen as the architect of the Orange Revolution. But the democratic precedent it reinforced could turn out to be a strategic defeat in the long run.
Analysts across the region praised outgoing President Yushchenko, who was eliminated after coming in an embarrassing fifth place in the January 17 first round, for putting democratic values ahead of his own political fortunes.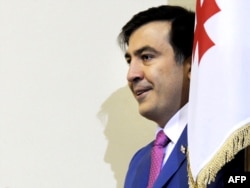 Georgian President Mikheil Saakashvili
A Minsk-based political analyst, Andrey Federau, says that as a result of the election, Ukraine has established genuine pluralism and escaped a situation where power is concentrated in a few hands, as is the case in Belarus and Russia.
Tbilisi-based political analyst Soso Tsiskarishvili says Ukraine has set an example that other countries in the post-Soviet space would do well to emulate -- including Georgia, where President Mikheil Saakashvili has been criticized for backsliding on democratic principles since leading the Rose Revolution in 2003.
"Despite the unfortunate end of his political career, Mr. Yushchenko has left behind a most positive legacy, not only for Ukraine but for the entire post-Soviet space, due to the real steps he took to develop democracy," Tsiskarishvili says. "You won't find one example in post-Soviet history where a president won election amid such excitement, who then went on to lose two parliamentary elections and then failed to win re-election."
Likewise, Leila Alieva, director of the Baku-based Center for National and International Studies, says the February 7 runoff "demonstrated to the whole world that Ukraine is capable of holding a clean election" -- and that such democratic practices have become embedded in Ukraine's political culture.
"In Ukraine, it will be difficult to reverse this process," Alieva says. "The past 20 years, this transition period, has not passed in vain. There was a very intense expansion of democratic institutions. In contrast to other post-Soviet countries there was not a rollback of civil liberties, and it will be difficult to roll them back now. Yanukovych will not be able to reverse the gains of the revolution."

A Model To Aspire To
So will Ukraine's democratic example resonate elsewhere in the post-Soviet space? Will it provide encouragement to pro-democracy activists in neighboring Belarus, who continue to battle the regime of authoritarian President Alyaksandr Lukashenka? Will the praise being lavished on Ukraine resonate with quasi-authoritarian regimes, like in Armenia?
"One hopes that what we've seen in Ukraine will be seen as a model to aspire to," says Steven Pifer, a former U.S. ambassador to Ukraine who is now a visiting fellow at the Brookings Institution. "That is the kind of democratic election that we would like to see become more common in the post-Soviet space."
One place to watch closely is Georgia, which is due to hold key local elections in May that are widely viewed as a dress rehearsal for the 2013 presidential vote that will choose a successor to Saakashvili. Critics are already accusing Saakashvili of attempting to assure that a loyal and handpicked successor takes over the presidency when his term expires.
Municipal workers remove an election poster of Yulia Tymoshenko from a Kyiv street
Saakashvili has also come under criticism at home and abroad for unduly attempting to influence Ukraine's election. The Georgian leader, a close friend and ally of Yushchenko, sent numerous electoral "observers" to Ukraine -- many of them beefy wrestlers with little experience in election monitoring -- during the January 17 first round, a move widely seen as an attempt at voter intimidation.
The Georgian president, who clearly favored Tymoshenko in the second round, has since praised the vote, saying, "Ukrainian democracy has won" and pledgingto work with Yanukovych.

Looming Disappointment In Moscow?
Analysts do say they expect a shift in Ukraine's foreign policy toward Moscow, but most stress that it will not be a wholesale abandonment of Kyiv's goal of integrating with Europe. Ukraine's NATO bid, which had scant public support, will likely be shelved. But its bid to join the European Union will probably remain on track.
"As for those Russians who now think that this is Ukraine reversing course and coming back toward Moscow, I suspect that in the end they are going to be disappointed," Pifer says. "There will be less tension between the two countries. But my sense is that the bulk of the Ukrainian elite and a large segment of the population still want to see Ukraine fully a part of Europe."
Pifer and other analysts also point out that it was former President Leonid Kuchma, who served from 1994-2004 and was viewed as pro-Moscow, who initiated Ukraine's NATO bid.
Likewise, observers say that radical changes are unlikely in Ukraine's policies in places like Moldova's pro-Russia breakaway province of Transdniester. Since 2006, Kyiv has been conducting joint EU-Ukrainian customs patrols on the Ukrainian side of the Transdniester border. The policy, an effort to combat illegal smuggling and arms trafficking, was opposed by Moscow, which called it a blockade of Transdniester. Despite Yanukovych's pro-Russian leanings, observers say the policy is likely to remain in place.
"Ukraine has its own national interests, which are to strengthen the state and eliminate risks at the border. In this sense, the Transdniester conflict is one of official Kyiv's priorities, regardless of the 'color' of those in power," says Chisinau-based political analyst Eugen Revenco.

RFE/RL's Azerbaijani, Belarus, Georgian, Moldovan, and Russian services contributed to this story