KYIV (RFE/RL) -- Ukraine is gearing up for a tense runoff vote to choose a new president.
The election campaign officially ended last night, with opposition leader Viktor Yanukovych and Prime Minister Yulia Tymoshenko making final appeals to voters.
Yanukovych appeared confident as he waved to a crowd of supporters from a concert stage in a central Kyiv square, accompanied by a victorious fanfare.
The former mechanic from Ukraine's Donbass mining region, seen as close to Moscow, won by a 10-percent margin in the first round on January 17. Polls give him a narrow victory over Tymoshenko after a bitter campaign full of smears and insults.
An electoral victory would represent a dramatic reversal of fortune for Yanukovych, whose election as president five years ago triggered the mass Orange protests and threw out his win on grounds of fraud.
Addressing the crowd in Russian, he predicted the end of the Orange era that propelled Tymoshenko and President Viktor Yushchenko to power in 2004.
"February 7 will be the last day of the Orange era," he declared. "Five years of Orange rule have made it clear to the Ukrainian people that we can no longer live this way. On January 17, the majority of Ukrainians voted for a free Ukraine without the Orange people."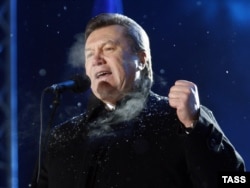 At his nearby rally, Viktor Yanukovych predicted the end of the Orange movement.
His gathering contrasted sharply with Tymoshenko's own rally, held at the same time in a nearby square.
Flanked by more than a dozen bearded priests in black frocks, she solemnly invited Ukrainians to pray for their country's unity.
"I am appealing to God to bless the unity of our state, so that nobody will divide us anymore and make us enemies, so that the people will be united, and that our state will be united," she said.
A somber Tymoshenko threatened to stage another Orange Revolution if her opponent tried to cheat in the runoff vote.
Observers say the losing camp is likely to challenge the result if the margin of victory is thin, leading to further political instability.
But Foreign Minister Petro Poroshenko, speaking today at the Munich Security Conference in Germany, said he believes the tight election race provides Ukraine with a healthy political plurality.
"We believe that the transfer of power to a new president will be democratic, civilized, and transparent, in strict compliance with European democratic standards," Poroshenko said. "Taking into account the present internal political situation, we have a chance in the next few years to obtain a very strong opposition that will become the best guarantee for the continuation of the country's democratic development."
with agency reports