Some 1,600 delegates at a traditional assembly in Kabul have concluded a three-day "peace jirga" with a call for Afghan President Hamid Karzai's government to take formal steps toward negotiating with the Taliban and other Islamic militants.

The delegates -- chosen to reflect Afghanistan's tribes, geography, and political factions -- broadly backed a 156-page peace proposal drafted by Karzai's administration.

The peace jirga's backing is considered "consultative" rather than obligatory. But the move bolsters Karzai's attempts to build national support for his plan, which includes an offer of amnesty, cash, and job incentives for Taliban foot soldiers and asylum in another country for senior Taliban leaders.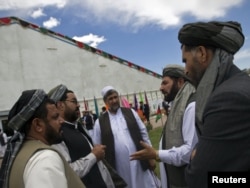 Delegates talk among themselves at the assembly in Kabul.
Jirga spokesman Gul Agha Ahmadi said 28 different committees, each comprising jirga delegates, have completed their own examinations into different aspects of Karzai's proposed peace plan.

Growing Optimism

RFE/RL's Radio Free Afghanistan reported from Kabul that the delegates reassembled inside a massive tent on June 4 and the heads of the committees presented their conclusions.

Nasrullah Stanikzai, a political analyst at Kabul University, was enthusiatic about the progress made. He noted that the delegates represented "different regions and groups. They include factions that have previously fought against each other. The fact that they've been able to gather together like this is, in itself, a big achievement."

In closing remarks to the delegates, Karzai called on insurgents to take advantage of the opportunity -- specifying that both the Taliban and supporters of militant leader Gulbuddin Hekmatyar's Hizb-i Islami should join with his government and help rebuild Afghanistan after decades of civil war.

Karzai said the peace jirga "has shown us a path. We will follow that path step by step and, God willing, we will reach the end."

Mawlavi Abdul Majid, a lawmaker from the northern province of Badakhshan, said everyone at the jirga wanted peace. But he noted that differences remain about how to start the peace process.

Majid said some delegates wanted to guarantee protections in the Afghan Constitution on democracy and women's rights. But others argued that there should be no preconditions to peace talks with the Taliban.

Karzai's government wants to ensure that gains made on civil liberties and women's rights since the overthrow of the Taliban regime in late 2001 are not compromised in order to make peace overtures to the Taliban.

Tired Of War

On the streets of Kabul, ordinary Afghans say they are tired of war and want the jirga to reach agreement on how to get the peace process moving.

"All Afghans in the country and outside Afghanistan are tired of war," Kabul resident Enzer Gul told Reuters. "They want peace and reconstruction in their country. Fighting is not going to solve the problem."

Kabul resident Ajab Mir told the news agency that many Afghans hoped the jirga would lead to real progress toward peace in the country.

"The jirga seems very optimistic. We hope this meeting reaches an agreement," Mir said. "We are hopeful that we will see changes in our dear country after many years of war."

WATCH: Afghans in the southern province of Kandahar hope consensus is reached at the assembly in Kabul.


Despite the peace jirga's backing of Karzai's peace drive, there are few signs that the Taliban is ready to respond to any peace offer. On June 2 -- just as Karzai was made his opening speech to the jirga -- a Taliban suicide squad tried to attack the jirga tent with rockets, gunfire, and bombs.
A statement on a Taliban website claims that the peace jirga was being conducted "on the demand of and under the shadow of foreign troops." The Taliban statement says "every effort" by foreign forces in Afghanistan is "aimed at securing the interests of the foreigners."
The Taliban wants the withdrawal of all foreign forces from Afghanistan before any negotiations begin. Analysts say the insurgency has been growing in recent years and there is little reason for the Taliban to call for peace.
Washington supports Karzai's plan for trying to reintegrate Taliban foot soldiers back into the mainstream of Afghan society, but the administration of U.S. President Barack Obama has been wary of any overtures to senior Taliban figures -- some of whom, like the Taliban supreme spiritual leader Mullah Mohammad Omar, are on the U.S. list of "most wanted" terrorists.
The United States has said it will begin a troop pullout from July 2011 if conditions on the ground permit a reduction of troops, but it has not set a deadline for all U.S. troops to be out of the country.
written by Ron Synovitz based on reports from RFE/RL Radio Free Afghanistan's Sultan Sarwar and news agencies