Afghan Schoolgirls Blinded In Acid Attack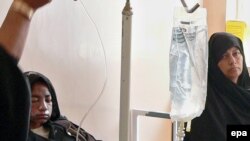 Three Afghan schoolgirls in the southern city of Kandahar have been hospitalized after unknown attackers sprayed them with acid, blinding at least two of them, city officials say.
The governor of Kandahar Province, General Rahmatullah Raufi, told RFE/RL's Radio Free Afghanistan that the girls were on their way to Mirwais Nika Girls High School on Wednesday morning when two men riding a motorcycle attacked them using acid in toy water pistols.
Schoolgirls in Kandahar are easily identified by their uniforms of white tops, black trousers, dark coats, and head scarves.
In a statement, the Afghan government said the attackers had removed the schoolgirls' head scarves before spraying them with acid.

One of the victims, Atifa, told RFE/RL that girls wearing burqas on top of their uniforms escaped the attack almost unharmed.

Atifa's mother said she is sending her daughter to school because she wants Atifa "to serve her country and her province in the future. I don't want our children to be illiterate, like their parents."
But she said the acid attack has caused panic among parents and may prevent many of them from continuing to send their daughters to school.
No one has claimed responsibility for the attack, but Afghan officials blame Taliban militants, who have killed dozens of teachers and students and torched many school buildings over the past several years.

Under its strict interpretation of Islam, the Taliban regime banned girls from receiving educations while it ruled the country before its overthrow in late 2001.

Meanwhile, residents of Charbulak and Chimtal districts in Afghanistan's northern Balkh Province say unknown people distributed leaflets in local villages overnight, warning people against sending girls to school.

(by RFE/RL's Farangis Najibullah)

About This Blog
"Watchdog" is a blog with a singular mission -- to monitor the latest developments concerning human rights, civil society, and press freedom. We'll pay particular attention to reports concerning countries in RFE/RL's broadcast region.
Journalists In Trouble
RFE/RL journalists take risks, face threats, and make sacrifices every day in an effort to gather the news. Our "Journalists In Trouble" page recognizes their courage and conviction, and documents the high price that many have paid simply for doing their jobs. More