BISHKEK -- With nearly 90 percent of the vote counted in Kyrgyzstan's parliamentary elections, Ata-Jurt, a nationalist party that has strong support among ethnic Kyrgyz in the south, is narrowly leading a broad field with some 9 percent of the vote.
According to figures from the country's Central Election Commission, Ata-Jurt is closely followed by the Social Democratic Party, the pro-Russia Ar-Namys, Respublika, and the pro-government Ata-Meken. A minimum of 5 percent support is needed to enter the legislature.
The election commission said nearly 57 percent of the country's 2.8 million registered voters had participated in the October 10 poll. Turnout was higher in the southern city of Osh, one of the epicenters of deadly interethnic violence in June.
Observers see voters as seeking stability and greater economic opportunity in a country still recovering from the summer clashes and the forced ouster of President Kurmanbek Bakiev in April.
International vote monitors
have hailed
the "political pluralism...vibrant campaign, and confidence in the central commission" that accompanied the vote.
Some 29 political parties were competing for 120 seats in a new Zhogorku Kenesh legislature that was given expanded powers following a constitutional referendum in June that made Kyrgyzstan the first parliamentary democracy in Central Asia. The vast number of parties presented voters with a dizzying list of choices on ballots that measured 72 centimeters long.
Kyrgyz officials, fearing a fresh outbreak of violence, imposed tight security measures and invited some 800 election monitors to observe the vote.
Roza Otunbaeva, the country's interim president -- who has willingly agreed to cede many of her powers to the newly strengthened parliament -- expressed confidence that little could disrupt the conduct of the vote.
"We expect that today will be a regular day," she said. "We expect that because the whole [election] process will be transparent and open, it will not allow those who want to destabilize the situation to bring the country into a state of political hysteria."
Speaking to journalists in the southern city of Osh, Janez Lenarcic, the director of the OSCE's Office for Democratic Institutions and Human Rights, which has stationed a total of 240 election observers around the country, praised what he said had been "peaceful" elections so far.
"It is so important that people are able to express their will, the voters. It is also important that their will is honestly reflected in the results," he said, "and ultimately it is extremely important that everyone accepts such results. It is important for this country that was recently shocked and shaken by violence that everything proceeds peacefully and smoothly."
Concerns about potential violence were particularly keen in Kyrgyzstan's south, which is both the political stronghold of the ousted leader Bakiev, and the site of clashes between ethnic Kyrgyz and minority Uzbeks that left as many as 400 people dead in June.

WATCH: Leaders from Kyrgyzstan's top political parties cast their ballots in Bishkek, while ethnic Uzbeks vote in the troubled southern regions of Osh and Jalal-Abad:
There had been fears that Uzbek voters would be discouraged from participating in the polls.
But Gulasal Kamalova, a correspondent with RFE/RL's Uzbek Service, reported from Osh that the city's Uzbek residents turned out in high numbers for the vote.
"The mood here right now is very positive. A lot of people have been going to vote since this morning, and all of them are happy in a way that I didn't see when I was here just a month ago," Kamalova says. "They say it's because there are elections today and it's possible that something will change -- that there will be peace and stability."
Analysts say around six parties are expected to cross the 5-percent vote threshold needed to win seats. Front-runners include supporters and opponents of the current interim government and the new parliamentary democracy.
Among the supporters are the Ata-Meken (Fatherland) party led by Omurbek Tekebaev, a former parliament speaker, and the market-oriented Social Democratic Party of former Prime Minister Almazbek Atambaev.
WATCH: President Roza Otunbaeva votes in Bishkek, while in the country's troubled south, voters cast ballots in the city of Batken:
Opponents include the Ar-Namys (Dignity) party, led by another former prime minister, Feliks Kulov, who is reported to have close ties to Russia. Speaking today in Bishkek, Kulov announced that if his party did well in the polls, it would nominate him as prime minister. He added that he was ready to work with future coalition partners.
"I am ready to work in the coalition with any party which accepts our plans, our programs, and our concrete plan of action for the near future," he said.
Another party that is likely to attempt to reverse Kyrgyzstan's current political path is Ata-Jurt, a nationalist party that has strong support in the country's fractious south. Speaking in the southern city of Jalal-Abad, party leader Kamchibek Tashiev spoke in mild tones about the need for peace after the season of unrest.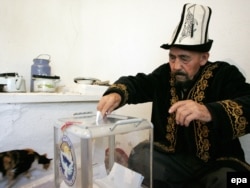 An elderly Kyrgyz man votes at his home in the village of Arashan, some 20 kilometers south of Bishkek.
"Not long ago, our country suffered from ethnic conflicts between Uzbeks and Kyrgyz," he said. "I hope these elections will give a big push to the development of cooperation and peace in our country."
Yet another party, Respublika, led by former Deputy Prime Minister Omurbek Babanov, has sided with neither the interim government or its predecessor but is expected to fare well and may prove critical in the formation of any coalition.
Russian Involvement
The United States and Russia, which both have military installations in Kyrgyzstan, are watching the election carefully.
Washington has openly supported the country's constitutional referendum and move to a parliamentary democracy. Moscow has criticized the switch, saying it leaves the country vulnerable to continued instability.
Russia has been particularly critical of Ata-Meken leader Tekebaev, who is one of the main architects of Kyrgyzstan's new political path.
Observers say Russian media -- which is widely viewed in Kyrgyzstan -- has aired frequent reports offering unflattering portraits of Tekebaev. In the most spectacular instance, Russia's NTV network aired a program showing footage from a 2-year-old sex tape showing the Ata-Meken leader allegedly participating in an extramarital affair.
Speaking after casting his ballot in Bishkek, Tekebaev criticized "foreign states" for meddling in the elections.
"Some foreign states influence political parties, openly and publicly giving them political orders. And [their] mass media continues the propaganda even on the day when the campaigning is prohibited," he said. "The participation of the foreign mass media in the campaign in our country is strictly prohibited by the law."


written by Daisy Sindelar, with reports from RFE/RL's Kyrgyz and Uzbek services