It is arguably Kyrgyzstan's most important election since independence.
After months of political turbulence, instability, and ethnic violence, the small but strategically vital Central Asian state is electing a powerful new parliament today.
The vote marks the latest test for the government of interim President Roza Otunbaeva, who came to office after deadly street protests drove former President Kurmanbek Bakiev from power in April.
Voters are choosing from among a dizzying collection of 29 parties competing for 120 seats in a new legislature, which was given expanded powers following a constitutional referendum in June that established Kyrgyzstan as the region's first parliamentary democracy.
Once a new government is formed, Otunbaeva -- who supported the constitutional changes -- will take on a more ceremonial role as head of state. As she cast her own ballot in Bishkek, she expressed confidence that the Kyrgyz people will act quickly to create a parliamentary republic and to protect it.
Speaking to reporters in Bishkek on October 8, Otunbaeva said the vote would proceed despite lingering ethnic tension in the country's south, where ethnic Kyrgyz clashed with minority Uzbeks in June.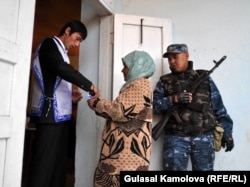 A woman votes at a polling station in Osh amid tight security.
"We have been preparing for it [the elections] a for a long time and put a lot of work into it," Otunbaeva said. "Everything is ready for the vote and we are prepared to face any challenges."
The risk of renewed violence became evident on October 6, when an angry crowd stormed the Bishkek office of the Ata-Jurt party and set fire to its election literature.
No Clear Favorites
Analysts expect several parties who supported Bakiev's ouster in April to dominate the election. These include the left-leaning Ata-Meken (Fatherland) Socialist Party led by Omurbek Tekebaev, a former parliament speaker, and the more market-oriented Social Democratic Party of Almazbek Atambaev, a former prime minister.
Another party, Ak-Shumkar (White Falcon) led by Temir Sariev, a candidate in the 2009 presidential election, is also expected to do well.
Tynchtykbek Tchoroev, a political analyst with RFE/RL's Kyrgyz Service, says that while these parties remain the favorites, the recent ethnic turmoil and a rift between the country's north and south make the election unpredictable.
"But after the June turmoil everything has changed in the political environment in Kyrgyzstan and these two parties might be in the parliament but not to such an extent as was thought prior to June," Tchoroev says.
A nationwide poll of 1,500 voters conducted by the United Nations showed Ata-Meken winning 13.5 percent of the vote and the Social Democrats 11.5 percent.
Moreover, new election rules designed to prevent one-party dominance limit a single party to no more than 65 seats in parliament, so whoever emerges on top will be forced to form a coalition.
Many Voices
The pro-government parties are opposed by a broad array of forces seeking to overturn the constitutional reforms and return to presidential rule. The strongest of these is Ata-Jurt (Fatherland), a nationalist party led by former Emergency Situations Minister Kamchibek Tashiev that has a strong following in the south.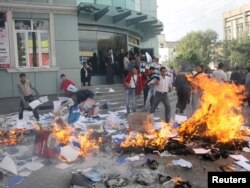 Relatives and friends of people killed during the April uprising burn Ata-Jurt materials in Bishkek on October 6.
The party includes Bakiev loyalists in its ranks and has pushed back against allegations that it is being financed by the former president, who fled to Belarus after his ouster.
Another potentially strong antigovernment party could be Ar-Namys (Dignity), which is led by former Prime Minister Feliks Kulov, who is widely seen to be a favorite of Russia.
Kulov, who has a background in law enforcement and whose campaign posters refer to him as "the iron shield of the law," has promised to overturn the new constitution and reinstate a strong presidential system.
Central Asia analyst Erica Marat says Kulov, who lost public trust after serving as Bakiev's prime minister, has used his tough law-and-order image in the aftermath of the June violence to resurrect his political career.
"A lot of analysts and observers thought that Feliks Kulov will never be able to come back [to] political life because he lost popularity so fast during the Bakiev regime," Marat says, "but it turned out to be different, because the circumstances worked in his favor."
Another party, Respublika, led by businessman and former Deputy Prime Minister Omurbek Babanov, doesn't have a clear pro- or antigovernment agenda and is also likely to win seats and could play the role of kingmaker.
"It looks like Respublika led by Babanov will have a key say, because they haven't shown any inclination toward any party or possible coalition," Marat says, "so they will be the ones who will be deciding which coalition becomes the majority coalition."
Speaking to reporters in Bishkek, Jens Hagen Eschenbacher, a spokesman for the OSCE's Office of Democratic Institutions and Human Rights (ODIHR), praised the campaign, saying it "has been competitive, has been very lively, highly visible with political parties holding rallies across the country."
Eschenbacher said that the 29 parties competing -- 12 contested the last elections in 2007 -- "have been able to campaign freely and largely without major incidents."
RFE/RL's Kyrgyz Service contributed to this report