BAKURIANI, Georgia -- Usually bustling with skiers and lugers, the slopes of Bakuriani are eerily empty these days.
Thousands of Georgians paid their last respects today to luger Nodar Kumaritashvili, a Bakuriani native who was killed in a horrific training crash in Vancouver last week, just hours before the start of the Winter Olympics.
Most of this picturesque mountain resort's 1,500 residents knew him well and shared his passion for luging. But as the town laid him to rest, many here say they have put away their luge, for good. One of them is 14-year-old Soso Kapanadze, a fervent admirer of Kumaritashvili who had hoped to follow in his footsteps.
"Personally, I like luging and I was a big fan of Nodar. But now that he is dead I no longer want to continue this sport," he says. "I was planning to train, but we were all so devastated by Nodar's death that I don't think I'll continue. I think many others will also stop."
The 21-year-old Kumaritashvili died after losing control of his luge during a training run on February 12. He flew off the track and slammed into a steel post at high speed, dying almost instantly.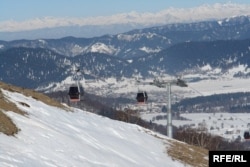 Bakuriani has a long tradition of producing winter-sport athletes.
He was laid to rest today in a place of honor in the yard of a local church, the Holy Christmass Church. A street in Bakuriani has also been named after the young luger, marked by a plaque in his honor.
The funeral ceremony was attended by Georgian President Mikheil Saakashvili and his wife Sandra, as well as many other high-ranking officials, including parliament speaker David Bakradze.
Long Line Of Lugers
The grief felt by Georgians in Bakuriani and elsewhere is mingled with mounting anger. In the wake of the accident, a number of foreign Olympic athletes have said Kumaritashvili was too inexperienced to compete in Vancouver and complained about the safety modifications made to the track following his death.
In a particularly stinging comment, Wolfgang Staudinger, a German luge coach working with the Canadian Olympic team, blamed luge accidents on "exotic sliders."
Many in Bakuriani are indignant over suggestions that Kumaritashvili, who comes from a long line of luge specialists, was a novice unprepared for the rigors of the Vancouver track.
His father, Davit, was himself a champion luger, and his uncle, Feliks, is a luge coach with the Georgian Olympic team, and was with Nodar at the time of the accident. Kumaritashvili's grandfather, Aleko, built Bakuriani's first luge track, in 1973.
With Bakuriani's rich luge history, many of the town's young athletes say Georgia must stand up to the critique of Western lugers and not turn their back on the sport.
"Nodar died, but the luging sport must definitely go on," says Nikoloz Inasaridze, a 16-year-old Bakuriani luger. "Personally, I will continue training, to honor his memory. I like it very much. It's a courageous sport, so to say."
Looking To The Future
Georgia has a long tradition of winter sports. Feliks Kumaritashvili, Nodar's uncle, has said archeological evidence shows Georgians held luging competitions as far back as the 12th century.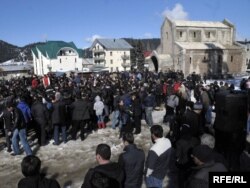 Mourners gather for Nodar Kumaritashvili's funeral in Bakuriani.
Bakuriani, in particular, is famous for producing generations of world-class winter athletes such as Koba Tsakadze, the legendary ski jumper who competed in four Winter Olympic Games.
Many say Kumaritashvili would not have wanted his death to hurt this tradition. Childhood friend Levan Gureshidze, who was to compete alongside Kumaritashvili in Vancouver, pulled out from the games after his partner's fatal crash. Despite the shock of his friend's death, he says he is determined to resume professional luging.
"We started training in this sport when we were 12-13 years old. We have been inseparable ever since," Gureshidze says. "Feliks took us everywhere he could. We trained hard to become successful athletes. Personally, if the government provides me with facilities for proper training, I will do my best to continue this sport and help his name live on."
Kumaritashvili's death may have one positive outcome for Bakuriani. The authorities pledged to build a long-promised new luge course -- to replace a rundown, Soviet-era track that was shut down years ago -- and name it after Kumaritashvili.
While amateur lugers are happy to use ordinary ski slopes, Olympic-level athletes like Kumaritashvili and Gureshidze have had to travel to Latvia or Germany for practice.
Speaking on national television this week, the head of Georgia's national Olympic Committee said the International Olympic Committee may also commit funds for the new track. This would make no one happier than Kumaritashvili's father, Davit.
"Luging should not end in Bakuriani, it must go on. Unfortunate accidents can always happen," he says. "Many people here will continue to show interest in this sport, and this is not going to end because of what happened to Nodar."