DUSHANBE -- Bozorali Valadi Egamberdi, an Afghan citizen who escaped from a Tajik detention center more than a month ago, has been killed in a gun battle with Tajik security forces, RFE/RL's Tajik Service reports.
Egamberdi was one of 25 detainees who escaped from the Tajik State National Security Committee (SNSC) in Dushanbe on August 23.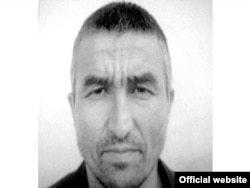 Bozorali Valadi Egamberdi
Tajik Interior Ministry spokesman Muhammdajon Nazriev told RFE/RL that Egamberdi refused to surrender late on October 4 in Tavildara, 160 kilometers east of Dushanbe, and was killed in the ensuing shootout.
Of the 25 escaped inmates, three have been killed and seven more recaptured, mostly in the Dushanbe suburbs and eastern Tajikistan.
Government forces continue to hunt for the other 15 fugitives.
The escaped prisoners include six Russian citizens, four Afghans, and two Uzbeks. Most were accused of participating in last year's armed rebellion in Tavildara.
Tajik President Emomali Rahmon fired the head of the Tajik State National Security Committee and all his deputies shortly after the jailbreak.