WATCH: Kyrgyz security forces disperse protesters outside the capital, while thousands gathered in central Bishkek in support of opposition leader Urmat Barktabasov.By RFE/RL
BISHKEK -- The authorities in Kyrgyzstan have arrested an opposition leader and more than 20 others on charges of plotting a coup, President Roza Otunbaeva said, after troops fired tear gas and stun grenades in the capital, Bishkek, to disperse around 2,000 of his supporters.
It was the biggest sign of unrest since ethnic clashes in June killed at least 350 and forced hundreds of thousands to flee their homes in the south of the country.
Outside the capital, soldiers at a roadblock fired blank rounds into a crowd of thousands more protesters who were prevented from reaching the main rally in front of parliament.
The demonstration was held in support of Meken Tuu Party leader Urmat Barktabasov, an ultranationalist who was demanding the post of prime minister. His is the latest political opposition to the weak caretaker government, prompting fears that growing popular dissatisfaction may threaten key parliamentary elections in the fall.
Barktabasov told RFE/RL's Kyrgyz Service on August 4 that the caretaker government isn't coping in the wake of the violence that broke out in June in the southern provinces of Osh and Jalal-Abad.
"People need fairness and justice now," he said. "If these two needs can be resolved, we can get out of this darkness."

'Seizure Of Power'
Officials had banned the August 5 demonstration, saying some of the protesters were armed. Interior Minister Kubat Baibolov told RFE/RL's Kyrgyz Service that Barktabasov's supporters were preparing to stage a coup d'etat.
"They deceived people and gathered them for the seizure of power," he said, "using financial support from other 'political powers' working behind the scenes."
Baibolov said police learned of the plot early on August 5 after some of Barktabasov's supporters beat three policemen and took their guns in his power base, the region of Lake Issyk-Kul near Bishkek. He said Barktabasov was arrested when he tried to escape.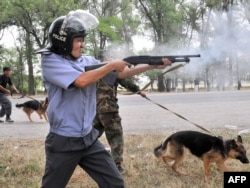 A policeman fires tear gas while dispersing demonstrators.
It's not the first time Barktabasov has clashed with the authorities.
In 2005, he was charged with trying to seize power before a presidential election that brought Kurmanbek Bakiev to power. Barktabasov fled to neighboring Kazakhstan, where he was an adviser to President Nursultan Nazarbaev, but is now wanted there for economic crimes. The authorities in Bishkek issued an arrest warrant for Barktabasov on August 4 on the basis of those charges.
Barktabasov returned to Kyrgyzstan following Bakiev's ouster in April, after 85 people died when troops fired into a crowd of demonstrators.
Outside parliament on August 5, protest organizer Nursultan Jamankulov said Barktabasov's supporters were calling on the authorities to drop criminal charges against him.
"We want to make Urmat Barktabasov a government leader or prime minister!" Jamankulov said. "Hurray for Barktabasov!"
Doubts Raised
The latest unrest comes as politicians have been hardening their opposition to the government ahead of parliamentary elections set for September or October. The caretaker government, which took power after Bakiev's ouster and carried out a referendum in June to change the constitution, says the elections will form the basis for a new democratic parliamentary system.
But growing protests have raised doubts about the government's ability to provide security, especially in the south, where minority Uzbeks suffered most of the recent violence.
Kyrgyz security forces block Barktabasov supporters from advancing.
The mayor of Osh, the epicenter of the recent violence, has publicly opposed plans by the Organization for Cooperation and Security in Europe (OSCE) to send 52 unarmed police officers to the south to help stabilize the situation. The plan has also led to minor protests in Osh and Bishkek.
President Roza Otunbaeva visited Osh last week to survey the security situation and to meet with Osh Mayor Melis Myrzakmatov. She told a group of young activists that Kyrgyzstan stands on the brink of chaos.
"If we don't find a way out of this crisis, we'll be fighting each other, as the Russians say 'an eye for an eye,' and Kyrgyzstan will become like Chechnya," she said. "We're only one step away from a civil war now."
Public Dissatisfaction
Otunbaeva's talks with Myrzakmatov appear to have ended the anti-OSCE protests for now. On August 4, local police -- some of whom are loyal to the mayor and not the government -- prevented activists from setting up tents.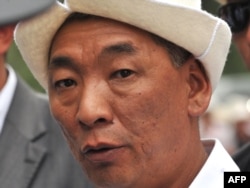 Urmat Barktabasov
But similar protests have taken place in other cities. Analysts say although they've been mostly organized by politicians seeking to raise their standing, there are signs of broader public dissatisfaction with the government. One villager in the south has threatened to set himself on fire if the government doesn't fire a pro-Bakiev district chief.
Speaking from Bishkek, political expert Khadyr Malikov says people are increasingly unhappy over the government's lack of control.
"There's dissatisfaction that some of those in government are the same people who held power under previous administrations," Malikov says. "People are unhappy that nothing has changed, that there's corruption and a struggle for power. The population is tired of all that."
Malikov says opposition politicians helping whip up nationalist sentiment could pose a threat to the government if they're able to unite.
"The government's authority is falling," he says. "There are very many players competing against each other in the political vacuum, and it's difficult to talk about any kind of stability or to predict what will happen."
Otunbaeva acknowledged on August 5 that Kyrgyz security forces abused the rights of minority Uzbeks in the wake of June's ethnic violence. She spoke in comments to the AFP news agency.
The president has formed a commission to investigate the causes of the violence last June. Malikov says a credible report would be crucial to calming tensions but that there's little chance it would be seen as objective.
He says the country's ongoing instability means that even if elections do take place next fall, "they will only raise more questions about how this country will move forward."
written by Gregory Feifer, with contributions from RFE/RL's Kyrgyz Service