YEREVAN -- Authorities in Armenia are seeking additional supplies of Tamiflu as swine flu continues to spread there, with the number of confirmed cases more than doubling recently to 11, RFE/RL's Armenian Service reports.
The Armenian Health Ministry said five Armenians were diagnosed with the H1N1 virus, or swine flu, and hospitalized on a single day last week.
A Turkish man was also found infected when he arrived from Yerevan's Zvartnots Airport on a flight from Istanbul.
Over the same week, two people who contracted swine flu earlier were released from hospital.
Deputy Health Minister Hayk Darpinian repeated statements made by other Health Ministry officials and urged Armenians on November 13 not to succumb to "panic" about the virus.
He said the authorities are doing everything in their power to keep the H1N1 virus from spreading.
Darpinian told RFE/RL that pharmacies across Armenia have run out of Tamiflu because of panic buying caused by the swine-flu threat.
Health Minister Harutiun Kushkian said last week that his ministry had ordered 20,000 more doses of Tamiflu.
Darpinian said Kushkian has also asked Armenian drug-importing companies to "restrain" the rise in the price of Tamiflu of recent days.
Kushkian added that Armenia has asked the World Health Organization and other international agencies to accelerate the planned delivery of new H1N1 vaccines to Armenia that were originally due to arrive in January.
Swine Flu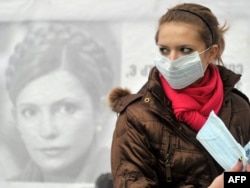 H1N1 Virus
As the fall flu season hits, fears of a swine-flu pandemic have grown in Eastern Europe after Ukraine saw a massive outbreak.
Click here
for RFE/RL's coverage of the virus's spread.