The main leader of Iran's opposition, defeated presidential candidate Mir Hossein Musavi, so far remains a free man. But that could change if hard-liners have their way.
Some allies of President Mahmud Ahmadinejad are now publicly calling for the arrest and prosecution of Musavi as well as former President Mohammad Khatami.
On August 2, Iran's hard-line daily "Kayhan" announced in its top headline: "Evidence of Khatami and Musavi's Treason Unveiled."
A conservative legislator from Tehran, Mohammad Rasayi, is quoted by state news agencies as saying that the confessions of the detainees currently on trial pave the way for dealing with the leaders of the "riots."
A member of the Society of Militant Clergy, Jafar Shojuni, is also quoted by Iran's official news agency IRNA as saying that now that the "small fish" have confessed in court, authorities should go after the "big fish."
Mohammad Taghi Rahbar, a hard-line member of parliament's judiciary committee, told the semi-official Fars news agency that a group of Iranian lawmakers have already filed a complaint to the judiciary against Musavi over the postelection violence. He added that those who directed the recent unrest – which he referred to as "riots" -- should be accountable for the bloodshed.
On August 3, Ahmadinejad was endorsed for a second term as president by Iran's Supreme Leader Ayatollah Ali Khamenei, in a ceremony that was snubbed by prominent figures including Khatami and the head of the Assembly of Experts, Akbar Hashemi Rafsanjani, another former president. Ahmadinejad is set to be inaugurated on August 5.
Musavi and fellow opposition leader Mehdi Karrubi were also absent from the ceremony.
Questionable Confessions
During the mass trial, which is due to be continued on August 6, some of the defendants have "confessed" to their crimes, including Khatami's former vice president and close aide, Mohammad Ali Abtahi. He was quoted as saying that opposition leaders had conspired in advance to misrepresent the June vote and prompt people to take to the streets by claiming that the vote was rigged.
"Fraud was in fact a code word for all the riots and incidents that took place in the country," Abtahi reportedly told the court. Abtahi accused Khatami of treason for backing Musavi, and said that Rafsanjani wanted to take revenge on Khamenei and Ahmadinejad.
Reformists were quick to condemn what they called a "show trial" and said that the confessions of the defendants were clearly made under duress. Musavi accused the authorities of using "medieval torture" to make prisoners confess.
Abtahi and another defendant, former senior Interior Ministry official and journalist Mohammad Atrianfar, were
shown on state television
denying that they had been forced to confess to their crimes under pressure or under the influence of drugs, as Abtahi's family has suggested.
The two men, sitting at a coffee table under some trees, claimed their time in prison had changed them. Abtahi said he'd had fruitful discussions with his interrogators. "Inside the prison, the treatment and talks and dialogue were honestly very good. My interrogator and I were friends," he said.
Atrianfar suggested he had something like a spiritual awakening in prison, in which he had changed his mind as "the result of understanding, an undisputable truth, that has made me awaken, and that is: If Iran's establishment is unstable and damaged, then I won't have an identity anymore."
Forcing political prisoners to make confessions on television is a frequent tactic used by the authorities in the Islamic republic. A number of former detainees have said after their release that they had been forced to confess under physical and psychological torture.
About two years ago, Abtahi himself wrote on his popular blog, "Webeneveshtha," that such confessions work out well for everyone involved. "The political establishment is happy because it believes it has convinced people. The prisoners are happy because they know the ground has been paved for their release and they also know that after being released they will say different things. People know that the confessions were made in prison under pressure," he wrote.
Ebrahim Nabavi, an exiled satirist who was forced to make confessions after being jailed in Iran for his critical articles, says political prisoners are often put under tremendous psychological pressure to confess to crimes dictated by their interrogators.
"The mechanism of extracting a false confession lies in destroying one's personality," Nabavi says. "They make one feel alone, then they repeat a charge so many times that one starts to believe in it."
Nabavi adds that interrogators create "so much fear, saying they will execute you, they put you under so much pressure, you feel as if you've been in jail for twenty years. And then they make you talk."
A Bid
To Legitimize The President
Tehran-based lawyer and political analyst Nemat Ahmadi describes the current mass prosecution as "the peak of the show trials" that have been taking place in the Islamic republic in recent years. He tells RFE/RL's Radio Farda the aim of the trial is to legitimize Ahmadinejad's presidency and prove that he wasn't reelected as the result of fraud.
"The legitimacy of this president is under question by millions of voters who took to the streets," Ahmadi says. "The show was staged to create doubt in the minds of the people so that the endorsing ceremony [today] would be effective."
But Ahmadi and a number of other observers believe that the hard-liners' efforts will backfire.
The trial has angered members of the opposition, who have said they will protest against Ahmadinejad's planned inauguration on August 5.
Among other signs of support, many have written messages on Abtahi's Facebook page expressing their solidarity with him and his family.
Yet hard-liners seem determined to intensify their crackdown on the opposition and those who have questioned the June 12 vote.
The Fars news agency reported on August 3 that state television in the coming days will air "confessions" by another prominent reformist, Saeed Hajjarian, who was also arrested in the postelection crackdown and who, according to his family, has been under great pressure in jail.
Radio Farda broadcaster Alireza Kermani contributed to this report
Iran Election Special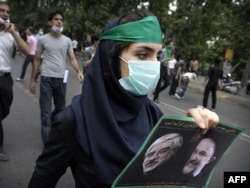 RFE/RL's Full Coverage
Following the disputed reelection of Iranian President Mahmud Ahmadinejad, supporters of Mir Hossein Musavi have taken to the streets to protest.
Click here
for news, blogs, and analysis of the presidential election and aftermath.
Iran Election Diary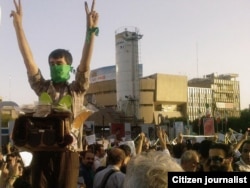 Disputed Presidential Vote
There have been protests and clashes with police on the streets of Tehran following the disputed reelection of Mahmud Ahmadinejad. RFE/RL collects videos, photos, and messages on social-networking sites coming out of Iran to attempt to get a picture of what is happening inside the country.
Click here