Azerbaijan has apparently decided to play its energy card.
As much of the world applauded Turkey's historic rapprochement with Armenia last week, Azerbaijan felt left out in the cold and abandoned by its closest ally.
Baku had argued strenuously that a deal to reestablish relations between Ankara and Yerevan should not be signed while Armenia continued to occupy Nagorno-Karabakh, and it threatened to take unspecified countermeasures if one was.
Speaking at a nationally televised cabinet meeting on October 16, Azerbaijani President Ilham Aliyev revealed one of those steps: "It is not a secret to anyone that for many years Azerbaijan has been selling its gas to Turkey for one-third of market prices."
Aliyev added: "What state would agree to sell its natural resources for 30 percent of world market prices, especially under current conditions? This is illogical."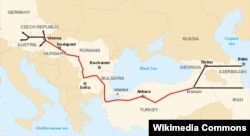 The route of the Nabucco project
Aliyev presented the move as a purely commercial decision and did not explicitly link it to the Turkish-Armenian deal. Azerbaijan currently sells Turkey natural gas at the bargain rate of $120 per thousand cubic meters. But the timing of Aliyev's announcement, less than a week after the accord between Yerevan and Ankara was signed, left little doubt.
If Baku follows through on the move, analysts say it could severely undermine -- if not completely kill -- the Western-backed Nabucco pipeline project to bring gas from the Caspian Sea to Europe via Turkey.
"Potentially this is very important because it could potentially deliver a knockout blow to Nabucco. Without Azerbaijan it would be even more difficult than it is," says Federico Bordonaro, an energy-security analyst with the Italian-based group equilibre.net.
Nabucco vs. South Stream
The Nabucco project, which is designed to bypass Russia by bringing gas from the Caspian region via Georgia and Turkey into the rest of Europe, is a key element of a Western strategy to break Moscow's stranglehold on Europe's energy supplies and establish alternative routes and suppliers for the continent.
Russia, for its part, is pushing its own competing pipeline project, called South Stream, that would transport Russian gas to Europe via the Black Sea and Bulgaria.
Aliyev said one option for Azerbaijan would be to export its gas to Europe via Russia, which analysts say would dovetail with Moscow's pipeline plans.
"We should not rule out the possibility that the Russians are trying to use these tensions in order to turn Azerbaijan against Nabucco and directly or indirectly [support] South Stream," Bordonaro says.
Indeed, as the Turkey-Armenia rapprochement gained steam -- and it became clear that it would proceed without progress on Nagorno-Karabakh -- Aliyev began moving closer to Moscow.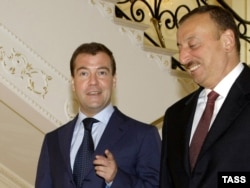 Has Aliyev (right) decided to throw in his lot with Russia and Dmitry Medvedev?
He met with Russian President Dmitry Medvedev at a summit of the Commonwealth of Independent States (CIS) in Chisinau on October 9, just before Turkey and Armenia signed their accord.
And on October 14, when Armenian President Serzh Sarkisian was in Turkey watching a World Cup soccer match with his Turkish counterpart Abdullah Gul, Azerbaijan signed a deal to sell 500 million cubic meters of natural gas annually to Russia's Gazprom starting in 2010.
Speaking about the deal, Aliyev said the 500 million cubic meters was just a starting point and that there was "no upper limit" to the amount of gas Baku could sell to Russia.
Is He Bluffing?
While Aliyev's move has heightened fears that Azerbaijan may be moving quickly into Moscow's orbit, some observers say he could be bluffing in an attempt to influence Turkey's parliament, which is due to debate the agreement normalizing relations with Armenia on October 21.
"The Azerbaijanis could be saying [to the West and Turkey] that if you are not supportive of us on Nagorno-Karabakh, we will choose South Stream over Nabucco," Bordonaro says.
"It is difficult to say if they are bluffing or not. But we shouldn't rule out that they are not bluffing."
Ilham Shaban, a Baku-based energy analyst, is more sanguine. He tells RFE/RL's Azerbaijani Service that pipelines delivering Azerbaijani gas to Europe via Turkey have a much larger capacity than those passing through Russia.
"Turkey is the door that Azerbaijan needs to use to get it's energy resources to the world market. We need to make this door wider. And this was our policy so far," Shaban says.
"I don't think we are going to close this door because of these protocols" between Turkey and Armenia.
Turkey broke off diplomatic relations with Armenia in 1993 in support of Azerbaijan, which was fighting a losing battle against ethnic Armenian separatists in Nagorno-Karabakh.
In response to Azerbaijan's anger over the normalization with Armenia, Turkish Foreign Minister Ahmet Davutoglu assured Baku that its support remains unchanged, saying, "Azeri soil is as sacred for us as our own."
Turkish Energy Minister Taner Yildiz indicated on October 19 that Ankara is ready to pay more for Azerbaijan's gas, suggesting more negotiations were on the horizon.

RFE/RL's Azerbaijani Service contributed to this report