Religious leaders from Armenia and Azerbaijan have called for a peaceful resolution to the Nagorno-Karabakh conflict, during a landmark meeting in the Azerbaijani capital, Baku.
The call came as the head of the Armenian Apostolic Church, Catholicos Garegin II, made his first-ever trip to Azerbaijan today, joining a gathering of some 200 religious figures from around the world.
Garegin II was invited by Azerbaijan's longtime Shi'a Muslim leader, Sheikh ul-Islam Allahshukur Pashazade, and Russian Orthodox Church leader Patriarch Kirill.
The three met on the sidelines of the gathering and later issued a joint declaration pledging support for efforts by Yerevan, Baku, and international mediators to end the conflict over the disputed region.
"It is vitally important not to allow a return to military ways of solving contentious issues," the leaders said in a statement released after their meeting. "With our peace efforts, we will be sustaining people's hopes for the elimination of existing divisions, barriers, and animosity, for war, if it is continued, will have no end."
Garegin today also invited Pashazade to visit Armenia.
'A Specific Opportunity'
Patriarch Kirill told journalists the declaration reflected the role religious leaders can play in resolving protracted conflicts.
"Religious leaders don't have political power. They cannot move troops. They cannot use state force," he said. "But they have a specific opportunity to appeal to those values and to those ideals which are very important for believers."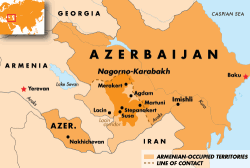 Earlier, in his remarks to the meeting, Garegin called on religious authorities to help solve world conflicts, directly addressing the territorial dispute over Nagorno-Karabakh.
"The problems should be solved in accordance with the international law and rights of the nations," Garegin said. "As the Armenian patriarch, I find it very important to continue our efforts with the head of the Muslim of Caucasus, Sheikh ul-Islam Allahshukur Pashazade, to continue our work and try to find a solution for the problem. This is our duty."
Historic Accord
The Nagorno-Karabakh region and much of the adjoining territory has been under the control of Armenian forces since a war with Azerbaijan that ended in 1994.
Turkey has called on Armenia to resolve the ongoing dispute in order for Ankara to move forward with a historic accord establishing diplomatic relations and opening the shared border between Turkey and Armenia.
The accord was signed in October but requires parliamentary ratification in both countries.
Armenian President Serzh Sarkisian suspended Armenia's ratification process on April 22, citing different problems but highlighting "the Nagorno-Karabakh problem." Armenia contends that Nagorno-Karabakh was not a precondition to its agreement with Turkey.
Pashazade of Azerbaijan also addressed Nagorno-Karabakh in his opening remarks.
"We are making efforts to solve the conflict with Armenia," Pashazade said. "We held a series of meetings with the Armenian Catholicos. I consider it an important factor that the Armenian Catholicos accepted the invitation and joined the summit."
He added that he expected the meeting to "contribute to this work."
But Garegin's visit prompted a small protest today by a radical group called the Karabakh Liberation Organization. About a dozen members of the group, some of whom said they were parents of victims of the war, held a demonstration in Baku that was later dispersed.
Big Tent
Spiritual leaders from over 30 countries were expected to discuss globalization, conflict resolution, ecumenism, and the role of religion in public life at the Baku meeting, which wraps up on April 27.
Local media said those expected to attend include Cardinal Jean Louis Tauran, head of the Pontifical Council for Inter-religious Dialogue, and Orthodox Metropolitan Christopher of Prague.
One no-show was the head of the Georgian Orthodox Church, Patriarch Catholicos Ilya II, who a spokesman said is currently undergoing medical treatment in the Czech Republic.
Azerbaijani President Ilham Aliyev told participants he hoped Baku would become "a center of dialogue between the religions."
"Azerbaijan is a natural bridge between Europe and Asia," Aliyev said. "Representatives of different religions and nationalities lived together in Azerbaijan throughout the centuries. I hope the day will come when Baku will be selected the capital of European culture, and it will contribute to the development of Azerbaijan's ties with Christian and Muslim worlds."
Local media reported that Aliyev was due to meet the Armenian spiritual leader later in the day, and that Garegin was also expected to visit the Armenian Church in Baku.
While Aliyev touts Baku's credentials as a center for interfaith dialogue, however, various human rights organizations -- as well as a March report from the U.S. State Department -- have raised concerns about religious freedom in Azerbaijan.
The State Department report warned that some laws are being used to harass certain religious groups, such as unregistered Islamic religious communities, Jehovah's Witnesses, and a number of Protestant communities. The report cited the November 29 police beating and detention of 81-year-old Jehovah's Witness adherent Lydia Suleymanova.
In a more recent incident, authorities
forcefully dispersed
a Shi'ite religious procession in Baku on February 13.
written by Kristin Deasy based on contributions from RFE/RL's Azerbaijani and Armenian services and agency reports