BUCHAREST (Reuters) -- Both candidates in Romania's presidential election have claimed victory after most exit polls showed leftist challenger Mircea Geoana with a slim lead over center-right incumbent Traian Basescu.
The rival claims raised the prospect of a disputed outcome to the bitterly fought contest that could rattle the recession-stricken Black Sea nation's markets.
The first official results were due by 0800 UTC on December 7.
"Together, we won," Social Democrat leader Geoana told supporters immediately after polling stations closed. "This is a beautiful night for Romanian democracy."
But Basescu, an abrasive campaigner against corruption, said that "correct surveys" showed he had triumphed and urged his loyalists to remain calm and trust the official count.
"I won like in 2004," the president told supporters at his campaign headquarters. "Millions of Romanians showed they had a clear option toward the modernization of Romania."
Analysts said the vote was one of Romania's most important since the fall of communism 20 years ago, as the winner must steer long-delayed reforms that could decide whether the country of 22 million can resume its convergence with the richer West.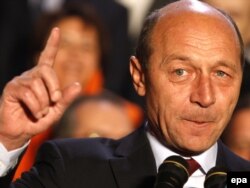 Incumbent Traian Basescu claimed, "I won like in 2004."
Three final exit polls put Geoana ahead with between 50.7 and 51.2 percent. A fourth put Basescu in front by 50.4 to 49.6.
The Basescu-allied Democrat Liberal party said its observers, conducting a parallel tally to the official count, had the president winning 50.35 percent to 49.65 percent for Geoana, with 15 percent of votes counted.
The Central Election Bureau estimated turnout at 57 percent, up from 54 percent in a November 22 first round that Basescu won.
Political commentator Cristian Patrasconiu said the exit polls did not include votes from Romanians living abroad, which could add up to one percentage point to Basescu's score.
The winner must appoint a new prime minister to replace a Basescu-allied cabinet toppled by opposition lawmakers in October, and quickly enact a 2010 budget to release IMF aid.
"It's the worst case scenario. I just don't know what will happen," said economist Daniel Hewitt of Barclays Capital.
"[A protracted dispute], I think, would be very market negative. A delay in forming a government and working on the 2010 budget would be very, very tough on Romania financially."

IMF Aid On Hold
Geoana, who has pledged to end a political deadlock and an economic crisis, attracted many voters frustrated by clashes in parliament over Basescu's drive to root out corrupt politicians. He offered the prospect of greater stability but less reform.
Some analysts worry that the 51-year-old former foreign minister and ambassador to Washington may rebuff International Monetary Fund recommendations to cut up to 150,000 public jobs as part of a stalled 20 billion euro ($30.15 billion) aid deal.
Geoana struck a chord with voters by blaming Basescu for polarising politics with his confrontational style, which helped lead to the untimely fall of two governments during his term.
"We were right when we've been talking for months about unity, the need to fight the crisis...and save jobs," he said.
Basescu, an outspoken 58-year-old former ship captain, backs the IMF's belt-tightening proposals, saying they are crucial for the European Union newcomer to claw back from an expected 8 percent economic contraction this year.
He has said Geoana's party would turn a blind eye to high-level corruption which has plagued Romanians since they overthrew one of the Soviet era's most repressive regimes and shot dictator Nicolae Ceausescu 20 years ago this month.
The country is ranked the EU's most corrupt by Transparency International, along with Greece and Bulgaria.
The next cabinet must cut the budget deficit to 5.9 percent of gross domestic product next year, from 7.3 percent this year, for the IMF to release the next 1.5 billion euro tranche of aid.
Overhauling the public sector will be key. It employs 1.3 million workers, a third of all jobs and a millstone on state finances.
Geoana formed an alliance with the third-placed Liberal Party and has agreed to name provincial mayor Klaus Johannis from the ethnic German minority as prime minister if he wins.
Analysts say the two parties may struggle to agree on how to meet the IMF's terms, and any delay would hurt the leu currency, which is down 4.7 percent versus the euro this year.
Basescu may find it hard to form a stable government if he wins since the Liberals have allied themselves with his Social Democrat foes.