The release of American Sarah Shourd from Tehran's Evin prison on September 14 has been joyous but also bittersweet, as her two companions, Josh Fattal and Shane Bauer, remain jailed. The three Americans were detained by Iranian authorities on the Iraq border in July 2009 and were accused of spying, but only Shourd has been freed. RFE/RL correspondent Golnaz Esfandiari asked Josh Fattal's brother, Alex, how her release has affected his and Shane Bauer's family.

RFE/RL: Now that Sarah Shourd has been released, are you more hopeful that your brother Josh, and his friend, Shane, will be released?

Alex Fattal: Yes, we are. We hope that this signals the beginning of the end of what has been a very long and difficult process.

RFE/RL: Have you or your family talked to Sarah since she was released?
Fattal: Yes, we just spoke with her and she seems in good spirits. Obviously her heart is heavy. She had to leave without Josh and Shane but she's very committed to working for their release and doing everything that she can to speed the day [when] they get to leave Evin [prison] and rejoin their families. We obviously saw the beautiful images of her with her mother and her uncle and we want those same images for our families. It's been a long time.

RFE/RL: Did she manage to say goodbye to Josh and Shane before leaving Iran?
Fattal: Yes, she managed to have a very emotional goodbye with Josh and Shane. They were both very, very happy for her. I think it was difficult for all of them. My brother said that it was "one-third freedom" and Sara responded [that] that's exactly right, it was one-third freedom for her.

So everybody continues to do absolutely everything they can: President [Abdoulaye] Wade of Senegal; the Organization of the Islamic Conference has been very active; the Sultan of Oman [Qaboos bin Said]. We saw a statement by the UN Secretary General [Ban Ki-moon] and we really feel tremendously supported by the international community, [which] is really all united in the call for Josh and Shane's release. And we would urge President [Mahmud] Ahmadinejad to continue with this humanitarianism and continue to show compassion and allow my brother Josh and Shane to return home.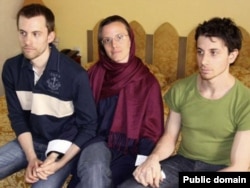 Shane Bauer (left), Sarah Shourd (center), and Josh Fattal in May 2010.
We want to thank everybody who supported us: the recent statement by the [UN] secretary general warmed our hearts; Desmond Tutu's statement; Nobel Peace Laureate Mairead Maguire. We urge anybody else who might be listening to learn more on our website, 'Freethehikers.org.' [We are] also on Facebook, [as the group] 'Free The Hikers,' and on Twitter, @freethehikers.

RFE/RL: The U.S. State Department has called on Ahmadinejad to bring your brother and Shane with him to the United States when he attends the UN General Assembly next week. How likely do you think is it that he will do that? Are you hopeful?
Fattal: Well, we as families asked that he bring all three with him exactly a year ago, and he didn't do that, but he had some very kind words. He said he was upset that they were detained, he said he was not happy that they were arrested, he said he would ask the judiciary to treat the case with maximum leniency and to deal with it expeditiously. And of course, unfortunately, that hasn't really happened. But we're hopeful now that a year later those words can come true and he can fulfill them in making a very kind and magnanimous act and reuniting our families.

I'm in New York now with Cindy, Shane's mom, and my mom, Laura, and they continue to give interviews. They've had a very difficult time with this news. It's very bittersweet for the two mothers. Everybody shares the joy of Sarah, her mother Nora, and the rest of her family. But it's difficult for [the mothers] to understand -- difficult for all of us to understand -- why Sarah would be allowed to leave and not Josh and Shane. These are three friends who are extremely close with each other. [Sarah talked about how] they supported each other in prison, [and] in their brief moments together in the courtyard, they helped [each other] deal with an extremely difficult situation. They've been through this together and they should be really free together.

RFE/RL: RFE/RL has received messages from Iranians inside the country who said they were happy that Sarah was released and that they hope Josh and Shane will be released soon, too. What kind of reaction have you received from Iranian people?

Fattal: The Iranian people have been tremendously supportive, tremendously understanding, and absolutely wonderful. We've heard many people are very aware of the case and are yearning for the freedom of my brother and his friend. Really, all across Iranian society, they're very much looking forward to the moment where my brother Josh and Shane can also be freed.