Despite the potentially huge profits, it can be difficult to do business in a former communist country -- particularly one that is in Asia. Western companies have learned this the hard way.
One current example is in Mongolia, involving a Canadian company, Khan Resources, and a rapid chain of events that put the company on the verge of losing vast amounts of money and essentially being kicked out of Mongolia. In the end, however, Khan Resources would have the last say.
In early 2009, Khan Resources, which Richard Lockhart describes as a "minor, Toronto-listed uranium explorer" owned a 58 percent interest in the Central Asia Uranium Company (CAUC), with the remaining 42 percent split evenly between the Mongolian government and ARMZ, "which is an arm of Rosatom and ultimately part of Russia's state-owned nuclear conglomerate."
Lockhart is an editor at Newsbase, a British-based news service that publishes reports on the international energy sector, including on conventional fuels and alternative energy resources.
Both those partners wanted a greater share in CAUC, which mines the Dornod uranium deposit in northeastern Mongolia. Dornod contains at least 28,000 tons of uranium, and Russian experts in particular believe further and better exploration could uncover twice that amount.
The Russian government gave its support to ARMZ. Prime Minister Vladimir Putin visited Mongolia in May 2009 for talks with Mongolian officials that focused on Russian participation in mining Mongolian uranium.
According to Lockhart, in July 2009 the "Mongolian government changed the law saying now that Mongolia has to take at least a 51 percent stake in such ventures."
Khan responded that it was hoping for a "reasonable accommodation" with Mongolia's government, but threatened to take Mongolia to international arbitration court. Both parties eventually started talks on a compromise.

Russian Pressure
In late August, Russian President Dmitry Medvedev arrived in Ulan Bator accompanied by Rosatom chief Sergei Kiriyenko.
As Putin had done in May, Medvedev and Kiriyenko met with Mongolian officials to discuss the participation of Russian companies in uranium mining on the territory of its former communist ally. The two sides signed agreements that promised greater Russian participation in extracting Mongolia's uranium.
In September, the head of ARMZ, Vadim Zhivov, said the Mongolian government was reviewing Khan Resource's contract and announced that "all the licenses" for the Dornod site had been temporarily "suspended."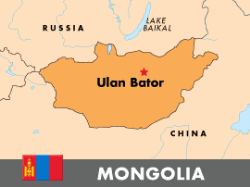 Things got even worse for Khan Resources a month later, when a hostile bid was made for the Canadian company's CAUC shares. "This was obviously one way by the Russians to cement their control" of CAUC, Lockhart says, "and ultimately of the Dornod deposit in eastern Mongolia."
The Russians offered 65 Canadian cents per share (about 35 million U.S. dollars) for Khan's CAUC stake, which it "refused point blank saying that their assets there were worth much more," Lockhart says. "Khan refused ARMZ's offer and refused it not only because of its low value but Khan has also accused ARMZ of negotiating with the Mongolian government without recognizing Khan's interest in the deposit."
Lockhart says ARMZ accused Khan Resources of negotiating with the Mongolian government over the Russian company's interests in Dornod.
A White Knight?
At the start of 2010, Khan Resources' situation seemed hopeless. The company's license to work at the Dornod site was suspended and ARMZ would not withdraw its hostile bid despite Khan's refusal to accept it.
The Mongolian government lifted the suspension in January, but the Russian bid remained on the table and Khan was still at risk of losing at least half its share in CAUC. Khan and the Mongolian government signed a new memorandum of understanding in late January.
But the beleaguered Canadian company received another bid in February. "Khan accepted a rival offer from the Chinese at 96 cents [Canadian], so that's a considerable premium over the Russian's offer," Lockhart says.
The bid came from CNNC Overseas Uranium Holding, a Hong Kong-registered unit of the China National Nuclear Corporation, China's main state-owned nuclear company. Khan had found a buyer that could stand up to the pressure by the Mongolian government and the Russian company and disburse some 53 million U.S. dollars.
ARMZ simply said it was leaving its bid open, but according to Lockhart, the company chose not to renew it when a March 9 deadline arrived. By then, Khan had accused ARMZ of "opaque political maneuvering and unsubstantial allegations without recognizing the rights of Khan or its shareholders."

Endless War Of Words
So is the matter finally settled? Not at all. Khan's agreement to sell its shares to CNNC is not finalized and there are already objections to that deal.
"Since the CNNC put this offer on the table, I understand the offer is valid until mid-April," Lockhart says. "The Mongolian government has also said that any deal selling Khan's interest in Dornod to the Chinese would require the Mongolian government's approval, and Khan Resources denies this."
ARMZ, Khan Resources, and the Mongolian government continue to trade accusations about breaches of their agreement. The Mongolian government has also opened an investigation into the legality of Khan Resources' licenses in Mongolia.
Khan fired off an open letter on March 26, saying the company found it "difficult to understand why only the Canadian partner should be investigated when there are two other partners in the joint venture. Are they to be investigated as well?"
The letter said "inaccurate information" was being fed to the public and media, and that Khan was "surprised and disappointed that the ARMZ has made speculative and unsubstantiated comments about the events that could take place in regard to the uranium licenses in Mongolia."
In the document, Khan accused the Russian company of releasing false information and "telling the government of Mongolia what to do and what not to do."