By Daisy Sindelar
TSONJIN BOLDOG, Mongolia -- There are ordinary equestrian statues. And then there's Chinggis Khan, the monument so tall that visitors need to ride an elevator and climb several flights of stairs just to reach his waistline.
Standing on a narrow observation platform atop the head of the great khan's horse, a young tour guide dressed in traditional nomadic wear extols the virtues of the 13th-century ruler. A clutch of Japanese tourists gaze happily up at the stern but sparkling visage of the khan. A German visitor treats himself to a surreptitious shot of vodka. And a group of Mongolian men gaze contemplatively out over the steppes where Chinggis Khan is said to have found the golden whip that aided him in conquering half of what was then the known world.
The massive statue is at the center of a $4 million complex that includes gift shops and restaurants and will eventually grow to include a resort comprising 200 gers, the mobile felt tents that have been home to Chinggis Khan and generations of nomads since.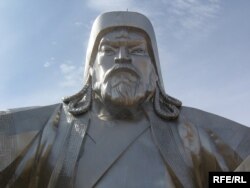 At 50 meters, the Chinggis Khan (Genghis Khan) statue in Tsonjin Boldog is the largest equestrian statue in the world.
The complex is part of Mongolia's efforts to reclaim its national heritage after years of Soviet subjugation. In the 20 years since the fall of Mongolia's Moscow-controlled communist regime, the country has seen a rich resurrection of its native traditions and heroes. First and foremost, this means Chinggis Khan, whose conquests eventually built the world's single largest contiguous empire and brought an unprecedented rise in cultural communication, trade, and freedom of religion.
They also permanently altered the world's genetic makeup. The reach of the Mongol Empire grew so wide that scientists estimate that Chinggis Khan can count at least 32 million people among his current descendants. Meaning that many countries and cultures -- from China to Central Asia to Russia and beyond -- also claim the great khan as their own. That's not a problem, says archaeologist Khugulbuu Lkhagvasuren, as long as Mongolians themselves are free to celebrate the legacy of a native son they see as a "living god."
A New Image
"We should believe in him and love him," says Lkhagvasuren, the founder and director of Chinggis Khan University, a bustling Ulan Bator institution launched in 1999. "I don't care about other countries trying to claim that Chinggis Khan is theirs. All I care about is how much we love the name, and how much we love him."
Lkhagvasuren's university offers undergraduate and graduate degrees in archaeology, tourism, and of course, the study of Chinggis Khan. Portraits of dozens of khans line the walls of school, along with maps of the Mongol Empire, which at its height stretched from the Sea of Japan to the Danube River.
Lkhagvasuren says the aim of his university is to burnish the legacy of Mongolia's greatest leader and correct misperceptions of the khan -- propagated by the Soviets and many historians in the West -- as a poorly educated, bloodthirsty warrior.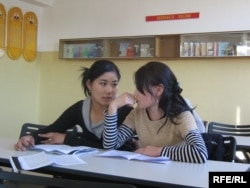 Students in the reading room at Chinggis Khan University in Ulan Bator.
"The communists repressed our belief in him," he says.
But Mongolian attempts to return nuance and honor to Chinggis Khan's heretofore fearsome reputation have gained traction in recent years, thanks in large part to studies like "Genghis Khan and the Making of the Modern World" by U.S. anthropology professor Jack Weatherford, who worked with Lkhagvasuren while researching his book.
Among other achievements, Weatherford credits Chinggis Khan and his descendants with creating the first postal system, eliminating torture and feudal systems, and supporting crossculture intellectual interactions that brought everything from gunpowder to paper money to the wider world. In a word, he and Lkhagvasuren argue, Chinggis Khan was the world's first global citizen.
Elsewhere in Ulan Bator, evidence of Mongolia's Chinggis Khan devotion can be decidedly more pedestrian. The khan's likeness can be found everywhere from decorative carpets to myriad brands of vodka, and on all but the smallest of the denominations of the local currency, the tugrik. (The smaller banknotes, all worth seven U.S. cents or less, feature military leader Damdin Sukhbaatar, the "Mongolian Lenin" who spurred the country's 1921 communist revolution.)
Khan-mania has become so commercial that one lawmaker famously worried there was nothing to prevent an overeager entrepreneur from producing Genghis Khan toilet paper if he so chose. (Mongolian marketers appear to have exercised restraint in this particular regard -- for now.) The issue sparks a flash of anger in Lkhagvasuren, who says, "I don't want to see his name on some alcohol or cigarette boxes. We should believe in Chinggis Khan even more than Americans believe in their constitution."
Cultural Revolution
Mongolia's resurrection of its native culture isn't limited to Chinggis Khan. Theaters proudly offer nightly programs of folk dancing, contortionists, mask dancing, throat singing, and a wide range of music featuring native instruments like the wistful-sounding morin khuur, or horse-head fiddle, with strings made from hairs plucked from the tails of stallions and mares.
In other areas, Mongols have shown a bit of the old khan spirit by invading another culture and conquering it. Nowhere is this more true than with sumo wrestling. Japan's national sport, practiced for 1,500 years, was closed to foreigners until the 1960s. Now, Mongolians make up 11 of the world's 42 top-ranked sumo wrestlers – including Asashoryu, last autumn's Grand Sumo champion and the first Mongolian to reach the sport's highest rank.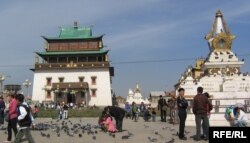 The Gandan Khiid Monastery in Ulan Bator.
Fans attribute the success of Asashoryu and others to their early training in Mongolian-style wrestling, which they say requires greater agility. Others are more blunt. One Ulan Bator sumo fan says simply, "Ours are less fat, more muscle."
The resurgence of Buddhism -- and, to a quieter degree, shamanism – has also typified Mongolia's post-Soviet transition. Tibetan Buddhism was adopted by the early descendants of Chinggis Khan and became widespread in Mongolia in the 16th century. But as Mongolia moved to accept communist rule in the early 20th century, the country's elite, at the urging of Moscow, moved to eradicate the religion's influence. Hundreds of Buddhist lamas were executed and hundreds of monasteries destroyed in the 1930s under Soviet rule. Now, restrictions on religion have been lifted, and Mongolians are returning to Buddhist traditions.
One of the few monasteries to be spared wholesale destruction was the Gandan Khiid monastery in Ulan Bator. Even there, however, Soviet troops dismantled a massive bronze statue of a bodhisattva, or Buddhist deity, and shipped the pieces to Moscow.
"It was built in 1911, and taken down in 1937," says one of the Gandan monks, a cherubic man dressed in mustard-yellow robes. "Some say that it disappeared and went to Russia, and some parts were brought back to rebuild it."
The monk, who asked that his name not be used, arrived at the Gandan monastery as an 11-year-old in 1989, one year before mass demonstrations forced the ouster of one-party, pro-Moscow rule in Mongolia. He remembers the early days as short on material comforts, but a rich opportunity for his country to return to its roots.
"Religion was huge in our country," before the communist era, he says. "In 1990, when the socialist era ended, I was happy at all the freedom I had."
Once Forbidden, Now Commonplace
The monastery's bodhisattva has since been restored, and hundreds of visitors regularly crowd inside the dusky monastery to gently spin the rows of copper prayer wheels or pay their respects before framed portraits of the Dalai Lama and other Buddhist teachers. Outside, newlyweds pose for photographs in their wedding finery before moving on to other city sites. Much of ordinary life in Mongolia circulates around auspicious days on Mongolia's Buddhist calendar, which can help determine when everything from horse-branding to haircuts are scheduled.
It's not OK for us to be treated like this in our own country...It's not OK to be controlled by Moscow.
Last year, nearly 150 couples in Ulan Bator waited to wed until October 6, considered the most auspicious day of the year. (The Mongolian government also chose that day to finally sign a long-stalled $4-billion mining agreement, a deal many in the country hope will usher in a new period of karmic prosperity.) Observers say such gestures show the degree to which once-forbidden traditions have infused day-to-day life and become an important part of Mongolia's independent emergence.
Tumursukh Undarya, a political scientist based in Ulan Bator, says the restoration of Mongolian nationalism -- reflected in the resurrection of Buddhism and Chinggis Khan -- began in earnest 20 years ago, as the country's young dissidents, struggling against the Soviet system, "realized that it's not OK for us to be treated like this in our own country, that it's not OK to be controlled by Moscow."
"The repressions of the 1930s during the Stalinist regime basically decimated the independent intelligentsia, the intellectual class. Nationalism really became anti-imperialist, and the imperialists were the Soviets," she says.
Pausing, she cites a line scrolled by Mongolia's current president, Tsakhiagiin Elbegdorj, during his days as a young pro-democracy activist: "Do not forget. If you forget, then you will disappear from the face of the Earth as Mongolians."
It's a sentiment that Chinggis Khan would endorse. "Every Mongol can conquer the world when he takes his whip in his hand," the legend of Tsonjin Boldog reads.
For modern-day Mongolians, perhaps, the equivalent of the golden whip is the opportunity to enjoy a fresh appreciation of the country's native traditions and heroes.