The 63rd annual Cannes Film Festival has opened with 19 entries from 15 countries in the main competition lineup. Over the course of the 12-day event -- the world's best-known film festival -- the films will compete for the prestigious Palme d'Or award. Tim Burton, the American director of films like "Edward Scissorhands" and "Alice In Wonderland," will be leading the nine-member jury.
Burton called it a "great honor" to preside over the panel, saying, "When you think of Cannes, you think of world cinema." And in fact, this year's festival in the southern French resort town demonstrates more than ever the global nature of the film industry. The movies on offer come from countries as diverse as Mexico, South Korea, Chad, Thailand, and Hungary. There are also a growing number of international co-productions on the list.
Among the most eagerly anticipated films in the main competition is Iranian director Abbas Kiarostami's "Certified Copy" (Copie Conforme). The movie -- Kiarostami's first to be filmed outside Iran -- is set in the Tuscany region of Italy, and involves a romance between a French art dealer, played by Juliette Binoche, and an English writer portrayed by William Shimell.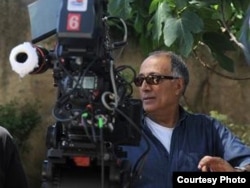 Iranian director Abbas Kiarostami (photo: Laurent Thurin Nal/MK2 Productions)
Kiarostami, one of the pioneers of Iran's New Wave cinematic movement, has long been seen as producing deliberately apolitical work. Even so, "Certified Copy" was promptly banned by Iran's hard-line government. In the run-up to Cannes, the International Federation of Film Critics protested the detention in early March of Iranian filmmaker and former Kiarostami assistant Jafar Panahi, who is being held in Iran's notorious Evin prison.
Cannes organizers have added an empty chair to the competition jury in a visual protest against Panahi's arrest. In a joint statement, French Foreign Minister Bernard Kouchner and Culture Minister Frederic Mitterrand said Panahi "is one of the most eminent representatives in Iranian film and his place is at the festival where he has been invited as a member of the jury." The French ministers called on Tehran authorities to "respect the fundamental right of Iranians to freedom of expression and creativity."
Historic Ukrainian Success
This year's Cannes festival marks a historic moment for Ukraine, which this year has a film in the main competition for the first time -- "My Joy" (Schastye Moye) by Sergei Loznitsa. In the film, a long-haul truck driver, Georgy, sets off for an odyssey through the Russian provinces that changes his life in unpredictable ways.
Loznitsa was born in Belarus and has lived in Germany since 2001. In an interview with RFE/RL's Ukrainian Service, he emphasized the global nature of his film, which was produced by a team including as many as 10 different nationalities.
"A movie doesn't belong to a specific nationality. In recent years, this has come to not make sense any more," Loznitsa said. "Before the era of industrialization, a work of art did not pertain to a specific nationality, because nations as such had not evolved. I would say this is rather a political concept, and is merely indirectly connected to art."
Ukraine also has a second string in its bow at Cannes, as the co-producer of "Chantrapas," a film by veteran Georgian director Otar Iosseliani that is part of the festival's Special Screenings category. "Chantrapas" tells the story of a young Georgian filmmaker who flees his native country for France, where his dreams of free expression soon give way to dismay about the harsh realities of the French film industry.
Ukraine's Sergei Loznitsa
Iosseliani, who has lived in France for nearly 30 years, has denied that the film is autobiographical. The phrase "chantrapas," he explains, has meaning in Russia's cultural history as "good-for-nothings" -- artists, like Austria's Fritz Lang or Russia's Andrei Tarkovsky -- who were not as well received at home as they wanted to be, and ultimately left their countries.

Mikhalkov's Return
Russian director Nikita Mikhalkov is not what you would call a "chantrapas." His Cannes entry, "Exodus," is a sequel to his massively successful film "Burnt By the Sun," which won the 1994 Oscar for best foreign film.
"Exodus," which is timed to coincide with the 65th anniversary of Russia's World War II victory in Europe, was made with a massive $55 million budget and premiered at the Kremlin with 6,000 people in attendance.
Mikhalkov, who is well-known for embracing the values of tsarist-era Russia and the Orthodox Church in recent years, stars as a prisoner of a Soviet gulag who escapes the camp in order to fight the Nazis in World War II. But at home, the war epic has so far been faring badly at the box office.
Critics say Mikhalkov's style is a faithful reflection of the Vladimir Putin era in Russia. It remains to be seen whether the Cannes jury deems this style appealing to an international audience.

Beset By Controversy
The opening of the festival has been complicated by both natural and manmade challenges. The mayor of Cannes last week was forced to declare a state of emergency due to floods in the French Riviera, and lingering ash clouds from the Icelandic volcano have crippled air traffic at the nearby airport of Nice.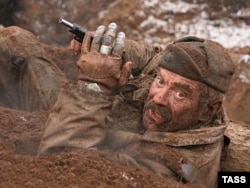 Nikita Mikhalkov in a scene from "Burnt By the Sun 2 : Exodus"
A scandal has also erupted over an Italian documentary criticizing Prime Minister Silvio Berlusconi's handing of the L'Aquila earthquake last year. Italy's culture minister, Sandro Bondi, is boycotting the festival, saying he was shocked that the documentary, titled "Draquila: Italy Trembles," will be screened in Cannes.
Another film, "Outside The Law" (Hors La Loi) by French-Algerian director Rachid Bouchareb, has made waves among French ultraconservatives, who object to the film's depiction of the 1945 Setif massacre, when Algerian fighters rose up against occupying French forces. Critics have accused Bouchareb of falsifying history and say the film is likely to reopen old wounds in relations between France and Algeria.
Commentators have observed that this year's Cannes lacks the punch of past festivals and offers little from younger filmmakers like Quentin Tarantino and Lars von Trier, whose films "Inglourious Basterds" and "Antichrist" were Cannes highlights last year.
Nevertheless, this year's festival boasts such acclaimed directors as Mexico's Alejandro Gonzalez Inarritu, Japan's Takeshi Kitano, and Britain's Mike Leigh and Ken Loach. Films by American directors Woody Allen and Oliver Stone will also be shown in the noncompetition section.
Cannes kicks off its 2010 festival tonight with a showing of "Robin Hood," a new interpretation of the classic tale by another British director, Ridley Scott. The film, which stars Russell Crowe and Cate Blanchett, joins other blockbusters in the noncompetition section.
The festival will close with a showing of the Australian film "The Tree," by Julie Bertuccelli. The out-of-competition film is one of the rare Cannes offerings directed by a woman.

Ludmilla Wannek of RFE/RL's Ukrainian Service contributed to this report