NEW YORK -- In "The Boss" ("Nachalnik"), a pair of young burglars break into the summer house of a man who turns out, to their dismay, to be a prominent member of Russia's Federal Security Service (FSB).
The 20-minute drama (
watch it here
), which took first prize in the short film competition at Russia's 2009 Kinotavr Film Festival and won special distinction at the Interfest international short film festival in Berlin, is by Yury Bykov, a young director from the small Russian city of Novomichurinsk, who also stars in the film.
Bykov was one of four up-and-coming Russian directors, all under 30, at this year's Sundance Film Festival in Park City, Utah.
While none of the directors' films was part of the official program at Sundance, the invitation to attend is seen as a recognition of their talent and a valuable opportunity for them to hobnob with the best and brightest in American independent filmmaking.
Their exposure actually began on the American East Coast, where they were invited to participate in a workshop at New York University, home to one of the country's best-known film programs.
Bykov, a graduate of Moscow's prestigious VGIK film school, said he was astonished by the wealth of resources available to young filmmakers in the United States.
"The equipment, the faculty, the learning opportunities -- they're simply incomparable. It's not patriotic of me to say so. I'm proud of being Russian, I love my country dearly. But what I've seen here, I can't underestimate it -- it really shocked me deeply," Bykov said.
"It makes me feel depressed, because only now I've come to understand the level of indifference toward nurturing filmmakers in Russia."
A fellow filmmaker, Alisa Khmelnitskaya -- whose 2008 film, "Boulevard" ("Bulvar"), was an official selection in the short film category at Kinotavr 2008 -- said the ready access to a vast array of filmmaking equipment at NYU is in stark contrast to film schools back in Russia.
But ultimately, she said, all the technical advantages in the world makes no difference when it comes to telling a story -- an art that Russian and Soviet directors like Nikita Mikhalkov and Georgi Daneliya have excelled at for decades.
"We were in film school today, attending classes that simply blew us away. Our reaction was absolutely stupid -- we just started laughing when we saw all those endless rows of computers," Khmelnitskaya said.
"The equipment in our schools is so outdated. At the same time, we know that this isn't the most important thing. Storytelling skills are the most important element. Whether a good story is made with $3 or $300 million is irrelevant."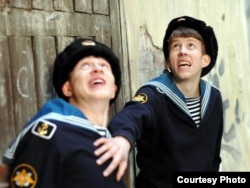 A still from "Mom" ("Mama"), a 2009 short film by Ilya Kazankov
Competition for screen time at Sundance is fierce. In the short film category alone, there were a record 6,092 applications for just 70 spots this year. Bikov, Khmelnitskaya, and the other filmmakers did have an opportunity to screen their films while in New York.
But at Sundance, they said they welcome even the chance to meet other filmmakers and remind the world that a fresh young generation of Russian voices is on the rise, telling stories about the new, post -- Soviet Russian reality.
"Mom" ("Mama"), a 2009 short film by Ilya Kazankov, is a gentle comedy centered on two naval academy cadets who sneak away from their studies in order to make a phone call.
Less Mired In The Past
Kazankov, a St. Petersburg native who himself studied naval engineering, said he sees Sundance as the best opportunity to see the independent films from the United States and elsewhere that rarely make it to movie screens in Russia.
He also said it's a good chance to admire the forward-looking style of many American filmmakers, who he said are less mired in the past than artists in Russia.
"I would like to learn not so much to feel creatively free, because in Russia we have quite a lot of creative freedom. But I'd like to learn how not to look back, not to be constrained by past experiences. To be professionally bold and audacious -- that's what I'd like to adopt," Kazankov said.
Yekaterina Telegina, whose 2009 short, "The Gust of Wind" ("Poryv vetra"), has won special mention at Kinotavr, Interfest, and a host of other film festivals, said she admires the persistence she sees in her American counterparts, who often find creative ways of financing a film as regular funding becomes harder to find.
"We have a lot of filmmakers in Russia who are hoping a producer with a bottomless wallet will magically appear and make everything all right," she said. "But it won't be."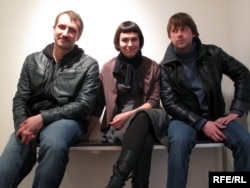 Yury Bykov, Yekaterina Telegina, and Ilya Kazankov in New York before the Sundance festival
In that, Telegina hits on one of the critical differences between the young Russian filmmakers of today and the Soviet-era heavyweights like Daneliya, Mikhail Kalatozov, and others, who had the backing of the USSR's powerful Mosfilm.
In today's Russia, Telegina said, if young directors are fighting for financing, established directors are fighting to reclaim their audience in a country buffeted by the past 20 years of whirlwind change. She said she sees little continuity between her own work and the work of the country's Soviet-era filmmakers.
"The audience is different today. Everybody is aware of that. The old directors are trying to reinvent themselves in order to appeal to this new audience," Telegina said.
"They're struggling to find a new visual language, new approaches. Very often, regrettably, they fail. We, the younger ones, are trying to find ways to instantly fit into this new system, and in a way, we're demolishing the old one."
Bykov, by contrast, feels more of a connection to the country's filmmaking past, saying the newfound artistic freedom that he and other directors feel in contemporary Russia shouldn't mean a wholesale dismissal of the gems of Soviet filmmaking.
"Our generation is blessed to have such broad range for expression -- in writing, in the ideas and topics that we can explore. Our predecessors, of course, had severe limitations imposed on them. We can certainly learn from their craftsmanship, and that's one of the biggest problems for the young filmmakers in Russia," Bykov said.
"They are aiming toward the highest standards, but they use as their model things like advertising, commercial videos. They should be learning that from the old masters -- the attention to detail, the texture of the storytelling, the craft of directing."