Chrystal Callahan likes shopping, designer clothes, and fine cuisine. Much of her weekly television show, "Highlights of the Week with Chrystal Callahan," is devoted to beauty and fashion, with a sprinkling of folk culture and music.
From her job description, one would never guess the Canadian model-turned-anchor is broadcasting from Chechnya, a region still reeling from two devastating wars.
Although the conflict is officially over, thousands of civilian war victims are believed to still be buried in the dozens of mass graves that dot the Russian republic. Kidnapping and murder are rife in Chechnya, which remains one of the most deadly places in the world for human rights activists.
But the Toronto-born former model says she feels at ease in her adopted land. Speaking to RFE/RL by phone from Grozny, she acknowledges life in the Chechen capital can be dangerous. But she insists the risks are now no worse than those in crime-troubled Western cities like Chicago or Mexico City.
"I feel completely safe. I think the problem with many people and why they might feel so frightened about coming to Chechnya is because of all the negative press," Callahan says.
"There's usually never any good stories coming out of Chechnya that are covered by the media, so I think that's what the problem is."
The Face Of Chechnya
Callahan is determined to set the record straight.
Since June 2009, she has hosted her television show on Chechen state-run television, which casts a decidedly positive spin on life in the North Caucasus republic.
The show appears every Sunday evening in English with Russian subtitles. "Highlights of the Week" consists of three sections -- a news review, a cultural feature on a topic of her choosing, and a Q&A session in which she answers questions sent in by viewers.
Callahan says the 20-minute program deliberately avoids difficult and negative topics.
Initially intended for Chechens and Chechnya-watchers living abroad, it broadcasts both across Russia and abroad via satellite. But Callahan says the program has also proven popular in Chechnya, and has transformed her into a local celebrity.
Callahan, who says she's in her 20s, calls her job "a dream come true" and says she has never regretted her decision to trade the catwalk for a career on Chechen television.
She first came to Chechnya in 2007 as a budding filmmaker to shoot a documentary about a group of teenage Chechen wrestlers struggling with the legacy of war.
That's when Callahan, who describes herself as "obsessed" with Chechen traditional music and dancing, floated the idea of working for local television.
She is now the head-scarf-wearing spokeswoman of Chechnya's state campaign to improve the image of the republic and convince the world that the separatist insurgency has been crushed and that wartime tribulations are a part of the past.
WATCH: "Highlights of the Week with Chrystal Callahan"
'Positive, Not Propaganda'
Many Chechens are grateful to Callahan for shedding light on everyday life in a region known for little else but war.
But critics say her view of Chechnya is skewed. They accuse her of being a willing cog in the propaganda machine of Ramzan Kadyrov, the Kremlin-installed leader of Chechnya, who has been aggressively promoting his own cult of personality and whom rights groups accuse of massive abuses, abductions, and torture.
She has been compared to famous British journalist Walter Duranty, who headed "The New York Times'" Moscow bureau from 1922 to 1936 and is now widely criticized for his favorable portrayals of Soviet dictator Joseph Stalin.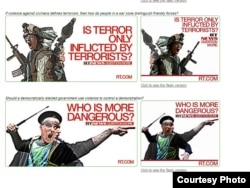 A series of ads for Russia Today were recently rejected by U.S. airports.
In fact, Callahan is just one of many bright young Westerners who make a living by helping spruce up the image of troubled regimes across the post-Soviet space -- at outfits such as the English-language television channel Russia Today, for instance, or the U.S. PR agency Ketchum, hired by the Kremlin in 2006 to manage its public image.
But Callahan, who declines to discuss how much she earns for her work, defends her program, saying she is honoring the Chechen culture.
"I show the beautiful side of how people try to preserve their culture and traditions. I feature people and stores that make positive changes to the republic," Callahan says.
"The last time I checked in the dictionary, the word positive did not equal propaganda."
Inspired By Kadyrov
Kadyrov features prominently in the news section of Callahan's program, which week after week airs footage of him opening hospitals, visiting schools, and unveiling monuments.
The website that carries Callahan's show, chechnyatoday.com, regularly runs stories extolling Kadyrov, with headlines such as "The Chechen Republic President Is The Greatest Hope" or "Activity Of The Chechen President Ramzan Kadyrov Has Been Compared With Policy of Peter the Great."
Although Kadyrov himself has publicly admitted to killing some of his opponents, many see the Chechen leader -- who has taken much of the credit for a vast reconstruction program bankrolled by Moscow -- as the man who ended the war and rebuilt the North Caucasus republic.
Ramzan Kadyrov with his son at a racetrack on Police Day in Gudermes.
Callahan, who first met Kadyrov in 2007 over ice cream and coffee, is one of them.
"My first impression was, wow, what a down-to-earth person. He was funny; he made really funny jokes. He was clever. He was a gentleman.
But what stood out the most was that he is extremely proud of his homeland and culture. He's very charming. To be honest, I've never met anyone like that.
"It made me want to work even harder on anything I did from then on, because I saw this person who was giving his entire self, making massive advancements in preserving culture, reopening schools and hospitals."
The killing of several Chechen human rights campaigners last year, including fierce Kadyrov critic Natalya Estemirova, has not shaken Callahan's stated faith in the Kadyrov regime.
As far as she is concerned, accusations of rights abuses against him are mere "speculation, rumors, and gossip."
Despite the controversy surrounding her employer, Callahan is in no hurry to leave Chechnya. She has just signed a new, one-year television contract and is exploring the seemingly endless career possibilities offered by the postwar region.
She is about to publish a book, "Diary of a Fashion Model in Chechnya," and even appears to be eyeing a career in music, with the recent release of a song in Chechen.