Georgia and Russia have carried out their first prisoner swap since their conflict began. Five Russian prisoners, including two pilots, were exchanged for 15 Georgians at a checkpoint near the Georgian capital, Tbilisi. RFE/RL's Georgian Service correspondent Koba Liklikadze was there to see the exchange, and spoke to the two Russian pilots shortly before their handover.
Colonel Vyacheslav Malkov, the pilot of a Tu-22 bomber, was captured on August 9 near the South Ossetian capital, Tskhinvali.
First I should learn how to walk again. I don't think about anything else right now. We'll see what happens when I come back [to Russia]. But of course, I won't be able to fly again, with my spine broken.
[This has been] simply a misunderstanding. A terrible misunderstanding. High-ranking politicians should find out the causes, that's what we elected them for, that's what we voted for them for, so they think for us, right? I think everything will be all right. I hope so. Russia and Georgia have never been enemies.
[To the Georgian people:] Thank you for what you have done for me. Secondly, live in peace, raise your children, take care of yourselves.
Major Igor Zinov was the pilot of an Su-24 fighter plane shot down on August 9 during Russian air strikes near Tskhinvali.
RFE/RL:
They say it was you who bombed houses near the tank brigade [base] in Gori? Is it true?
Igor Zinov:
No.
RFE/RL:
What did you bomb then? What kind of operation did you carry out?
Zinov:
I did not bomb anything because I was shot down. I did not locate the target on the first run.

RFE/RL:
If you were not bombing, what were you doing?

Zinov:
I was doing a second run when I was shot down.
RFE/RL:
In other words, you were preparing for bombing, weren't you?
Zinov:
Well, there were supposed to be troops and vehicles, but since we did not find them using our instruments, we had to do another run and that was when we were downed. So, we weren't bombing anybody.
RFE/RL:
When you found out that 20 people were killed in a house during a Russian air bombing attack, what did you feel?
Zinov:
I felt bitterness and regret because we are Christians like Georgians and I think such conflicts should be first of all resolved at the top and military means should be used only as a last resort.
RFE/RL:
What are your last words to the Georgian people as you leave Georgia?
Zinov:
I am grateful to Georgian doctors because if it wasn't for them, it would have been hard for me to survive. I am grateful. We are Christians. Thank you.
Crisis In Georgia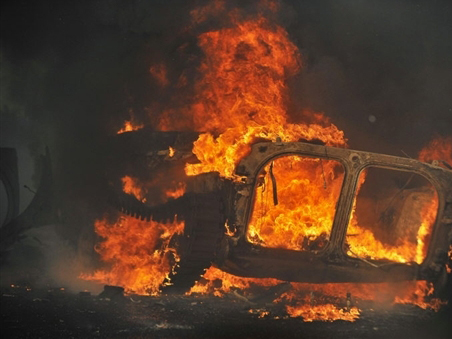 For RFE/RL's full coverage of the conflict that began in Georgia's breakway region of South Ossetia,
click here
.