Officials in Dushanbe say some 2,500 Tajikistan-bound railway cars have been stranded in Uzbekistan since May 24 -- and they hold Tashkent responsible.
Uzbekistan denies deliberately delaying the cargo trains' passage to Tajikistan, a landlocked country that heavily depends on Uzbek transit routes and claims it has already suffered damages of $100 million due to the stoppage.
The cargo stoppage is the latest in a long history of disputes between the two Central Asian neighbors over the years -- whether over water resources, energy supplies, or spying accusations.
Tashkent links the recent interruption of rail traffic to technical issues, saying an approximately 11-kilometer-long section of the rail line linking Uzbekistan and Tajikistan's southern Khatlon province is temporarily out of order.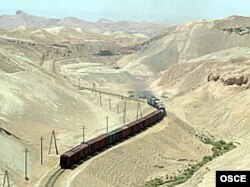 A train moves through southern Tajikistan.
Uzbek officials said that "due to seismological issues and consequences of floods in the area as well as financial and technical resources," the country currently cannot repair the broken section of the rail line. Uzbekistan, however, has rejected Tajikistan's offer to carry out the repairs.
Roghun Dispute
Tajikistan's freight transit through Uzbekistan has been slowed by nearly constant interruptions since late 2009, when Dushanbe decided to raise funds within the country to complete the construction of a giant hydropower plant in the eastern town of Roghun.
Tashkent vehemently objects to the Roghun project, saying the completion of the massive dam project would cause severe water shortages downstream, threatening in particular the Uzbek cotton industry.
Uzbek Prime Minister Shavkat Mirziyaev has also warned against the possible "catastrophic" impact of the 330-meter-high dam to the local environment, which has seen "several major earthquakes of up to a magnitude of 10."
Tajik officials, however, insist they have been pushed to the limit -- pointing in particular to Uzbekistan's habit of cutting off gas and electricity supplies to Tajikistan during recent winters. Uzbekistan has also obstructed Tajik electricity imports from Turkmenistan and Kyrgyzstan through Uzbek territory, claiming its power lines did not have the capacity to handle the transit of neighboring countries' electricity.
Officials in Dushanbe say that Uzbekistan is using the rail issue as leverage to put pressure on its poorer neighbor.
According to Tajik railway officials, railway cars carrying construction material destined for Roghun, including excavators and other relevant equipment, have been held up in Uzbekistan since February. During the course of an on-again, off-again blockade, Uzbekistan has allowed the passage of trains carrying food supplies.
About 300 of the stranded wagons hold cargo destined for NATO troops in Afghanistan, Tajik railway officials say. NATO uses Central Asian routes to transit nonmilitary supplies, including food and fuel, to supply the Afghan war effort.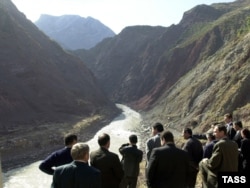 Tajikistan hopes Roghun will end its need to import electricity.
Tajikistan has asked the OSCE and diplomatic missions of the United States, Germany, and Japan to help resolve the rail dispute with Uzbekistan.
Avoiding The Problem
In the meantime, the country is looking for other options for a long-term solution to end to its dependency on Uzbek transit routes.
Last week, Tajik and Iranian officials discussed a new rail project linking the two countries via Afghanistan. Tajik, Iranian, and Afghan representatives are expected to meet in the coming days with the railroad project high on their agenda.
The construction of a rail route to China to Tajikistan's east has also been suggested as a potential alternative.
Earlier this year, Tajikistan's Transport Ministry suggested building a 250-kilometer rail link connecting Tajikistan to Turkmen railways via northern Afghanistan, thus completely avoiding Uzbekistan.
The project was discussed during a recent Tajik parliament session, in which lawmakers said the project was feasible and could be completed within months.
Need For Compromise
But analysts say Tajikistan's dependency on Uzbek freight transit routes will not go away anytime soon.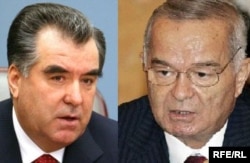 Tajik and Uzbek Presidents Imomali Rahmon (left) and Islam Karimov have failed to find a compromise.
Tajik economist Hojimuhammad Umarov says the country cannot afford to build alternative rail links to Afghanistan or China for at least five years.
Noting that the security situation in war-torn Afghanistan still remains highly volatile, Umarov suggests that Tajikistan should for the time being try to reach a compromise with Uzbekistan.
Saimuddin Dustov, a Dushanbe-based expert, tells RFE/RL's Tajik Service that the Tajik government's miscalculation of the fallout over their plan to complete the Roghun project is to blame for the current deadlock.
Dustov says that "Tajikistan's decision to make Roghun a national project was bound to have difficult consequences. Uzbek think tanks have figured that out, and now they are using it against [Tajikistan] -- and one of their methods is to impose a permanent economic blockade."
It is ordinary people in both countries who suffer because of the failure of the two countries' leaders to resolve their political differences.
Border posts between the two countries often remain closed for months, splitting many families that have relatives in the neighboring country. At some point, Tashkent mined its borders with Tajikistan, resulting in deaths and numerous injuries to civilians on both sides of the border.
Daler Gufronov, a young Tajik journalist, says that "people want political leaders to negotiate with people's interests at heart, to put aside their differences, and to make concessions."
"However, given all those grudges, I don't see that happening with current top leaders," the journalist adds.
RFE/RL's Tajik Service contributed to this report