BEIJING (Reuters) -- The H1N1 strain of flu is rapidly spreading into China's vast countryside and there could be a spike in cases around the Lunar New Year period when millions head back to their home towns, the Health Ministry said.
The world's most populous nation has reported 648 deaths to date from what is often called swine flu, a tiny portion of the estimated 12,220 deaths around the globe, but has launched a massive vaccination campaign.
"Outbreaks in Beijing, Shanghai, other large cities and in schools have seen an obvious decline, but the virus continues to spread into villages and communities," the Health Ministry said in a statement on its website (www.moh.gov.cn).
The government has been especially worried as the country heads into the depths of winter and ahead of the Lunar New Year holiday in February, when millions of people travel back to their home towns -- potentially taking flu with them.
"The risk of catching H1N1 will increase, and the virus prevention situation is still grim," the ministry added.
"It is expected that for the period to come the virus will spread briskly."
China is also concerned that not enough people have been vaccinated against the virus, and that the flu will be hard to control once it reaches the poor and underdeveloped rural hinterland, where most the country's 1.3 billion people live.
The government is rushing to send medical equipment such as respirators to 17 central and western provinces to "increase the overall ability to deal with severe cases", the ministry said.
Swine Flu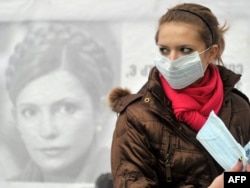 H1N1 Virus
As the fall flu season hits, fears of a swine-flu pandemic have grown in Eastern Europe after Ukraine saw a massive outbreak.
Click here
for RFE/RL's coverage of the virus's spread.