U.S. Secretary of State Hillary Clinton is in Brazil today and although the stop is just one of six on her Latin American tour, her agenda in Brasilia sets it apart from all the others.
Clinton has made no secret of the fact that her top priority in Brazil is to convince President Luiz Inacio Lula da Silva to drop his opposition to a new round of sanctions against Iran in the UN Security Council.
Speaking to the Senate Foreign Relations committee on February 24, Clinton told legislators that "Iran is at the top" of her agenda these days as international momentum for sanctions increases.
Her trip to Latin America follows a trip to Middle East, during which she asked Saudi Arabia -- which is one of China's chief suppliers of oil -- to use its influence to persuade Beijing to support a sanctions package.
Clinton told the committee that "we are -- and it's not just I, it's the top levels of the State Department -- are engaged very directly in working the need for sanctions."
Indeed, so important is Clinton's visit to Brazil that she sent her top deputy ahead to lay the groundwork. Undersecretary of State for Political Affairs William Burns, who heads the U.S. team of negotiators in the P5-plus-1 group that has been working to get Iran to stop its nuclear program, was in Brazil last week.
Pushing For Sanctions
In January, Brazil became a voting member of the 15-member Security Council, which U.S. diplomats say is already in the process of drafting language for a package of sanctions aimed at punishing Iran for refusing to prove to the world that it's not trying to develop nuclear weapons. Iran insists its nuclear program is for the peaceful production of energy.
If or when a sanctions package comes up for consideration, Washington would like a unanimous vote in the council in order to send the strongest possible message to Iran that it stands isolated from the international community.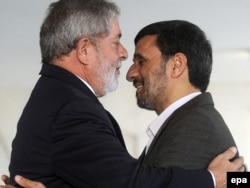 Brazilian President Luis Inacio Lula da Silva (left) and his Iranian counterpart Mahmud Ahmadinejad share warm relations.
But Iran is hardly isolated from Brazil, which is its most important trading partner, according to the International Monetary Fund (IMF). President da Silva has repeatedly called for more dialogue and patience with Iran over the course of sanctions now favored by the United States and many of its allies.
Bilateral trade between Iran and Brazil reached a staggering $1.26 billion in 2008, which is an increase of 88 percent from 2007, according to IMF data. Brazil's primary exports to Iran are sugar and beef, which it sends via Dubai, to get around UN sanctions on trade with Iran.
The two countries also cooperate on energy issues through state-owned companies; the National Iranian Oil Company has granted Brazil's Petrobras the rights to explore Iran's vast offshore oil reserves in the Persian Gulf and to drill in the Caspian Sea.

Brazilian Support
Beyond their economic partnerships, President da Silva and Iranian President Mahmud Ahmadinejad seem to have struck up a personal partnership. Ahmadinejad became the first Iranian leader to visit Brazil on November 23, and da Silva weathered criticism and the specter of his own citizens protesting in the streets to play host.
At a joint press conference, da Silva predicted that future relations between Tehran and Brasilia "would be strong with great objectives to be achieved."
Da Silva also reiterated his belief that Iran has a right to produce peaceful nuclear energy, like Brazil does. But he also advised Ahmadinejad to continue working with "interested countries" to find a solution to the impasse over his country's nuclear program.
Just days later though, Brazil abstained from voting for a resolution by the UN's International Atomic Energy Agency (IAEA) calling on Iran to immediately halt construction of a new uranium-enrichment facility near the city of Qom.
Brazil's envoy to the IAEA, Antonio Guerreiro, told his country's "O Globo" newspaper that "dialogue is better than confrontation," and that "sanctions don't lead to anything."

'Energy Yes, Weapons No'
On her flight to Buenos Aires on March 1, Clinton told reporters that she planned to discuss with da Silva "the fact that the United States recognizes Iran has the right to peaceful civil nuclear power but does not under the Nuclear Nonproliferation Treaty have the right to nuclear weapons."
She said she would remind him that Iran "has been found to be in violation of the International Atomic Energy Agency and the UN Security Council" and because the matter would soon be taken up by the council, she wanted to be sure that da Silva "has the same understanding that we do as to how this matter is going to unfold."
Before Clinton left Washington, U.S. Assistant Secretary for Western Hemisphere Affairs Arturo Valenzuela briefed reporters on how Clinton might phrase that message.
"Let me make it absolutely clear that we will be telling our Brazilian counterparts that we encourage them to encourage Iran to regain the trust of the international community by fulfilling its international obligations, which we feel that they have not fulfilled," Valenzuela said. "So we will be urging the Brazilians to take a constructive role with regard to their engagement with Iran."
Valenzuela said Brazil's close economic and political relationship with Iran could work to the United States' advantage if it were willing to use that closeness to persuade Iran to drop its nuclear ambitions.
And he acknowledged that Brazil is in a position to play a potentially key role in the international arena as a mediator in the standoff between Iran and the West -- an ambition that da Silva, who is lobbying for Brazil to get a permanent seat on the UN Security Council -- has made no secret of.
"What we want to try to tell the Brazilians is, 'Yes, if you have engagement with Iran, we'd really want to encourage you and urge you to, in fact, use that engagement in a way that you can push the Iranians, in fact, to meet their fundamental international obligations,'" Valenzuela said. "'If you don't do that, then we will be disappointed. If you do that, then I think that that will be an important step that they can take.'"
Whether Brazil will take that step is hard to know. At a regional summit just last week in Mexico, da Silva warned against the path the United Nations seems set on taking, saying, "Peace in the world does not mean isolating someone."