Companies Announce Gas Development Plan For Iraqi Kurdistan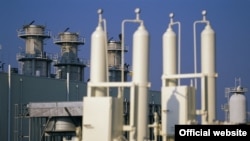 SHARJAH, United Arab Emirates (Reuters) -- Two European and two UAE companies say they have formed a consortium to pump enough gas from Iraq's Kurdistan region to kick-start the Nabucco pipeline project to supply Europe.

The Western-backed Nabucco pipeline aims to lessen Europe's dependence on Russian gas and is opposed by Moscow. Until now, the $10 billion pipeline project has had plenty of willing buyers in Europe but little gas to sell.

Gas from the semi-autonomous northern region of Iraq could help solve the Nabucco supply conundrum.

The United Arab Emirates' Crescent Petroleum and affiliate Dana Gas believe there is enough gas in the fields they operate in the Kurdistan region to supply the pipeline after meeting local demand in northern Iraq and Turkey.

Austria's OMV and Hungary's MOL, two of Nabucco's initial shareholders, have bought into the $8 billion scheme. They have joined forces with Crescent and Dana to take on the gas development plan, the companies said in a joint statement on May 17.

"We are confident that our assets in the region have the potential to produce over 3 billion cubic feet per day (cfd) by 2014," Badr Jafar, executive director for Crescent Petroleum, told Reuters.

Jafar declined to estimate how much would be available for the Nabucco project.

An industry source told Reuters that at least half could go to the pipeline. That would be enough for Nabucco's first phase, which would require around 1.5 billion cfd, according to the joint statement.

"This is the trigger source for the Nabucco project," the industry source said. "It's enough."

Around 1 billion cfd could go to Turkey after meeting local needs, the industry source said. Iraqi demand was likely to be less than 500 million cfd initially, leaving the rest for the pipeline, he added.

"Besides satisfying local demand, we expect there will be enough gas for the Turkish markets as well as Europe via the planned Nabucco pipeline," Helmut Langanger, OMV executive vice president of exploration and production, told Reuters.

OMV will pay $350 million to Crescent and Dana for a 10 percent stake in their regional operating unit Pearl Petroleum. The UAE firms said they would reinvest the money in the project. Before the deal, Crescent and Dana each held 50 percent in Pearl.

MOL will give 3 percent of its shares each to Crescent and Dana. In return, MOL will also take 10 percent in Pearl.

"The project strengthens the realization of the Nabucco pipeline aimed to increase European gas supply security," MOL Executive Vice President for Exploration and Production Zoltan Aldott told Reuters.

Iraq's Oil Ministry declined to comment on the plan on May 17 and said it had received no notification from the Kurdish Regional Government (KRG). The Kurdish government also gave no comment, and said the matter was for the companies involved to discuss.

The Iraqi Oil Ministry has criticized oil and gas contracts that the KRG has signed with international oil companies, calling them illegal. The KRG, which has clashed with Baghdad over draft oil legislation, has countered that the deals are legal and comply with Iraq's constitution.

"We are absolutely convinced of the legal, moral, and technical correctness of our investments and projects in Iraq's Kurdistan region, which will achieve benefits and revenues for all of Iraq," Jafar told Reuters, when asked if potential opposition from Baghdad worried him.

The project would priorities meeting local demand ahead of exports, Jafar added.

Crescent and Dana signed a deal with the KRG in 2007 to develop the Khor Mor field quickly to supply local power plants already under construction. The field was pumping around 90 million cfd, the companies said in the statement on May 17.

The Khor Mor field was shut in after the first Gulf War in 1991. The UAE companies also signed up to appraise and develop the Chemchemal gas field. The two fields have gas reserves of 3.6 trillion cubic feet, just over 3 percent of Iraq's 112 trillion cubic feet of reserves, according to U.S. government data.

Iraq has the world's tenth-largest gas reserves.

The 3,300 km Nabucco pipeline was initially planned to carry Caspian gas via Turkey, Bulgaria, Romania, and Hungary to Austria. The first phase of the pipeline was to have capacity of around 1.5 billion cfd, with the second phase double that.

OMV and MOL each have a 16.67 percent stake in Nabucco. Other stakeholders are Bulgaria's Bulgargaz, Romania's Transgaz , Turkey's Botas, and Germany's RWE.