Anarkali Honaryar is a groundbreaker in Afghan politics.
She is vying for one of the 68 parliamentary seats reserved for women in Afghanistan's 249-seat lower house of parliament, which puts her among 406 women attempting to overcome threats, gender bias, and cultural obstacles to reach office.
But the 26-year-old Honaryar has an additional goal: the Sikh activist aims to become the first non-Muslim woman to gain a parliamentary seat in voting on September 18.
As the country prepares to elect its second parliament since the fall of the Taliban in 2001, Honaryar is working hard to persuade residents of Kabul to vote for her. While the vast majority of people she speaks to are Muslim, she promises to struggle for social justice for all Afghans, irrespective of their religious and ethnic affiliation.
"Elections are a national process and those running should aim not to attract the votes of a particular minority or ethnic group but at getting the votes of people of all backgrounds," Honaryar says. "And that is the real challenge. Although I am the first woman among Afghanistan's Hindus and Sikhs entering the political arena, we all should think as one nation -- a united nation."
The lack of security in many parts of Afghanistan looms as a major obstacle to the type of national unity Honaryar envisions. But the relative peace in Kabul affords Honaryar the luxury of campaigning around the capital, addressing large and small gatherings of potential voters in their homes, hotels, schools, and markets. Her passionate speeches -- often delivered to separate gatherings of men or women -- call for social justice and respect for human rights.
Among The Fortunate
Reaching as many people as possible is key to entering parliament, where seats are determined by simple vote count based on the number of seats reserved for each of the country's 34 provinces. In the 2005 election, 358 women ran for office, a showing that has been improved upon by nearly 50 candidates this time around.
(WATCH: Female candidate Gul Shirin Beg Turkmen is waging a charm offensive in Kabul's poorest neighborhoods.)
As a child, Honaryar struggled through years of war and anarchy in the 1990s but considers herself lucky to have grown up in the northern province of Baghlan, where no Taliban control meant her pursuit of an education and dreams of becoming a pilot were unhindered.
After the fall of the Taliban regime in 2001, she became a human rights campaigner, providing her with experience in grassroots issues that she hopes will propel her to parliament.
Women have gained substantial representation in state institutions in Afghanistan, but despite their achievements under the current political system, they remain the primary victims of violence, disease, and poverty.
This is no different for women politicians. The Free and Fair Election Foundation of Afghanistan, an independent watchdog body, says that women remain the main target of election-related intimidation. For every 10 threats made against candidates, nine were made against women candidates, according to the foundation.
'Behind Walls'
Outside of Kabul, particularly in the insurgency-plagued rural provinces in the south and east, the risks faced by women candidates rise considerably.
Threats come in the form of phone calls, hate mail, defaced campaign posters. Sometimes, candidates' supporters or staffers are targeted. In the most recent example, unknown gunmen on August 29 killed five campaign workers in the western Afghan city of Herat. They were canvassing for Fawzia Gilani, a sitting woman lawmaker seeking reelection. Authorities have yet to establish whether the killers were political rivals or insurgents.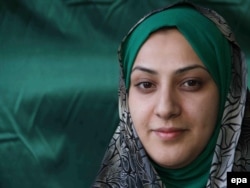 Nahid Ahmadi Farid
Nahid Ahmadi Farid, a young candidate in Herat, is not discouraged. At campaign rallies inside mosque courtyards and private homes, she promises economic opportunities and greater rights that will improve the lives of women and their families.
Armed with a political science degree from George Washington University in Washington, D.C., the mother of one knows how to appeal to her largely female audience.
"We don't want regrets and we don't want to suffer another five years. We don't want the same problems again," Farid says. "I have stood up because of the problems Afghan women are facing. We have been behind walls for the past 30 years and no one was listening to our voice."
Turnout Hopes
In the southern Afghan city of Kandahar, neighborhoods are not immune to Taliban bombings and targeting assassinations, despite an ongoing NATO offensive.
Rana Tareen, a vocal activist and former head of the Women Affair's department in Kandahar, is running for elections again. Unlike her previous campaign in 2005, holding public gatherings and speaking about burning issues such as accountability for perpetrators of war crimes is simply too risky.
The 33-year-old mother of four now runs a low-profile campaign, contacting key community interlocutors by telephone and holding small gatherings with women inside private homes. Her key message is justice and respect for human rights.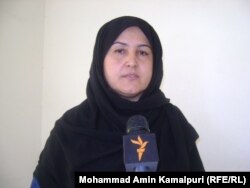 Rana Tareen
She is not pleased with the state of government-promised security, but hopes that unlike the 2009 presidential election, fraud will not mar these polls.
She worries, however, that if security concerns result in low turnout, her chances of being elected will be seriously undermined.
"Unfortunately, polling stations will remain close in the majority of districts," Tareen says. "In some places, people will not go to polling stations because of the lack of security. Under such circumstances, who can guarantee the transparency of the election process?"
Despite the challenges, women candidates appear eager to give their male counterparts a run for their money. They will be competing in some cases against warlords, clerics, and moneyed businessman in a patriarchal society where power still largely flows from the barrel of a gun.
Seeking reelection in Kandahar, Fereba Ahmadi Kakar asks her constitutes to defy all threats on election day.
"We have to stand up," Kakar exhorts. "We should sacrifice ourselves today to have a bright and better future for our children. If we are scared or if we don't stand up, Afghanistan will remain like this and the future will be dark."