(WATCH: Gul Shirin Beg Turkmen is waging a charm offensive in Kabul's poorest neighborhoods.)
KABUL -- Gul Shirin Beg Turkmen may not seem like the most electable of candidates in this city.
She's from the minority Turkmen population, which makes up just 1 percent of residents in Afghanistan's capital. And because she lived most of her life abroad, she does not speak either of Afghanistan's two national languages -- Dari or Pashto --- well.
But her determination might oblige even the most skeptical observer to think twice about counting her out, particularly when she is campaigning.
Most of the major candidates in Afghanistan's September 18 elections for a new parliament have plastered their posters all over the city and spend their time cutting deals with other power brokers who can deliver them blocs of votes.
Unlike in Western legislative elections, these candidates don't run to represent specific constituencies. Instead, they seek to get enough votes city-wide to beat their opponents in simple vote counts.
Long Shot
Shirin Beg, who is in her early 30s, has never held political office and, having graduated four months ago from pharmaceutical school in Istanbul, is not connected to any power blocs.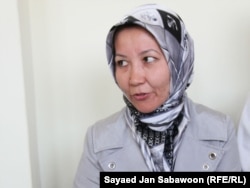 Gul Shirin Beg Turkmen
So she has taken a highly unorthodox approach to winning votes: she goes door-to-door in a city with no such tradition of doing so.
"One by one, I go to homes and do my campaigning," Shirin Beg says in halting Dari, explaining to a group of women in a home she's visiting why she deserves their votes. "What kind of problems people have, I see what they are. The people of Afghanistan have lots of problems. So I go door to door."
The women, listening attentively, don't hide their surprise at her visit. And their surprise is double because she has done more than come to their homes; she has chosen one of Kabul's poorest districts, an area that other candidates have ignored entirely.
Asked by a reporter if she will vote for this surprise visitor, the lady of the house responds, "Why not?"
"[Female candidates] are better than men," the woman adds. "I know this, that women have [strength and courage]. The men were not able to do anything and they didn't listen to us."
The neighborhood that Shirin Beg is canvassing is in the oldest part of Kabul, in a district called Shahr Kona. The homes are crumbling and some of the walls are still pock-marked from fighting in the capital almost two decades ago. There are no paved streets or sewage canals and trash is everywhere.
As she walks, increasing numbers of men gather around her. She campaigns to them in the same way she talks to the women in their homes, promising to bring them finally the simple improvements they desperately want -- specifically, a sewage canal, paved streets, and help with building a neighborhood mosque.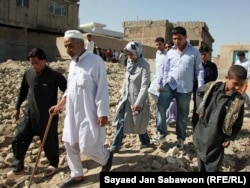 Shirin Beg tours Kabul's Shahr Kona district with local elder Muhammad Zahir (with cane).
Many of the men already know her from previous visits. She has been campaigning like this for four months, seeking to build up a local support base.
District elder Muhammad Zahir says no one in the nine years since the Taliban were deposed in Kabul has ever done what she is doing -- that is, listen to the district residents' complaints.
"The streets are full of dust and trash. Our kids are sick. We are sick," Zahir says. "Nobody asks about us. We do not have drinking water."
Zahir predicts in the district will vote for her on September 18 for two reasons: because she listens; and because she has already helped another poor district of Kabul to get a sewage canal, and people here have heard about it.
Louder Than Words
If there is a genius to Shirin Beg's campaign strategy, it is that even before she launched her election bid, she began laying down precedents for what she would try to do once in office.
She persuaded a Turkish development agency to build a sewage canal across town in the poor district of Kot Singhi. She also persuaded her four brothers -- all of whom are successful Kabul businessmen -- to employ some of the out-of-work laborers in the poor districts where she campaigns.
Her brothers also fund her limited campaign expenses.
Why Shirin Beg is running so hard is not immediately clear, even, seemingly, to herself.
She says she has always been the activist of the family and has been deeply affected by the suffering and poverty of her country over the past three decades of violence.
"I am a very social person," Shirin Beg says. "I am not someone who sits at home, cooks, takes care of babies. Well, I have done that. But at the same time I was helping other people who needed my help."
A mother of three, she was born in Konduz in northern Afghanistan but emigrated to Turkey with her family at the age of five. However, the family maintained its business interests in Afghanistan, particularly in Kabul, and frequently returned for visits. On those visits, she says, she became determined to help when she grew old enough to do so.
Changing Minds
Her soft-spoken, face-to-face campaigning style contrasts starkly with the difficulties she has encountered as a female candidate in a country where modernity chafes against well-entrenched conservatism.
She has received death threats to the point that she now simply hangs up the phone on them. She has had to do more than just persuade other women to vote for her; she has had to win permission from their husbands to let them vote at all.
"One by one, I went and [the women] were not even aware of voter-registration cards," Shirin Beg says. "Then I explained what it is and asked if they would vote for me. They said, 'Why not, we will.' But then they said, 'We have to get permission from our male family members. If they allow us, we will go to [register to vote].'"
Surprisingly, she says most of the men in such cases agreed to let the women vote once Shirin Beg appeared to be the only candidate who cared enough to come to their district. But actually getting hundreds of women -- and many men -- registered to vote also meant organizing transport for them to Kabul's scarce registration centers.
To date, she and her campaign staff of some 50 volunteers have registered 500 new women voters and about 2,000 new male voters. They did so by taking them to Kabul's three voter-registration centers at 4:00 in the morning so they could queue up in time to get through the crowds the same day.
Will her unorthodox strategies pay off on election day?
Shirin Beg is an optimist in a city that is deeply cynical about the far bigger power brokers, including warlords, and their ability to win and hold their legislative seats election after election.
Her optimism is based on both statistics and guesstimates. In previous elections, she says, candidates in Kabul have been able to win seats with just over 1,000 votes.
In this week's election -- as the population gets more used to elections -- she thinks that threshold will rise to about 2,000. And that number, she notes, is already well below the number of poor people she has met with personally in her unlikely campaign for national office.
Radio Free Afghanistan correspondent Fawzia Ihsan contributed to this report