"The Queen And I" is a documentary born from revolution and interrogation.
Some years ago, Nahid Persson was detained during a trip to her native Iran, questioned for hours, and prevented from leaving the country. Iranian officials were angry at the Sweden-based filmmaker because of works she had produced earlier, including a documentary about the life of two prostitutes in Iran.
They threatened her, called her names, and leveled various accusations against her.
Finally, they called her a "taghuti," a pejorative term used after Iran's 1979 revolution to describe those related to the shah's regime.
"It made me think: 'I participated in the revolution and chanted slogans such as 'Death to the shah' and 'Praise to Khomeini' but now look! Those to whom you said welcome, look how they're treating you and subjecting you to threats,'" Persson recalls.
"I figured I should find out what happened to Farah Pahlavi and her family after they left Iran."
Persson got to work as soon as she was allowed to return to Sweden. After several months, she finally managed to meet the woman she had once fought to remove from power.
"It was very strange, she was one day the queen of Iran and I was someone who was opposed to her," Persson says. "But there we were standing -- I was facing her smile and she my curiosity."
Iran' s former empress, Farah Pahlavi, well-known for her support for artists and intellectuals, says that she agreed to participate in the documentary because she had liked previous works by Persson and also because of the "special feeling" she has for her countrymen.
Unpleasant Truths
Yet both women harbored doubts.
The former queen admits she thought about backing out of the project after she found out Persson had been a member of a communist group that had opposed her husband (
see full interview
).
"Then I thought: 'Why shouldn't I have a dialogue with people who in the past had different political opinions?' What is important for us is that we're Iranians and we have to think about Iran's future," Pahlavi says.
Persson, who grew up asking why her mother couldn't live the easy life like the queen, says the more time she spent with Pahlavi the more she liked her.
Yet, when alone, Persson kept finding herself thinking about the human rights abuses committed under the rule of Pahlavi's husband.
"When I was with her everything was great, but when I was on my own I would think about the things I had heard and things I knew -- that under the shah there was no democracy and he was a dictator," Persson says.
"I kept asking myself, 'Why am I doing this?' I especially felt bad in the presence of some of her supporters who would pretend that nothing had changed in 30 years and that there's still a monarchy in Iran."
In the documentary, Persson interviews a man who says he was tortured under the shah.
The scenes are among those that didn't make the former queen happy. But Pahlavi says that she knew going into the project that she would have no control over the editorial process.
Common Ground
Some of those who have seen "The Queen and I" say the documentary is a sympathetic portrayal of a former empress who was, and still is, admired and respected by many Iranians because of her role in promoting Iranian art and culture.
The documentary was made over a period of more than 18 months, in which Pahlavi gave Persson extensive access to her and her private life. In the documentary the former queen -- who remains deeply loyal to her late husband and the monarchy -- is filmed visiting his grave in Egypt, and performing mundane daily tasks such as making coffee.
It also features conversations between the former revolutionary and the woman who symbolizes the regime she hated.
Pahlavi says she and the filmmaker shared ideas and grievances. "For me the interesting thing about this documentary is that two people in different positions, and with different political ideas, can talk to each other," she says. "In the documentary we don't have an official meeting, we talk to each other, we tell each other our problems. "
The two women from very different backgrounds discuss life in exile, the situation in Iran, and personal pain -- such as the death of one of the queen's daughter in 2001.
As the film took shape, the former empress and the former communist became closer and found that that they had much in common; in particular, love for a country they had been forced to leave and might never be able to visit again. Persson recalls that while visiting a museum, both women were automatically attracted to a historical artifact from Iran, and thinking, "This is what we have in common."
Thirty years after the revolution and the creation of an Islamic republic, the two women's differences have narrowed. Both believe today that the situation in Iran was better under the shah, and they both have what Persson calls "a common enemy."
"Because the revolution ended up in the hands of some who really didn't deserve it, Iran is now in the hands of some who really don't deserve such a beautiful country," Persson says.
"One tends to think, 'I wish [the old regime] had remained despite all the issues.' But I can't really say that now because I don't regret taking part in the revolution because at that time it was right -- I did the right thing at that time," she adds. "But if we, all Iranians, had known that it would end up like this, perhaps we would have taken different measures. "
Iran's former empress says she realized upon meeting Persson that it was important to forget their differences and move forward.
"We are two people who have or had different political philosophies or views -- maybe we became closer. We have to think about Iran's tomorrow, we have to think about Iran's today, and we have to put the issues we had in the past behind us," Pahlavi says.
Iran's Revolution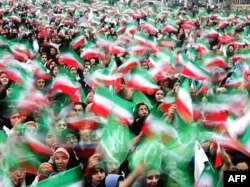 Iran's Revolution
As Iran celebrates the 30th anniversary of its Islamic Revolution, RFE/RL looks at the legacy of the revolution and its effect on Iran and the world. More
Images Of The Iranian Revolution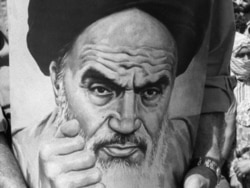 Images Of Revolution
An audio slide show of Reza Deghati's iconic photos of the Iranian Revolution and the hostage crisis that followed. Play