German Chancellor Angela Merkel called it "completely unacceptable," while French Foreign Minister Bernard Kouchner raised the threat of sanctions.
Sweden's foreign minister, Carl Bildt, said the move even smacked of Nazi Germany.
Russia's decision to recognize Georgia's breakaway regions of South Ossetia and Abkhazia has drawn an avalanche of criticism from Western nations and brought relations between Moscow and the West to a post-Cold War low.
The question that's now on everyone's mind is -- does Moscow even care?
Fyodor Lukyanov, the editor in chief of the Moscow-based magazine "Russia in Global Affairs," says the events mark a clear foreign policy shift for Moscow.
"Russia is definitely concerned, but a lot less than in the past," Lukyanov says. "I think Russia has come to the conclusion that trying to play by rules that were established by the West is futile, because Russia will lose. Russia feels that the West isn't ready or interested in considering it as an equal partner. So Russia opted for another scenario, in which it acts as it sees fit."
Great Dismay
This meant, besides recognizing the independence of the two separatist regions, sending tanks and warplanes into Georgia this month in response to Tbilisi's offensive to retake South Ossetia.
The conflict has killed hundreds of people on both sides, displaced thousands of others. It also provoked great dismay among many in the West who saw the conflict as an unabashed attempt by Moscow to reclaim power over its former Soviet subjects, and to punish Georgia for its Western aspirations, including membership in NATO.
Under former President Vladimir Putin, Russia had been eager to raise its international profile. The country actively pursued accession into the World Trade Organization, presided over the Group of Eight (G8) industrialized nations in 2006, and lobbied successfully for the right to host the 2014 Olympic Games in its Black Sea resort of Sochi.
Russia is also a member of several Western policy and rights bodies, such as the Council of Europe and the Organization for Security and Cooperation in Europe, and has a formal working relationship with NATO.
By pounding Georgia and recognizing its breakaway regions, however, Russia severely jeopardized its relations with the West and cast doubt on its future membership in these groupings.
Preemptive Steps
U.S. President Bush has said he is in talks with allies to expel Russia from the G8.
And on September 1, the European Union is gathering to reassess its relations with Moscow. The meeting was called by French President Nicolas Sarkozy, who as current EU chair brokered a cease-fire agreement in the early days of the armed conflict -- a deal Russia breached by failing to withdraw all of its troops from Georgia.
But Moscow has also taken preemptive steps of its own to cut off ties with the West, warning it would cease cooperation with the World Trade Organization and NATO.
I should imagine that Sarkozy is feeling extremely foolish at the moment.
Bill Bowring teaches international human rights law at the University of London's Birkbeck College and helps Russian citizens take their country to the European Court of Human Rights -- an institution overseen by the Council of Europe.
"Russia has now effectively excluded itself from NATO, from the partnership," Bowring says. "And I should imagine that Sarkozy is feeling extremely foolish at the moment, having, he thought, negotiated a peace deal which the Russians then ignored. As far as the Council of Europe is concerned, this is obviously absolutely unprecedented that you have a war between two members. I think the Council of Europe at the moment has absolutely no idea how to respond, although I'm sure within the Parliamentary Assembly there will be moves to exclude Russia."
Russia was undoubtedly aware that its actions in South Ossetia and Abkhazia, whose separatist leaderships are not recognized by any other country, would draw criticism.
Nearly Universal
Whether the Kremlin expected such a harsh reaction from the West, however, is less clear. The United States and EU countries in the past have frequently been of two minds when it came to Russia, with powerful nations like Germany preferring to take a softer stance in comparison to countries like the United States. This time, however, the condemnation has been nearly universal.
Paul Quinn-Judge, a researcher for the International Crisis Group who spent more than 15 years covering Russia as a journalist, says the new unity may have caught Russia by surprise.
"On one level, I don't think Putin cares too much -- he goes by his gut and he considers himself a tough guy," Quinn-Judge says. "But I think he is going to find it a little more rough going than he thought. He miscalculated the NATO reaction, he seemed fairly confident that they would be able to split NATO and this failed quite strikingly. Some of the countries in the West who have normally been considered rather well-inclined toward Russia -- Germany comes to mind, France to a certain degree -- are clearly not in the least bit impressed by Putin at the moment."
Moscow's motives in entering into a military confrontation with Georgia are obviously far more complex than what Russian officials claim -- a simple, humanitarian desire to rescue South Ossetian civilians from Georgian aggression.
On one level, I don't think Putin cares too much -- he goes by his gut and he considers himself a tough guy. But I think he is going to find it a little more rough going than he thought.
Russia, humiliated by a decade of post-Soviet chaos and frustrated by what it perceives as the West's patronizing attitude, has signaled it will no longer shy away from using force to restore its superpower status.
Olga Krishtanovskaya, a scholar at the Russian Academy of Sciences' Institute of Sociology, says Russia's ambition is to create a bipolar world in which it would act as a global counterbalance to the United States.
The timing of the South Ossetian conflict, she says, has been carefully chosen.
"The leader of the first world, America, is in a particularly disadvantageous position because of its economic crisis and upcoming change of leadership," Krishtanovskaya says. "Russia, by contrast, is on the rise -- it has economic growth, oil prices are high. The global circumstances are such that they allow Russia to hope it will be regarded, like in the past, as the leader of the second world, even if the borders of this second world are still vague."

Likely Disappointed
Krishtanovskaya believes Russia's ambition is to establish a "mini Soviet Union" that would group Belarus, South Ossetia, Abkhazia, and perhaps eventually Transdniester, Moldova's pro-Moscow rebel province.
This new union, she says, would be open to all countries that oppose the United States, including Iran and Venezuela.
If Russia was depending on such allies for support in countering the current barrage of criticism from the West, however, it was likely disappointed.
Belarus and Moldova remained silent for days following the start of hostilities in South Ossetia. China stopped short of throwing its weight behind Russia, voicing only "concern over the latest developments" in Georgia's breakaway regions.
Even member states of the Russia-dominated Shanghai Cooperation Organization failed to give Moscow clear support in its standoff with the West at their summit August 28 in Tajikistan.
Quinn-Judge says here, too, Moscow may have miscalculated.
"The Russians will be rather disappointed that the Chinese have shown no enthusiasm for Russia recognizing two separatist states," he says. "What is more surprising to me is that Russia might have hoped that any country is going to recognize these separatist states, because most of Russia's friends -- China, Venezuela, Bolivia, and places like this -- all have their own separatist problems and don't really go for unilateral recognition of breakaway entities."
It's too early to say what the outcome of the crisis will be. But one thing is already clear: Russia's incursion into Georgia, followed by its recognition of South Ossetia and Abkhazia, marks a definitive turning point in Russian-Western relations.
The words "Cold War" are on many tongues. Others, by contrast, believe that Russia was never bent on severing ties with the West.
"We did it our way, and we can do it our way, just like the United States," says Krishtanovskaya, summing up the Kremlin's current stance. "But this doesn't mean that we are isolationists, that we are Stalin's Soviet Union. We remain open to contact with the West -- not as a pupil, not as a younger brother, but as an equal partner."
Crisis In Georgia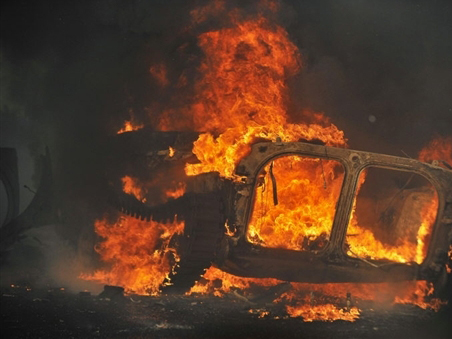 For RFE/RL's full coverage of the conflict that began in Georgia's breakway region of South Ossetia,
click here
.
RFE/RL Russia Report

SUBSCRIBE For news and analysis on Russia by e-mail,
subscribe to "RFE/RL Russia Report."