WARSAW -- Polish Foreign Minister Radoslaw Sikorski has arrived in Moldova as the EU's envoy to that country ahead of a repeat general election on July 29.
A Polish Foreign Ministry statement said Sikorski's visit is "aimed at accenting support for democratic and pro-European sentiments in Moldovan society during the pre-election period."
Sikorski was due to meet with outgoing Moldovan President Vladimir Voronin, Foreign Minister Andrei Stratan, and opposition and civil society leaders.
Bloody protests followed an announcement that the ruling pro-Moscow Communist Party had won legislative elections on April 5 by a margin that looked likely to cement their control over the legislature and the presidency.
But when parliament failed to elect a new head of state last month, Voronin dissolved parliament and set new elections for July 29.
Authorities responded to the postelection unrest with scores of arrests after rioters occupied presidential and parliamentary offices in downtown Chisinau. Moldovan officials also lashed out at neighboring Romania for allegedly supporting the protests, a charge that Romania rejected and Chisinau
eventually withdrew
.
compiled from RFE/RL Moldovan Service and agency reports
Moldova Votes Again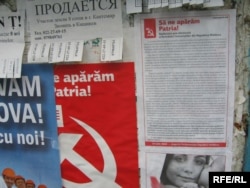 #moldovavotes
Through the eyes of RFE/RL correspondents and editors, guest bloggers, and other contributors who are following the July 29 national elections from the streets of Chisinau and far afield. Plus tweets and pics.
More