EU leaders are scheduled to have emergency talks on September 1 on the situation in the Caucasus.
In the lead-up to the meeting, French Foreign Minister Bernard Kouchner said the EU is considering sanctions, as well as other possible measures against Russia, because of its actions in Georgia. Vladimir Chizhov, Russia's ambassador to the EU, countered that sanctions would hurt the EU more than Russia.
When it comes to trade and finance, how much leverage does the West, especially Europe, have in its relations with Moscow? And what could be the economic fallout from the standoff? RFE/RL correspondent Jeremy Bransten asked Laza Kekic, regional director for Eastern Europe at the Economist Intelligence Unit.
RFE/RL:
Many EU heads of state have denounced Russia's recognition of South Ossetia and Abkhazia as independent states, as well as Moscow's continued military presence in other parts of Georgia. There is talk of possible sanctions. What can we expect from Monday's meeting of EU leaders?
Laza Kekic:
The scope for any really significant measures is rather limited. You might have a suspension of negotiations on the new Partnership and Cooperation Agreement. They were due to meet on September 15-16 under the auspices of the European Commission in Brussels, to start negotiating. And after all, we know the EU only recently agreed, despite internal differences, to go ahead with this. But that's hardly a very big matter between the two sides and it would have taken a long time anyway.
I can't imagine that given the nature of Russia-EU trade, and the dependence of particularly some of the heavyweight EU countries on Russian energy imports, that any sort of trade sanctions would be in order.
RFE/RL:
Is Europe's dependence on Russian energy imports the decisive factor influencing decision makers on the continent?
Kekic
: It's not only energy. A lot of European companies have made, and are making investments [in Russia.] Germany is an enormous exporter to Russia. Many Germany companies depend on their sales to the Russian market. There are even a lot of U.S. companies that are very closely engaged in a wide range of consumer goods.
To give you another example where there might be a total dissonance between the political and economic trends: As the world sort of heads toward a political meltdown between Russia and the West, at the same time, Western automotive companies are announcing new automotive investments in Russia, which is now the most dynamic car market in Europe, amid a very, very depressed global car market. So that example gives you a taste of where we are at the moment.
The Economic Factor

RFE/RL:
You're saying there's a divergence between political and economic interests in many EU states, when it comes to Russia. What about internal political divisions within the EU?
Kekic:
When you talk about the EU, they're so extraordinarily divided. There will be some unity in terms of rhetorical condemnation, I'm sure. But how far does that go? When you look at fundamental interests, there are countries like Germany and Italy on one side and on the other side there is Poland or the Baltics. Even though they're part of the same organization, it's very difficult to talk about common interests.

RFE/RL:
Still, despite what appears to be limited European leverage against Russia, and splits within the bloc, we have seen Western capital flee the Russian stock market in recent days. The crisis is having a negative economic impact on Russia already, isn't it?
Kekic:
Investors don't like war and upsets, so some sort of reaction is not surprising. I think we have to distinguish between several things here. The first distinction one needs to make is between financial portfolio investors investing in the stock market and foreign direct investors. The second category is probably more resilient and it will take more to upset them.
RFE/RL:
Some commentators in Europe have suggested that the West should target Russia's new economic elites, who travel the world and have investments abroad. The argument is that they would in turn pressure the Kremlin to moderate its policies. What do you think?
Kekic:
I think in the short term, if one took any sort of punitive measures against some of these businessmen, like making their travel more difficult -- there's even been talk about freezing some of their assets, although I suspect it's not very serious talk -- I think not only would they not be able to influence anything [in the Kremlin], because [in Russia] politics and national security come first, you would even probably see a consolidation of the Russian elites. So that's one thing.
Another thing, I'd be very doubtful that there would be a universal, concerted global action against them. To take one example, if a country like the United Kingdom, where they're very active, took some measures against them, they'd go somewhere else. I think there would be many places willing to deal with them.
RFE/RL:
Do you think the Kremlin has already decided it is willing to pay some economic costs to pursue what it views as its political interests -- namely reestablishing a regional sphere of influence?
Kekic:
When the finance minister, Mr. [Aleksei] Kudrin, told the government about the loss of reserves and the cost that Russia has already incurred, I think Putin told him, "Be prepared for more." That illustrates the fact that we've gone beyond the point where strict dollar-and-cent calculations prevail. [And this is] against the overall backdrop that Russia is maybe even a bit smug about what the outside world can do to punish it economically. Even if there are some costs, they're certainly willing to bear them, given what in their perception is at stake here.
RFE/RL:
Over the long term, could Europe diversify its energy sources so that it isn't so dependent on Russia? And conversely, could Russia reorient its energy exports to Asia, for example, if the chill with Europe deepens?
Kekic:
Just like for Russia, it would take a long time for Europe as well [to reorient energy supply routes]. There are marginal things you can do, like increasing energy efficiencies, there's talk of more reliance on liquefied natural gas from places like Algeria and so on, but none of this can be done very easily or quickly. So again, it reinforces the point that the two sides are locked into this interdependence, which makes it very, very difficult for the EU to take any drastic measures.
RFE/RL:
So to sum up, it's fair to say the EU faces quite a challenge in formulating its approach to Russia?
Kekic:
We have to remember that the Georgia crisis is really a culmination of a very long process of deteriorating relations, not only with the U.S. Ties between Russia and the EU have been very difficult. When one looked at this issue in some detail even a year ago, one could compile a list of some 30 issues -- and these were 30 serious issues -- on which there were serious disagreements between Russia and the West. So, Georgia didn't just come out of the blue.
Crisis In Georgia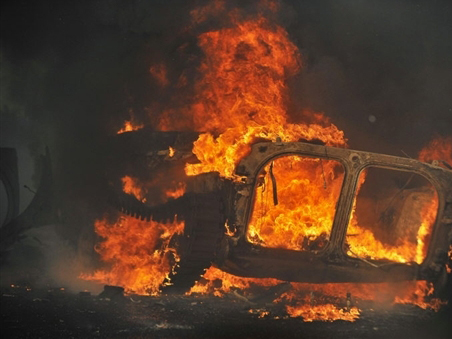 For RFE/RL's full coverage of the conflict that began in Georgia's breakway region of South Ossetia,
click here
.