Former President Mohammad Khatami has characterized the result of Iran's recent presidential election as a "velvet coup" during a meeting with relatives of those killed or arrested during postelection unrest, RFE/RL's Radio Farda reported.
He also described as "poisonous" the current security atmosphere, as media strictures remain in place and reports continue to emerge of arrests and confessions extracted from some of those in custody.
Khatami went on to caution, "Oppressing people will not help end the protests," according to Reuters.
The statements by Khatami mark some of the strongest from a senior politician since officials awarded a landslide victory to conservative incumbent President Mahmud Ahmadinejad.
They came the same day that the two reform-leaning candidates in the presidential election, Mir Hossein Musavi and cleric Mehdi Karrubi, declared separately that any government that emerges under Ahmadinejad without a new vote will be illegitimate.
Khatami supported Musavi ahead of the election.
Arrests And Protests
Officials have acknowledged that at least 20 "rioters" have died since street protests broke out in major Iranian cities after the June 12 election.
Iran's police chief, Esmail Ahmadi Moghadam, said 500 police had been injured.
Moghadam said that 1,032 people have been detained, with "most" freed but the others "referred to the public and revolutionary courts," according to Reuters, which quoted the semiofficial Fars news agency.
Musavi has urged his followers to continue lawful forms of protest until a fresh election is called -- a remote prospect since both Supreme Leader Ali Khamenei and the Guardians Council, an unelected vetting body, have declared Ahmadinejad the winner.
written by Andy Heil from Radio Farda reports
Iran Election Special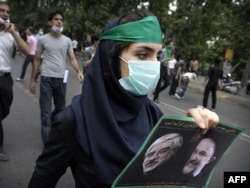 RFE/RL's Full Coverage
Following the disputed reelection of Iranian President Mahmud Ahmadinejad, supporters of Mir Hossein Musavi have taken to the streets to protest.
Click here
for news, blogs, and analysis of the presidential election and aftermath.