WATCH: Sadruddin Nazar, a young businessman, has founded a start-up radio station in a remote village in northern Afghanistan, using only the resources and equipment on hand.
GORCHANGY, Afghanistan -- So much blood and money is being spent to build stability in Afghanistan. But what would we Afghans do if we had it?
I found an answer when I traveled recently to a remote corner of northern Afghanistan. The area, close to the border of Turkmenistan, has suffered a drought that wrecked its economy. But it is removed from the fighting and is far even from the reach of most international aid agencies. So whatever success its people have in recovering from the drought depends mostly on their own efforts. And that -- unclouded by the fog of war -- is what I had come to see.
My destination was the village of Gorchangy. It is a scattering of small, adobe houses near an open-air bazaar that attracts people from miles around.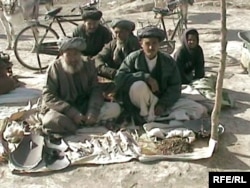 Traders in Gorchangy's market
The bazaar is a showcase of the region's recent troubles, which descend from the mountains on the horizon. There was almost no snowfall in 2008, and last winter things improved only slightly. Without the snowmelt, the wells and springs have gone dry, and the only running water is the enfeebled river that crosses the valley. For several years this region -- the southern part of Mingajik district in Jawzjan Province -- has been unable to feed itself from its fields.
One result is that the normally bustling bazaar is a shadow of its former self. There is no local produce and no herds of livestock waiting to be piled onto trucks for sale in cities like Mazar-i Sharif or Sheberghan. In fact, there are few vehicles in sight at all.
Instead, the main activity seems to involve a camel train at one corner of the bazaar. Men are loading or unloading something, so I walk over to see what it is.
Making Ends Meet
Habibullah, an ethnic Turkmen like most of the inhabitants of this region, is taking a pile of tightly bound sticks off one of the camels' backs.
Habibullah, a farmer turned wood trader
"We go to the desert with the camels to collect brushwood and sell it in the bazaar," Habibullah says, "and then we buy what we need, like flour."
The brushwood is a mixture of twigs and sticks that the men have collected over the course of days, sleeping rough at night. Everywhere in Afghanistan, people use handfuls of tinder to start the fires under their tandoor ovens and bake bread. So Habibullah has found a way to survive by collecting what the drought has left behind in the desert, even as it has destroyed his fields.
Habibullah plans to sell the wood in bulk to merchants who have driven to the bazaar from somewhere over the horizon. And it is they -- from less drought-struck areas -- who have brought the flour and other staples he will buy. The merchants are the lifeline to the outside world, and the fact they appear daily is a measure of how resourceful the villagers have been in creating their own safety net after their farming economy collapsed.
In another part of the market a villager is displaying homemade knives. He has made them by forging blades out of scrap metal and binding them with wooden handles. Some are intended for kitchen use and some are specially hooked for use by carpet weavers. They, too, are headed over the horizon.
Other people have other goods to sell. There are slippers made from wool that has been rolled into felt and cobbled with leather soles, then decorated with colorful motifs. And there are red-and-black pile rugs, of the kind Turkmen women are famous for weaving. All these have come out of individual homes, where the womenfolk, in good times and bad, weave to supplement the family income.
Unplanned Economy
Walking around the bazaar, it is amazing to see how efficiently the village's safety net works. The visiting merchants, sitting on blankets amid sacks of flour and mounds of rice, seem in no hurry to go. Nor do the boys fanning small campfires that are sending smoke signals into the air. The boys are reheating pilaf their mothers made at home to sell to the merchants -- pilaf made from the same rice the merchants brought this morning. With one bit of ingenuity or another, everyone is finding ways to cope with difficult times.
It is a timeless scene, and it would be easy to lose any sense of the present. But there is one sight that clearly anchors Gorchangy in the modern world. It is a painted building that serves as a general store and the bazaar's central meeting place. Inside, its shelves are filled with enough sundries, from soap to cooking oil to cosmetics, to prove Gorchangy is fully integrated into the larger Afghan economy.
The store's owner is Sadruddin Nazar, a local man in his mid-thirties. As he tends to his business, he seems to have one overriding interest: the boom box behind the counter. All through the working day, Afghan songs pour out of it. But the curious thing is, Nazar doesn't seem to be the only one choosing what he plays. From time to time, a folded message arrives from elsewhere in town, requesting he play this cassette, or that.
General-store owner and amateur radio broadcaster Sadruddin Nazar
Nazar explains the mystery of the notes. He's not just playing music, he says, he's broadcasting it from his shop across the whole village. And he's doing it with a radio transmitter.
"In the village, our neighbors are making carpets, scarves. They listen," Nazar says. "In the morning, we turn on the transmitter until the evening. If we don't, they come to ask us why we don't put the transmitter into operation. They say they want to have music while they work."
The radio is a box of equipment with a wire leading out to the roof, where the transmitter sits atop a tall wooden pole and broadcasts at 100.1 FM to a radius of 2 kilometers. There is nothing professional about any of it. Nazar and a car-mechanic friend assembled everything themselves from spare parts from old radios and cassette players.
Self-Reliance
In a better economy, Nazar might be operating his radio station as a commercial business. But here, where there is no advertising base, it can only be a hobby whose main cost, the electricity, is covered by Nazar himself. The radio runs off a car battery that he recharges periodically when the village's electricity comes on after dark.
Neither Nazar nor his mechanic friend has any formal training in electronics or even a higher education, so their radio is regarded locally as a feat of genius. But perhaps even more importantly, it is seen as something larger: a symbol of the village's own spirit of self-reliance.
It is that spirit -- much more than outside help -- which is getting this village through its hard times. And how much so can be seen by visiting the three professionally-built water catchment ponds on the edge of the bazaar.
The ponds were constructed by outside contractors as part of an internationally funded reconstruction effort to improve the region's infrastructure. But like many reconstruction efforts in Afghanistan, it is much appreciated but poorly coordinated. The catchment ponds hold almost no water because a separate project, to connect them to the river with a cement-lined canal, never began. The water at the bottom of the ponds is what the villagers have carried from the river themselves using pack animals.
"If we had water we would have a better life," Habibullah, the farmer-turned-wood collector, sums up the villagers' need for snowmelt, for water, and for cement-lined aqueducts. "Now our children have to leave this region and look for work by standing in the day-labor markets of Aqcha or Kabul. They never have a chance to stay at home."
But for now there is nothing to do but wait for more snow and be grateful for at least one thing: the stability and security this corner of Afghanistan enjoys.
Ibrahim Haroon is the head of administration of Radio Free Afghanistan's Kabul bureau. Radio Free Afghanistan correspondent in Prague Zarif Nazar helped prepare this account of Haroon's trip, cowritten with RFE/RL correspondent Charles Recknagel