A Georgian passenger jet has landed in Moscow in the first direct flight between the two countries since their brief war in August 2008.
A crowd of journalists gathered at Tbilisi's airport to watch the Georgian Airways flight take off, amid hopes of a full resumption of regular flights between the neighboring countries.
Georgian Airways spokeswoman Nino Giorgobiani said the 80-seat charter flight was sold out. "The demand was very high both in Tbilisi and Moscow because until now people had to fly through third countries," she said.
Russia has allowed Georgian Airways to perform five flights to Moscow and St. Petersburg between January 8 and 10.
The airline says it is awaiting word from Russia about more flights to Russia on January 16, 20, and 24.
Today's flight has raised hopes of a full resumption of air service to Russia, which is home to thousands of ethnic Georgians.
"I feel relieved, I'm going home to Moscow," one elderly passenger who lives in Moscow told RFE/RL's Georgian Service before boarding the flight. "I was here to visit my grandchild. I had to travel through Yerevan. If regular flights are restored, I'll visit Georgia three times a year."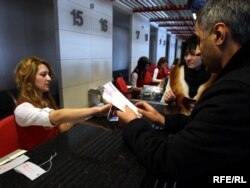 A passenger checks in for the January 8 flight at Tbilisi International Airport.
Russia formally canceled direct flights to Georgia in the aftermath of the five-day war, in which Russia crushed a Georgian offensive on the pro-Russian rebel region of South Ossetia.
Many see today's flight as the sign of a thaw in relations between the two countries, which agreed last month to reopen a key land crossing.
The checkpoint at Upper Lars is the only one that does not pass through South Ossetia or Abkhazia, Georgia's other breakaway region.
Russian President Dmitry Medvedev said in December that he saw no obstacle to resuming flights, granting Georgians visa-free travel to Russia, and lifting an import ban on Georgian wine.
The Russian Orthodox Church also announced this week that its head, Patriarch Kirill, will soon travel to Georgia.
But Moscow has ruled out talks with Georgian President Mikheil Saakashvili and the two countries have yet to restore diplomatic relations, which Georgia severed in September 2008 after the Kremlin officially recognized Georgia's two breakaway regions of South Ossetia and Abkhazia as independent states.
Written in Prague by Claire Bigg based on material from RFE/RL Georgian Service correspondent Eka Kevanishvili in Tbilisi and agency reports