On the night of June 21, 2004, in one of the best-planned attacks by Chechen separatist rebels, hundreds of armed men stormed the southern Russian city of Nazran, leaving a trail of destruction and death in their wake.
The raid alarmed the Kremlin, which had boasted of bringing stability to the North Caucasus after a decade of war with Chechen separatists.
Led by Chechen warlord Shamil Basayev, the heavily armed assailants targeted 15 official buildings in Ingushetia's main city as well as several towns and villages in the republic, which borders war-battered Chechnya.
They caught Nazran off-guard, wreaking destruction for one night before withdrawing with two truckloads of seized weapons and only minimal losses on their side.
"It was already dark when the shooting suddenly started. I went to the center of Nazran and heard that shots were being fired throughout the city. The border guards' building was on fire," recalls Akhmed Sultanov, a correspondent for RFE/RL's North Caucasus Service.
Sultanov says the streets of Nazran were littered with dead bodies and charred vehicles.
"The center of Nazran was a terrifying sight. There were burned-out, bullet-ridden cars everywhere. There were dead people in cars, people who had been shot," Sultanov says.
"Many of them wore army fatigues; many policemen had been shot dead. I saw that some of them had been pulled out of their cars, thrown onto the ground, and shot from behind."
Nazran's Interior Ministry building and train station were burned to the ground. More than 60 police, security officers, prosecutors, investigators, and border guards were killed -- many of them caught in their sleep and slain in front of their relatives.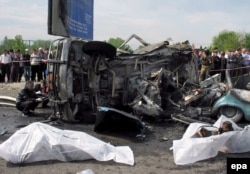 Ingushetia is still plagued by violence and insurgency.
The republic's acting interior minister, Abukar Kostoyev, his deputy Ziyaudin Kotiyev, and Nazran's prosecutor-general, Mukharbek Buzurtanov, were among the victims.
About 25 civilians, including a local United Nations worker, died in the crossfire.

North Caucasus Not 'Pacified'
Underscoring the gravity of the attack, then-Russian President Vladimir Putin flew to Nazran to hold talks with Ingushetia's president at the time, Murat Zyazikov.
Putin ordered the deployment of federal troops to bolster security in Ingushetia and vowed to "find and destroy" the militants.
The Nazran raid was a huge embarrassment for the Kremlin, one that undermined its claims that Chechen rebels were too battered by a decade of war with Moscow to mount any significant offensive.
It came at a very inconvenient time for the Russian government, which was preparing for an election to replace Kremlin-backed Chechen President Akhmed-hadji Kadyrov, killed just six weeks before in a bombing attack.
It was also a departure from previous attacks and hostage takings, since the militants in Nazran didn't put forward any specific political demands.
Their main goal, besides capturing a huge cache of weapons, was to showcase the insurgency's capabilities and undermine Moscow's claims that rebels had been reduced to mere "pockets of resistance."
Chechen political analyst Timur Muzayev describes the attack as a "show of force," and "defining moment in the battle waged by opponents of Russian rule in the North Caucasus."
Muzayev adds that the Nazran raid was "an exceptional attack. It was a show of force that didn't yield any result for the militants; they didn't make any political demands, they didn't seek to negotiate or pressure. They just wanted to show that it's possible to shake the regime in the North Caucasus."
'Too Much To Carry'
Adding insult to injury, a Chechen rebel website just days after the raid posted what it said was footage of Basayev and other rebels seizing weapons from the Ingush Interior Ministry during the attack.
In the video, the man purported to be Basayev is seen listing weapons and complaining that the rebels don't have enough vehicles to carry them away.
"We are now in the Interior Ministry's weapons warehouse," the man says in the video. "We've seized about 700 submachine guns, more than 800 pistols, about 1 million rounds of various calibers, equipment, and uniforms. Our only problem is the lack of transport."
The man in the video adds that the Nazran raid was conducted jointly by Chechen and Ingush rebels. A number of witnesses have confirmed that some of the militants were native Ingush.

Increasing Public Support
This was not the first time Chechen separatist fighters conducted forays into neighboring provinces.
In 1995, rebels led by Basayev stormed a hospital in the southern Russian town of Budyonnovsk, killing some 166 hostages. And in 1999, some 2,000 Chechen militants entered Daghestan and battled Russian troops for 10 days before retreating to Chechnya.
What the Nazran raid made clear, however, was that the Chechen conflict had not only spilled out of Chechnya; militants were also developing support bases outside their republic.
Critics say Moscow inadvertently encouraged young men in Ingushetia and other North Caucasus regions to join the insurgency by closing its eyes to the brutal methods employed by federal forces in the region.
In the poor, chiefly Muslim republic of Ingushetia, heavy-handed police tactics, combined with official corruption, rampant poverty, and a 75 percent unemployment rate provided Chechen militants with wide public support and a ready pool of recruits.
RFE/RL's Sultanov says he saw many residents come out of their homes during the Nazran raid to cheer the militants.
Timur Izmailov, an Ingush journalist, says Ingushetia's descent into violence began with the presidency of the Kremlin-anointed Zyazikov.
"Within months after Zyazikov became president, terror began in the republic. People were kidnapped and killed. Neither officials nor ordinary people respected the law," Izmailov says.
"Many were against the authorities because they killed innocent people in front of their mothers, brothers, and sisters. Basayev enjoyed strong support among the Ingush population due to the pervasive lawlessness."
Basayev was killed in a Russian special operation in Ingushetia in 2006.
And with Ingushetia teetering on the verge of civil war, Russian authorities finally dismissed Zyazikov last year -- news that was greeted with singing and dancing in the streets.
New Ingush President Yunus-Bek Yevkurov, a respected former paratroop commander, has spared no effort to restore trust in local authorities and stem the rebellion. In an unprecedented move just weeks after his appointment, he ordered the prosecution of several security officers on kidnapping charges.
But it will take more to bring peace to Ingushetia, the new hot spot of the North Caucasus.
"After Ingushetia's new president took office, a great number of people, even in the opposition, were convinced that the situation would improve," Sultanov says.
"But illegal arrests and extrajudicial killings continue, there are armed raids, and people continue to be killed every day."
RFE/RL's North Caucasus Service contributed to this report