Oleg Kalugin headed overseas counterintelligence operations for many years at Russia's KGB secret services, where he oversaw operatives including future Russian President and Prime Minister Vladimir Putin. As Kalugin became a vocal critic of the Soviet system during its final years, he was demoted and eventually forced to retire from the KGB in 1990. A Moscow court sentenced him in absentia to 15 years in jail for treason in 2002.
Kalugin today remains a fierce critic of Prime Minister Putin, whom he has called a "war criminal." He currently works for CI Centre, a counterintelligence consulting and training firm outside of Washington, D.C. He spoke to RFE/RL's Nikola Krastev about his KGB career and the recent spy scandal in which 10 alleged Russian agents were expelled from the United States.
RFE/RL: In recent years, Russia has sought to nurture the patriotic feelings of the millions of Russians living abroad. Do you see this trend as a continuation of the KGB's efforts to recruit Soviet emigrants during your time with the organization, between 1956 and 1990?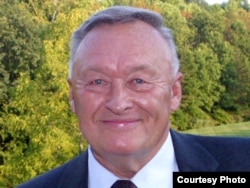 Oleg Kalugin

Oleg Kalugin:
Yes, these activities have now been fully restored. When the Soviet Union was collapsing, these activities shrank because so many people were emigrating. Besides, back then we had solid sources in U.S. and European intelligence services. So at that time, activities tied to emigrants were no longer a priority.
But as Russia rose from its knees, this issue resurfaced. This whole story with the so-called 10 or 12 sources shows that interest in Russians living abroad is mounting in high circles. I have to say that the Russian Orthodox Church always played a significant role in this process, and it is likely to play an even greater role today.
The U.S.S.R was based on three pillars: the Communist Party, the KGB, and the military-industrial complex. Russia's current system is based on the KGB at the head of the government, on the Russian Orthodox Church as a former part of KGB agencies among the clergy, and on Russian business. Many former KGB officers are now doing business, either laundering money or participating in intelligence operations.
RFE/RL: What are your thoughts on the
recent spy scandal
between Russia and the United States?

Kalugin:
Honestly, it made me laugh. It all seemed so laughable -- an intelligence farce. Financing 10 or 12 people who had no direct access to state secrets and hoping they would one day be able to infiltrate the State Department or another governmental institution is such a waste of time, money, and human resources. That's my opinion on the "spy saga" that unfolded recently.
In my opinion, it ended very successfully with the swap of the so-called Russian spies with a relatively small group of real American spies, of people who at any rate provided valuable information to the United States and Britain. The exchange was a failure in the sense that Russia freed people who really were spies -- this was not an invention.
RFE/RL: In your time at the KGB, were the people there sincere, true believers in the communist ideal?

Kalugin:
These formed the vast majority of people employed by the KGB. The selection process was very strict -- biographical data, relatives, connections -- and candidates also were tested on their integrity, on their devotion to the communist ideology, on their awareness of their duty, on possible risks and sacrifices of their freedom and even of their lives. The selection process was very thorough.
Only after the dissolution of the Soviet Union did the population become demoralized, including within the Communist Party and the KGB. These institutions were greatly affected by the Soviet collapse. But later, as Russia underwent an economic revival, intelligence and security agencies again became more attractive.
But two elements have nonetheless disappeared. In the past, intelligence agents had the right to travel abroad [and] they had good salaries and benefits. Today in Russia, anyone can travel abroad and earn money by creating a company or a joint venture with foreign capital. The secret services now attract many people who are romantic by nature, who have read thrillers and seen many movies dedicated to the heroic deeds of the Soviet agents. There are many people like that, and they are decent people. But with time, the romance fades away and not all are able to adapt to the reality of the secret services.
There is a second category of people who simply prefer to serve in the intelligence services than in the Russian military. Service in the Russian Army frightens people rather than attracting them.
RFE/RL: Western secret services have been criticized for abandoning their foreign agents -- paying them handsome rewards, relocating them, and then forgetting about their existence. How did you handle such cases during your KGB career?

Kalugin:
Yes, that's right. When I was working in Moscow, I supervised former British agents for the Soviet Union such as George Blake and Kim Philby. When I met them for the first time, they had successfully evaded justice and already lived in Moscow. They lived relatively comfortably but both of them felt quite lonely. Philby was almost an alcoholic, even though he was married -- we had found him a good woman.
Then I decided to change the lives of these people. With the consent of [KGB head Yury] Andropov I organized a speech by Philby to the KGB agents in the KGB headquarters' central hall. There were more than 800 people. Then he started teaching English and then helped us prepare fake British documents. As a native speaker he would make sure there were no grammar mistakes in the fake British and U.S. documents that we were distributing around the world. In short, these people returned to life and Philby stopped drinking.

RFE/RL: Was there an established procedure within the KGB to deal with defectors who later changed their mind and wanted to return?

Kalugin:
We investigated such cases -- for example, there was a certain [Anatoly]
Chebotaryov
, who defected to Belgium and returned six months later. We conducted a thorough investigation of his case. Normally, he would have received a minimum of 15 years in prison, but I convinced the KGB leadership to give him a suspended sentence, which he served outside Moscow. We even found him a job in the Ryazan region. This was possible and Andropov accepted my recommendation because this Chebotaryov told us everything he knew. He was sincere; we had no reason to distrust what he was telling us.
It happens that sometimes when people go astray, they become obsessed with certain ideas, thoughts. They defect but then come back. So, this is one of those cases when a defected agent returned and nothing happened to him.
RFE/RL: Was infiltrating Radio Free Europe/Radio Liberty a high priority in the KGB counterintelligence operations in the 1970s and 1980s?

Kalugin:
In the counterintelligence department of the KGB, which I headed, there was a special unit dedicated to [Soviet] emigrants, to their press, their radio stations. Because RFE/RL was at first financed by the CIA, it was naturally an intelligence priority. Older emigrant newspapers and magazines were also infiltration targets but of lesser priority.
We had several informants in RFE/RL's Russian Service. The most famous was
Oleg Tumanov
[the former director of the Russian Service of Radio Liberty].