TEHRAN -- Reza Pahlavi, the son of the former shah of Iran, has vowed to take a proactive role in opposing that country's current power structures.
Pahlavi made the statement to Radio Farda at the unveiling in Paris on February 10 of Pahlavi's new book, "The Time to Choose."
The book describes civil disobedience as the best way for activists to challenge government authorities.
Pahlavi, 48, said he plans to organize and support Iranian opposition groups inside and outside the country.
Pahlavi left Iran several months before the culmination of the 1979 Islamic Revolution that ousted his father.
He has never returned to Iran, and has homes in Paris and the United States.
Iran's Revolution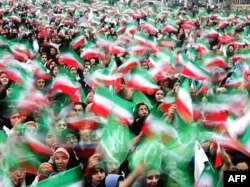 Iran's Revolution
As Iran celebrates the 30th anniversary of its Islamic Revolution, RFE/RL looks at the legacy of the revolution and its effect on Iran and the world. More