Kyrgyzstan. One country or two?
On the map it's one country, but since the first days of independence in late 1991 observers have warned of a possible north-south split.
The prospect came to the fore most recently when, in the midst of a violent uprising that began in the northwestern city of Talas on April 6 and continued the next day in Bishkek, President Kurmanbek Bakiev sheltered in his native south. There, in the safety of his support base, he sought help to counter the "northerners" who had chased him from the capital.
Today, Bakiev is no longer president, having resigned and fled to Minsk for safe haven. But the north-south split he tried to use to his advantage remains a considerable political reality.
Previous Kyrgyz governments have been careful to include representatives from both the northern and southern parts of the country. One example was the "tandem" of President Bakiev, from the south, and Prime Minister Feliks Kulov, from the north.
Within the temporary government running the country until elections can be held in October, interim leader Roza Otunbaeva was born in Osh, the south's biggest city and the country's second-largest, but has spent enough time in the north that many no longer regard her as a southerner. Another leader in the interim government, Omurbek Tekebaev, has spent much of his political career in Bishkek, but his southern origins could give him more weight among voters there.
Striking A Balance
As the country works to form a new government, the need to strike a balance between southerners and northerners in its makeup will be one key to its success. Failure to do so risks provoking the north-south rivalry.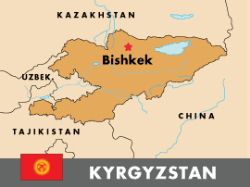 "I think that the main differences [between the north and south] are that the southern Kyrgyz have lived for a long time with the local population, which are the Uzbeks and Tajiks of the Ferghana Valley who have lived here a long time and lived a sedentary lifestyle," explains Nurbek Kasymov, legal consul for the Jalal-Abad branch of the Center for the Support of Civil Society. "And a significant proportion of southern Kyrgyz mixed with them in villages and adopted to some degree their style of life, culture. And also of importance is that before the Russians arrived, [Kyrgyz, Tajiks, and Uzbeks] lived in one Kokand Khanate."
Kasymov contrasts that to what was a mainly nomadic culture in northern Kyrgyzstan. "There really was not much of an influence of the Kokand Khanate on northern Kyrgyzstan. You could say they didn't bow to the Kokand Khanate," he says. "They lived as they wished. I think this mentality and tradition is to some extent preserved. And also southern Kyrgyzstan has to a degree a local dialect and it is a little different from the Kyrgyz spoken in the north."
'A Bit More Patient'

Kamil Satkanbaev, a television journalist and political expert in the southern city of Osh, also sees north-south differences. "It is to some extent true that people in the south are more hospitable and a little more, I would say -- and not just to defend southerners, and I am a southerner -- but a little more observant of how things are developing," he says. "And maybe people of the south are just a bit more patient than people in the north."
But Kasymov and Satkanbaev emphasize there are no huge differences between peoples from the two regions, with Kasymov pointing out one important similarity. In each region, he says, tens of thousands of residents have become migrant workers in Russia, Kazakhstan, and other countries.
Among those who remain at home to make a living, Satkanbaev points out a key difference: "Generally here, people are farmers and herders," he says. "The industrial areas are all in the north."
Faithful In Abundance
Contrasting levels of religious zeal are often mentioned in the debate over what divides the Muslims of Kyrgyzstan's north and south. "Many analysts and researchers remark that in southern Kyrgyzstan people are more religious than the people in the north," Kasymov says.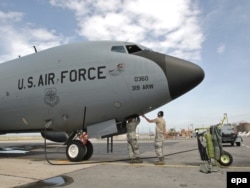 A U.S. military plane at the Manas air base
But while Satkanbaev acknowledges the faithful are in greater abundance in the south, he is careful to point out that that doesn't necessarily mean they are stricter adherents.
"There are more followers of Islam here than in the north, but I need to say that there are excellent Muslims in the north and I mean that in the best sense of the word," Satkanbaev says. "And they differ from a few of the Muslims of the south who consider themselves the most religious but are using various narcotics, and I've seen this with my own eyes. Some even drink alcohol, for example, but they consider themselves Muslims."
The contrasts also manifest themselves in the ethnic and cultural makeup of the two regions, with the north considered more Russified and the south better reflecting the native traditions of Central Asia.
As noted by Kasymov, southern Kyrgyzstan -- essentially Kyrgyzstan's sector of the Ferghana Valley -- is home to large numbers of Tajiks and Uzbeks. As Satkanbaev notes: "Russians, Dungans, are in the north, but here [in the south] there is not a large Russian population. Uzbeks make up about one-fourth of the population, but most of them live here in the south. I would say there are more than 800,000 [Uzbeks] here in the south."
Communication Breakdown
Communication between north and south is also tenuous. While regular flights link Bishkek to Osh, Jalal-Abad, and Batken, there are only two usable roads through the mountains to connect north to south. It is a full day's drive to travel the 650 kilometers between Bishkek and Osh.
Not all state channels from Bishkek reach the south, leaving southern residents more likely to receive their television and radio broadcasts from neighboring Uzbekistan than from the capital. People in the north, meanwhile, are more apt to have Russian channels available for viewing.
For most Kyrgyz, none of the differences between north and south would be enough to lead either population to favor a regional split. There are key issues relevant to Kyrgyzstan's international relations on which there is no room for debate.
There are two foreign military bases in Kyrgyzstan -- one American and one Russian -- and both are located in the north. In geographic and strategic terms, their locations appear to make no sense. The U.S. "transit center" at Manas air base is used for supporting U.S. and NATO operations in Afghanistan, while the Russian base in Kant is part of a CIS Collective Security Treaty Organization agreement to create a counterterrorism base in Central Asia.
Both would be more logically located in southern Kyrgyzstan, where the trip to Afghanistan is shorter and where any terrorist or militant activities are more likely to be found. But the intense southern resistance to outside influence, particularly military, is something Bishkek is well aware of.