Authorities in Pakistan say they have retaken a policy academy on the outskirts of Lahore that was targeted by heavily armed gunmen in an attack that killed an undetermined number of police officers, adding that mop-up operations continue within the walls of the compound.
Pakistani security forces laid siege to the Manawan Police Training School after the morning attack by at least eight gunmen, with some of the assailants reportedly trapped inside. Later reports indicated that at least two of the attackers blew themselves up inside the building.
The number of casualties remained unclear after authorities regained control of the academy. Differing police and media sources reported that at least eight and perhaps as many as 27 police officers were killed, and up to 90 people were wounded.
Police say security forces killed at least four of the gunmen in addition to those who blew themselves up. Security forces also reportedly seized at least three attackers.
"It was approximately half-past seven in the morning, and we were having our general parade," a hospitalized recruit from the Manawan Police Training School told Pakistan's ARY television. "Then, the terrorists jumped in from the side wall. First, they lobbed hand grenades -- there were four or five of them. Then, they started firing. It was a scene from hell. Everybody was running away. I was among four people who escaped and the Edhi [a local charity] picked us up from there. They gave us first aid and brought us here."
Another hospitalized officer, Mohammad Asif, described explosions that raised thick clouds of smoke and scattered police cadets in panic.
Asif said about 700 police trainees were inside the academy compound when the violence began. He described the attackers as "bearded and young."
Police officer Ahsan Younus told The Associated Press that some of the attackers were wearing police uniforms.
The assault comes less than a month after gunmen ambushed Sri Lanka's visiting cricket team in the heart of Lahore, the capital of the eastern Punjab Province and the second-largest city in Pakistan. Both attacks underscore the growing threat that militancy poses to Pakistan.
There were no immediate claims of responsibility for the latest attack.
I.A. Rehman, a Pakistani newspaper columnist and human rights advocate, told RFE/RL after news of the killing spree that Pakistanis are "completely overwhelmed by the cancerous growth" of militant extremism in their country, and have no doubts about the attackers.
"Everybody knows who is behind these attacks," Rehman said. "They see the nexus between Al-Qaeda, Taliban, and Pakistani organizations which have been training and arming militants and sending them all over the world. Everybody knows that."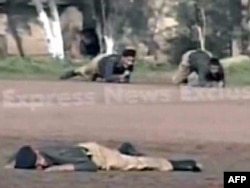 A TV grab shows policemen trying to take cover as a body lies in the foreground in Lahore on March 30.
Salman Taseer, the governor of Punjab Province, said the initial assault on the police academy was carried out by eight to 10 militants.
Rehman said the boldness of a handful of militants in carrying out an attack against as many as 700 police trainees raised serious doubts about the ability of Pakistani security forces to control militancy.
"There are very serious doubts about this capacity and capability -- about ways and about means, about the mental capacity, about the resources and about [the government's] comprehension of the situation," Rehman said.
Rehman also told RFE/RL that the scale of militant violence necessitates stronger action on the part of authorities.
"Each attack presents the authorities with a dilemma. On the one hand, their incompetence is exposed. And on the other hand, their limitations of action become questionable," Rehman said. "They say this monster will not be laid to rest by the kind of action that the government has been taking. Now [the militants] are at total war on the people of Pakistan."
Pakistan's interior minister, Rehman Malik, quickly sought to assure journalists that government forces were capable of protecting the country.
"This is a new wave of [terrorism], and our nation should be satisfied that, God willing, within the ranks of our army, [paramilitary] rangers, and intelligence agencies, we have very capable people," Malik told a press conference, "and, God willing, we will be able to control this."
Fighting Continues
Some four hours after the fighting began, Governor Taseer told reporters that a Pakistani Army brigade had joined the fight to root out the gunmen -- who were thought to have been hiding within the academy's compound walls.
Television footage showed armored vehicles entering the compound, while some police tried to escape by crawling around the bodies of the dead.
Pakistan has endured scores of suicide bombings and other attacks in recent years, and it faces tremendous U.S. pressure to eradicate Al-Qaeda and Taliban insurgents on its soil.
Khawaj Imran, a spokesman for the opposition Pakistan Muslim League Nawaz (PML-N), told journalists in Lahore after news of the attack that the country needs to unite against the growing threat of terrorism.
"We have to unite to deal with the monster [of terrorism] which is now engulfing Punjab [Province] after it already has engulfed the rest of Pakistan," Imran said, according to Reuters. "The [counterterrorism] policies being implemented in our country for the past seven to eight years have to take a U-turn. We do not want [additional U.S. aid] at the cost of our country. The security of our people and our country is more important to us than that of any other country."
Most of the violence has been occurring along the country's northwest border with Afghanistan. But attacks have been increasing recently in all of Pakistan's major cities.
President Barack Obama last week unveiled a
fresh U.S. strategy
for Afghanistan that focuses on combating extremism there and in neighboring Pakistan. The announcement included boosting troop levels but stressed that the situation required more than a military solution. Obama described regional plans for added financial assistance and cooperation and help for societal assistance.
Pakistani President Asif Ali Zardari welcomed Obama's new approach as a "positive change" due to its emphasis on economic well-being as a means to countering creeping militancy.
compiled from RFE/RL and agency reports