HRW Says Iranian Political Prisoner's Life Is In Danger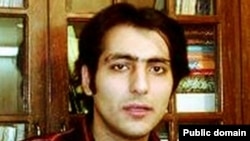 Human Rights Watch (HRW) is calling on the Iranian government to immediately release political prisoner Behrooz Javid-Tehrani and provide him with access to adequate medical care.
Javid-Tehrani, 29, is a human rights activist who was first arrested during nationwide student protests in 1999. He has been in continuous detention since 2005.
In a statement
, HRW says Javid-Tehrani is now on a 3-week-old hunger strike, HRW says, in the "doghouse" section of the infamous Gohar Dasht prison in Karaj city, north of Tehran. His hands and feet are cuffed.
HRW said Javid-Tehrani suffers from health problems -- including the loss of 50 percent of his eyesight -- caused by prolonged torture and has long been denied access to a lawyer.
"Behrooz Javid-Tehrani, who is critically ill, is in prison for his peaceful political dissent and his human rights advocacy," said Sarah Leah Whitson, Middle East director at Human Rights Watch. "He should never have been imprisoned in the first place and he should be released at once or he will likely die in prison."
About This Blog
"Watchdog" is a blog with a singular mission -- to monitor the latest developments concerning human rights, civil society, and press freedom. We'll pay particular attention to reports concerning countries in RFE/RL's broadcast region.
Journalists In Trouble
RFE/RL journalists take risks, face threats, and make sacrifices every day in an effort to gather the news. Our "Journalists In Trouble" page recognizes their courage and conviction, and documents the high price that many have paid simply for doing their jobs. More