Fighting has continued for a second night in Georgia's separatist region of South Ossetia, with Georgian and Russian forces battling for control of the enclave.
Russian President Dmitry Medvedev has met for talks with Russia's defense minister at the Kremlin. Medvedev, quoted by ITAR-TASS, said Russian peacekeepers and units subordinate to them "are now carrying out an operation to force the Georgian side to peace."
Hundreds of civilians have been reported killed or injured so far, and major damage has been reported in the South Ossetian separatist capital of Tskhinvali. Both the Russian-backed separatists and the Georgian government have said they are in control in Tskhinvali.
The secretary of Georgia's National Security Council said President Mikheil Saakashvili is expected today to declare martial law across all of Georgian territory.
An aide to the Russian commander, Igor Konashenkov, said three more Russian peacekeepers had been killed, bringing Russia's official death toll in the fighting to 15. The aide also said extra Russian tank, artillery, motorized infantry, and reconnaissance units had arrived in South Ossetia to bolster Russian forces.
The fighting is the worst violence in the region since South Ossetia and Abkhazia broke away from the central Georgian government in a war in the early 1990s.
Speaking on Georgian television on August 8, President Mikheil Saakashvili called on the international community for help.
"What Russia has been doing against Georgia for the last two days represents an open aggression, unprecedented in modern times," he said "It is a direct challenge for the whole world. If Russia is not stopped today by the whole world, tomorrow Russian tanks might reach any European capital. I think everyone has understood this by now."
Civilian Casualties Feared
Death tolls continue to rise on all sides. South Ossetia's rebel leader Eduard Kokoity claimed hundreds of civilians have already been killed in Tskhinvali.
(Reuters video: Russian military vehicles in the pre-dawn hours head toward the border of South Ossetia where they crossed into the breakway republic. Georgian forces launch a series of attacks on separatist positions there. Russian peacekeepers take cover as Georgian jets fly overhead.)
Television stations around the world broadcast footage of panic-stricken South Ossetians fleeing the bloodshed after Georgia imposed a three-hour humanitarian cease-fire. According to the commander of the Russian peacekeeping force in the region, Tskhinvali is "almost completely destroyed."
The International Committee of the Red Cross warned of a humanitarian crisis, saying local hospitals were overflowing and people were sheltering in their basements with no electricity or access to the outside world. Water is also reportedly in short supply, and shops are running out of food.
Russian Foreign Minister Sergei Lavrov said Moscow was receiving reports that ethnic cleansing was taking place in South Ossetia.
"We see panic rising among the population and the number of refugees trying to save their own lives and the lives of their children and families growing," Lavrov said. "A humanitarian catastrophe is at hand."
The European Union, the United States, and the NATO military alliance led international calls for an immediate end to violence amid fears of a full-blown war between Georgia and Russia.
The White House said President George W. Bush discussed the situation with Russian Prime Minister Vladimir Putin in Beijing, where both leaders are for the start of the Olympics. U.S. Secretary of State Condoleezza Rice sent an envoy to the region and called for an immediate halt to fighting.
"The United States calls for an immediate cease-fire to the armed conflict in Georgia's region of South Ossetia," Rice said in a statement. "We call on Russia to cease attacks on Georgia by aircraft and missiles, respect Georgia's territorial integrity, and withdraw its ground combat forces from Georgian soil."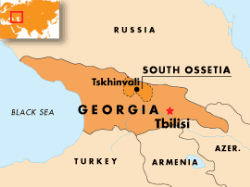 South Ossetia: Timeline Of A Crisis
Rice also said Russia should respect Georgian sovereignty and agree to international mediation to end the crisis that threatens to engulf the volatile region. "We urgently seek Russia's support of these efforts," she said.
Russian soldiers dispatched to Tskhinvali said they had begun firing at Georgian forces, the first confirmed engagement between the two nations' regular troops.
UN Holds Emergency Meeting
The UN Security Council held an emergency meeting on August 8 but failed to produce a unified statement on the escalating military conflict. Both Russia and Georgia continued their accusations.
All of the members of the council called for "an immediate cessation of hostilities." Some, like the representatives of Indonesia and Vietnam, suggested an "Olympic truce" lasting the duration of the Olympic Games in Beijing.
Georgia's permanent representative, Irakli Alasania, called on Russia for an immediate cease-fire.
"I understand that the Russian Federation is a permanent member. It is very hard to counter or oppose a permanent member in the Security Council, but what I offer you is to have very solid statement to get to the government of the Russian Federation and as well the opposing parties that this kind of action should stop," she said. "The bombardment of the sovereign territory of Georgia should stop and we call for an immediate cease-fire."
Ties between Moscow and Tbilisi have soured in past years over Moscow's political and financial support for Georgia's two breakaway provinces, where most residents have been handed Russian passports. Georgia, in turn, has angered Moscow by pushing for NATO membership.
The Organization for Security and Cooperation in Europe (OSCE) called on Russians, Georgians, and South Ossetians to "pull back from the brink of a full-fledged war." Top officials in France, Germany, and Turkey have also called for an immediate end to hostilities.
But the violence and angry rhetoric has shown no sign of abating.
Saakashvili accused Russia of conducting air strikes on Georgian territory and described Russia's military intervention as "international aggression in its classical sense."
Saakashvili ordered a full-scale mobilization of military reservists. "Everyone should appear at recruiting centers," he said. "We have to save our country together."
Russian President Medvedev, in turn, said Russia would "not allow the death of our compatriots to go unpunished." Prime Minister Putin, on a visit to Beijing, lambasted the Georgian leadership for what he described as "very aggressive actions" that he said killed several Russian peacekeepers.
Russia also announced it will cut all air links with Georgia from midnight on August 8.
Factbox -- South Ossetia
Status: The region broke away from Georgia in a 1991-92 war. A peacekeeping force with 500 peacekeepers each from Russia, Georgia, and North Ossetia monitors a 1992 truce.

Population: Approximately 70,000 (according to the 1989 census, about two-thirds Ossetian, one-third Georgian)

Capital: Tskhinvali

Languages: Ossetian, Georgian, Russian

Religion: Orthodox Christianity

South Ossetia: Timeline Of A Crisis